By Seth Eggert, Staff Writer
An already tough race for Kyle Busch, became tougher prior to the NASCAR Cup Series Championship race at Phoenix Raceway. Just before the race Joe Gibbs Racing (JGR) announced the passing of team co-owner and COO Coy Gibbs. Busch's JGR send-off become a memorial to Coy Gibbs.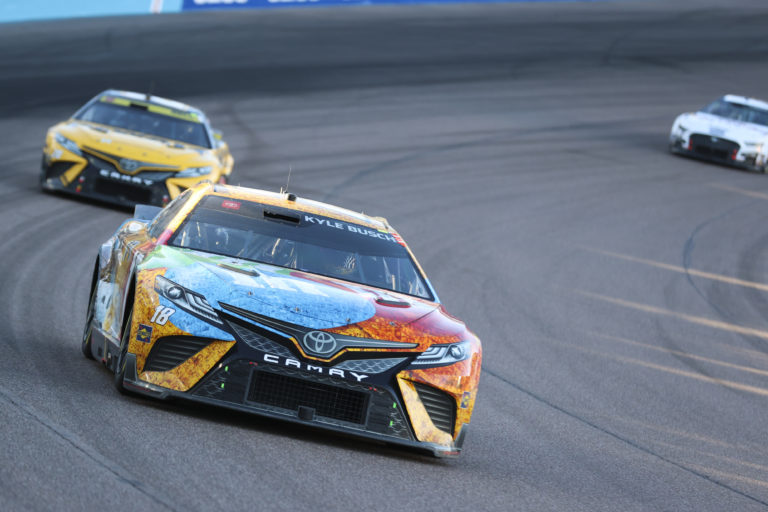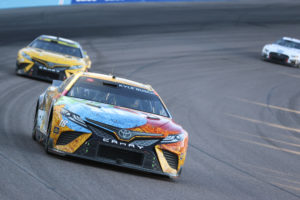 Busch's No. 18 M&M's Thank You Fans! Toyota Camry ran mid-pack for much of the 312-lap race. It wasn't until pit stops between the second and final Stage that he entered the top-15.
Two quick cautions moved the Las Vegas, NV native up the running order. With just over 100 laps to go, Busch was inside the top-10. He hovered around teammates Christopher Bell, Denny Hamlin, and Martin Truex Jr until the final caution of the race.
Slow stops for Bell and Truex dropped them down the running order. Busch battled with Hamlin, William Byron, and Kevin Harvick for the remainder of the race.
Busch ultimately took the checkered flag in seventh, just under a second behind Byron. He was the best finishing of the JGR cars. However, the finishing position wasn't the most important thing on his mind.
"I gave everything I had, and that's all that I had," Busch said. "I wish it could have been better, wish it could have been a top-five. I'll take the satisfaction in being the top Gibbs car today.
"(I heard the news about Coy) right after my hospitality. We were on the way back to my bus with Denny and the Toyota guys. Coy was a lot like me. He didn't take any bullshit and told everybody the way it was. Loved Coy for that and for his tenacity.
"He took on a huge role, filling the shoes of his brother, maybe a little bit more on the competition side than the business side. He did nothing but try to push us forward, win races, be competitive, be strong. Honestly that's what I'll remember the most about him."
Busch was quick to mention Joe Gibbs and the Gibbs family.
"The majority of my thoughts and prayers are with Joe and the Gibbs family, and everybody else, Heather, Alyssa" Busch said. "(Not running) is not in our DNA. I think everybody always says that.
"If I lost a family member of mine I would probably would have still ran today. We know that this is what we've grown up doing for all of our life. I don't think that was ever a question that we don't run today."
The 37-year-old scored two Cup championships, 56 victories, 206 top-five and 304 top-10 finishes during his time with JGR. Busch also scored 30 pole positions with JGR in the Cup Series. In total, he had 542 starts for the multi-time championship organization.
The race also marked the final one for M&M's as a sponsor. The Mars company, a longtime NASCAR sponsor, ended its' marketing campaign in the sport after over 20 years.
The end of an era.
 
Thank u to Coach, everyone at JGR, the Mars Family, n Norm Miller. Things will look a bit different next yr, but I'll always be appreciative of what we've accomplished n the relationships we've built over the past 15 yrs. (1/3) pic.twitter.com/QkqwUSa3NS

— Kyle Busch (@KyleBusch) November 6, 2022
Ultimately, Busch ends his final season with JGR with a 14th-place finish in points and one victory. Post-race, he hugged each crew member, thanking them for all of their hard work.
In his last race for @JoeGibbsRacing, @KyleBusch embraces each of his crew members. pic.twitter.com/eybNroSVi1

— Brock Beard (@LASTCARonBROCK) November 6, 2022
Busch moved to Richard Childress Racing to replace Tyler Reddick in the No. 8 Chevrolet Camaro ZL1 in 2023. He will make his Richard Childress Racing debut on Sunday, February 8 in the Busch Light Clash at the Coliseum.
The Busch Light Clash at the Coliseum is scheduled on Sunday, February 8 at 8:00 p.m. ET on FOX. The race will also be broadcast by the Motor Racing Network and SiriusXM NASCAR Radio, channel 90.