By Seth Eggert, Staff Writer
After contact with Ross Chastain sent Kyle Busch spinning at the start of the final Stage, Busch recovered for a top-10 finish at Richmond Raceway.
Getting Chastain'd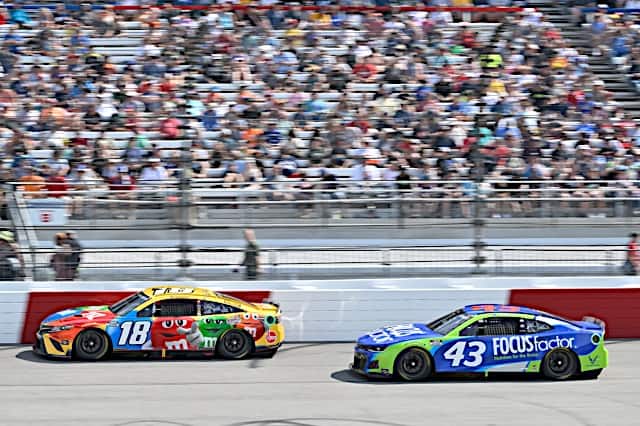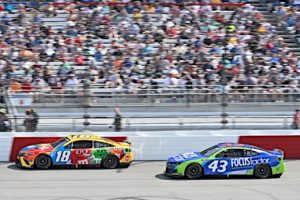 When the final Stage of the Federated Auto Parts 400 began, Busch's No. 18 M&M's Toyota Camry TRD was just inside the top-10. Exiting Turn 4, the Joe Gibbs Racing driver was bumped by Chastain. The contact sent the two-time NASCAR Cup Series champion spinning. Though Busch was not hit by anyone else, he did back into the inside wall.
Noah Gragson, Erik Jones, and Martin Truex Jr. were also swept up in the accident. With Truex also involved in this wreck, Christopher Bell last week at Michigan, and Denny Hamlin multiple times this season, Chastain has now has run-ins with all four Joe Gibbs Racing drivers this season.
"We were looking okay, in a good spot just coming up through there working our way methodically through the field with our M&M's Toyota Camry, and we got 'Chastain'd' this week," explained Busch. "We were his victim this week. And then that didn't hurt us too bad."
Ross Chastain into Kyle Busch = CRASH.

Erik Jones and Martin Truex Jr. are also involved. #NASCAR

📺 : @USA_Network pic.twitter.com/iIc36j7Lix

— NASCAR on NBC (@NASCARonNBC) August 14, 2022
On-Track Rebound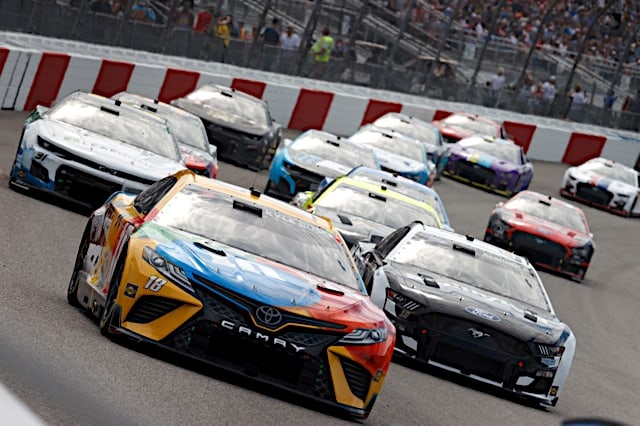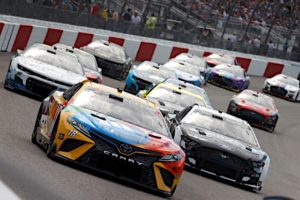 On the ensuing restart, Busch was still inside the top-15. The torrid pace of the first two Stages left just 16 cars on the lead lap at the time of his spin. Though, the caution came out soon after when Busch's teammate, Bell spun. Busch stayed out while several others pitted for fresh tires.
Once the green waved once more, the race regained its' incident-free character. Busch climbed back into the top-10 fairly quickly, following his Joe Gibbs Racing teammates Denny Hamlin and Truex. On 10-lap older tires however, Busch stalled out in eighth. He bounced back and forth from eighth to 11th on track, even with two green flag pit cycles. Ultimately, Busch took the checkered flag in ninth.
"We restarted back in a decent spot," stated Busch. "But then the next spin I think, was Christopher (Bell). That allowed the guys that were around us that we were kind of racing some of our team guys to come get tires and then they had 10 fresher laps on tires the whole rest of the day.
"So that kind of hurt us if we would have been on that strategy we would have run out of tires, but we also probably would have been in the top five. So just wrong side of the strategy there. At the end, nothing, nothing to do really to flip that but good fight all day long. The top 10 is about what we had anyway, I figured the best we were it was about a seventh, but barring a strategy call, we could have probably been top-five. So that's all we had anyway."
Statistics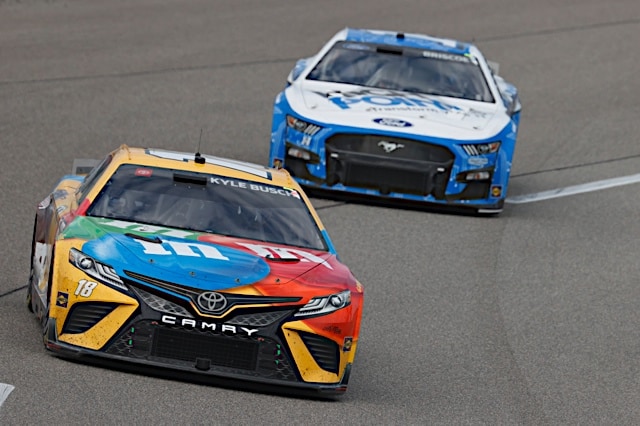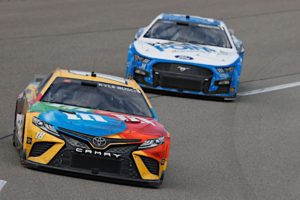 Having been on the first on track for qualifying, Busch was left 29th on the starting grid. The deep starting spot forced the Las Vegas, NV native to climb through the field. Though Busch didn't break into the top-10 in Stage 1, he did finish Stage 2 in 10th.
The ninth-place finish is the 12th top-10 for Busch this season. It is also the 350th top-10 finish of his NASCAR Cup Series career.
By virtue of his win on the dirt at Bristol Motor Speedway earlier this season, Busch is locked into the NASCAR Cup Series Playoffs. Despite the top-10 finish, he slipped from eighth to ninth in the points standings, 219 behind leader Chase Elliott.
Next for Busch is the Go Bowling at The Glen at Watkins Glen International on Sunday, August 21 at 3:00 p.m. ET on USA Network as well as the Motor Racing Network and SiriusXM NASCAR Radio Channel 90.
Featured Photo Credit: Photo by NKP / NKP Photo.