By Seth Eggert, Staff Writer
After NASCAR Cup Series officials have completed their investigation into the incident between Bubba Wallace and Kyle Larson in the South Point 400 at Las Vegas Motor Speedway, the sanctioning body has parked Wallace.
Wallace will miss the Dixie Vodka 400 at Homestead-Miami Speedway as a result of the penalty. A replacement driver for 23XI Racing's No. 45 Toyota Camry will be announced at a later date. 23XI Racing has the option to appeal.
On lap 94, Wallace's No. 45 McDonald's Toyota Camry battled with Kevin Harvick entering Turn 3. Larson took the duo three-wide in his No. 5 HendrickCars.com Chevrolet Camaro ZL1. Harvick backed out.
Larson drifted up the track, ultimately squeezing Wallace into the outside wall. Though neither driver made contact with one another, it led to the 23XI Racing driver taking drastic action. Wallace hooked Larson in the right-rear quarter panel.
The hit turned Larson up the track, collecting Christopher Bell. The ensuing wreck took all three drivers out of the race. After both Larson and Wallace's cars came to a stop, Wallace exited his vehicle and approached the Hendrick Motorsports driver.
After an exchange of words, the Mobile, AL native shoved Larsons several times. Wallace then walked to pit road with a NASCAR official close by.
Wallace has since apologized for his actions on social media.
Reflection. pic.twitter.com/ZpamWzjZJR

— Bubba Wallace (@BubbaWallace) October 17, 2022
In recent years, penalties have varied widely from incident to incident. In the past five years, the biggest penalties for a similar incident to this point was Noah Gragson intentionally wrecking Sage Karam at Road America. Gragson lost 30-points and was fined $35,000.
For other incidents and the various action and inaction, check out the chart below.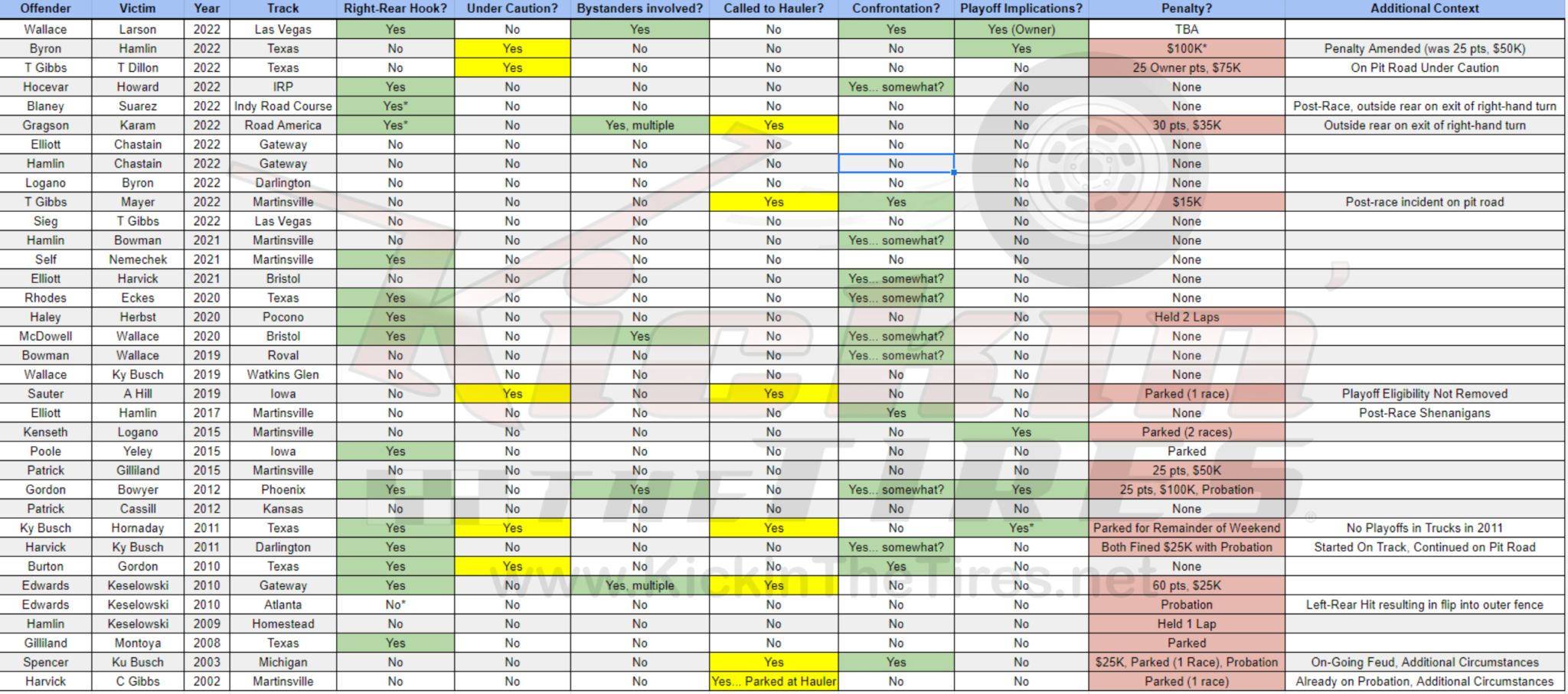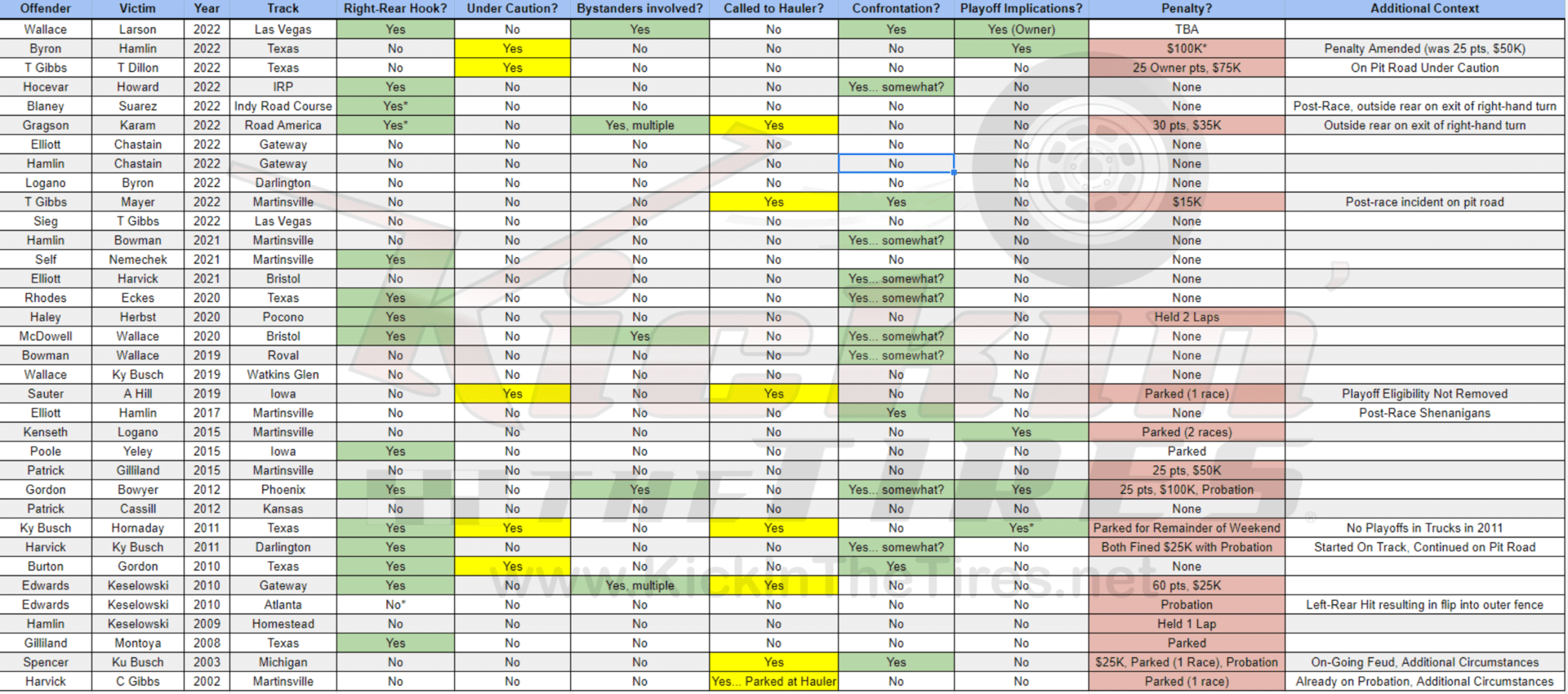 Though there seems to be an inconsistency over what incidents did or didn't get penalized and the severity of those penalties, there is actually a trend.
Prior to 2003, when Bill France Jr. was in charge of NASCAR, it was rare that a driver was parked for retaliation. The penalties escalated during Brian France's reign from 2003 through mid-2017 despite the 'Boys Have At It' mantra.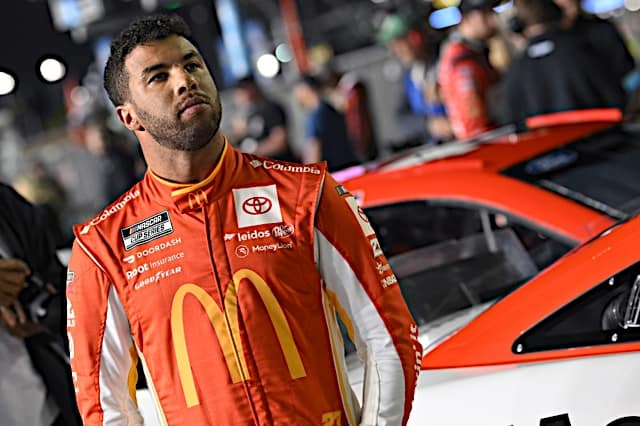 Since Jim France took over in mid-2017, points and fines have been more common. The only example during Jim France's reign, prior to Wallace, of a driver being parked for retaliation was Johnny Sauter, who retaliated against Austin Hill under caution near track safety workers at Iowa Speedway.
The 1-Race suspension ends a 177 consecutive start streak for Wallace that dates back to the 2018 Daytona 500.
The 29-year-old was 19th in the championship points standings following Las Vegas. Wallace is 15-points ahead of Aric Almirola in 20th and 45 ahead of Chris Buescher in 21st.
The Dixie Vodka 400 is scheduled for Sunday, October 23 at 2:30 p.m. ET on NBC. The race will also be broadcast on the Motor Racing Network and SiriusXM NASCAR Radio, channel 90.
EDITOR'S NOTE: This Story will be updated as it develops.
UPDATE:
23XI Racing will not appeal Wallace's suspension. John Hunter Nemechek will drive the No. 45 Toyota Camry at Homestead-Miami Speedway. It is Nemechek's 40th career Cup start and his first since the 2020 season finale.
23XI's official statement on the NASCAR Las Vegas Penalty. pic.twitter.com/Pdopqtae1e

— 23XI Racing (@23XIRacing) October 18, 2022