By Briar Starr, NHRA Staff Writer
Despite having early morning rain showers and dodging one-afternoon rain shower, the NHRA Camping World Series was able to get the 37th Texas FallNationals in Ennis, Texas completed into the early evening hours. And even with the rain, race fans saw a Toyota Racing double up in Funny Car with Ron Capps and Justin Ashley in Top Fuel, while Erica Enders continued her Pro Stock dominance in 2022 and Hector Arana Jr spoiled the Pro Stock Motorcycle party by returning to victory lane for the first time since Las Vegas in 2019.
Toyota Racing doubles up with Capps and Ashley – While they weren't the No. 1 qualifiers after four rounds of qualifying, Toyota Racing came firing back with two victories from last year's Funny Car winner Ron Capps and Top Fuel winner Justin Ashley. While he was down, not out, Capps entered the third race in the Countdown second in the championship points to Robert Hight and was going to need some luck if he wanted to repeat his 2021 championship performance. Knowing he was last year's winner, the victory gave Capps a little bit of extra momentum to get a cowboy hat (the winner tradition in Texas) heading into this year's event. He qualified third following the four rounds of qualifying Saturday afternoon with a pass of 3.865 and 335.40 mph, which set him up for a first-round match against No. 14 qualifier Jeff Diehl. Entering this match-up, Capps was 8-0 against Jeff Diehl in the first round. The first-round victory was important for Capps as it would set up for a successful day. The NAPA driver won with an E.T. of 3.889 and 330.88 mph, and never trailed for the victory. From there on, Capps obtained important victories over the next two rounds over John Force and Funny Car championship points leader Robert Hight in the semis.
His final-round opponent was an easy task though, as Capps met Tony Stewart Racing's, Matt Hagan. Hagan had a successful weekend as well, taking home the $15,000 prize money in Friday night qualifying and having victories against Terry Haddock, Tim Wilkerson, and Bob Tasca III. Capps was looking to repeat last year, while Hagan was looking to snap a winless streak since Epping this past summer. In the finals, Hagan was off the starting line first (.033) to Capps (.035). However, Capps came rocking back in his NAPA Toyota and took home his fifth Wally of the season with a 3.911 and 327.18 mph pass. The victory was also the 72nd of his Hall of Fame career.
"We got back to the pit after (the semifinals) and Guido, Medlen, and I, we said whatever we can do from here on out, that's icing on the cake," said Capps, now a three-time Texas Motorplex winner. "Hagan and that team, they threw down with that .88 on Friday night and the conditions were as good here tonight as they were then, so Guido tuned it up, and we got 'em. We never left the (championship) conversation," Capps added. "If we can leave Vegas in the position we're in right now, or even gain a little bit, that'd be huge. It's shaping up to be another year like last year."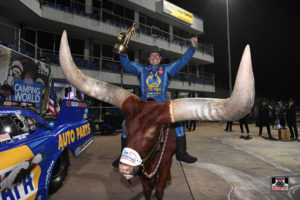 As for his Toyota Racing teammate, Justin Ashley grabbed home the victory for the third time this season with a final-round victory over No. 1 qualifier Austin Prock. Prock's successful weekend was up in smoke right when the Christmas tree turned green, as he smoked the tires and Ashley grabbed the win with a 3.688 and 329.24 mph and only helped Ashley extend his championship points lead over Steve Torrence after Torrence lost out in the first round Sunday.
"It really was a great weekend – anytime you can go out there and turn on four-win lights on race day it is great," said Ashley, who has three final-round appearances in the 2022 Countdown. "The winner of this race, where it is positioned in the season, makes it all that much more significant. There are only two more races after this and we know the past history has shown that if you win Dallas – you really put yourself in position to go after that championship. Our Phillips Connect team did an incredible job all weekend long. It was like a bracket car. To have a Top Fuel car run that fast and run that consistently, it just speaks volumes of our entire team. When you look at the Top Fuel class – it's so competitive, from drivers to teams. We are all making each other better and I cannot thank Phillips Connect, Vita C Energy, Toyota, and all of our partners enough for the opportunity to race against the best in the world"
Ashley won over Doug Kalitta, Kebin Kenley, and Shawn Langdon to help him to the finals. Meanwhile, Prock got victories over Alex Laughlin, Leah Pruett, and Antron Brown that launched him into the finals.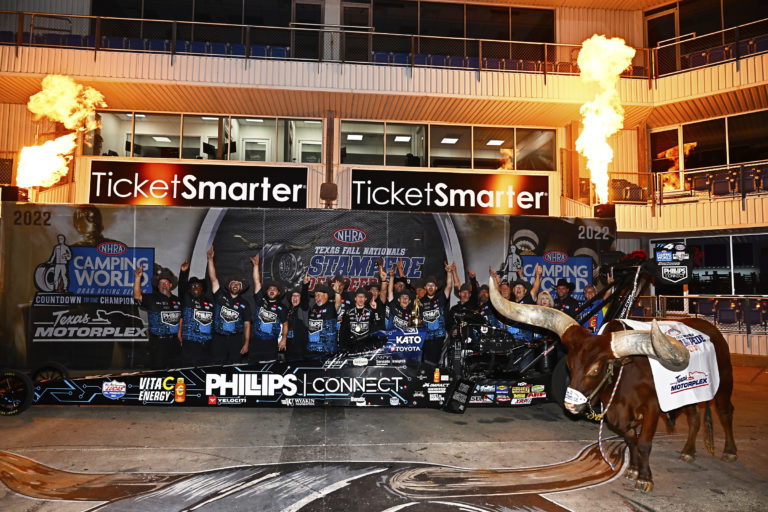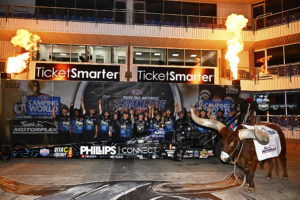 Erica Enders Pro Stock Season Dominance Continues – Stop me if you've heard this before, but Erica Enders once again took home another Pro Stock Wally at the Texas Motorplex in Ennis, Texas. Enders weekend started on Friday night when she took home the extra $7,500 in bonus money for being low E.T. in qualifying and eventually earning her fifth No. 1 qualifier of the year.
She had a first-round match with her Elite Performance teammate Fernando Cuadra Jr. Cuadra Jr cut a quicker reaction time of (.017) to Enders (.040), but Enders held the lead from the tree all the way down to the track and notched the first-round victory with a 6.539 and 209.79 mph, which saw her face rival competitor Matt Hartford in the second round. Enders won again in the second round and faced her teammate Troy Coughlin Jr in the semis. She won with a 6.561 and 209.39 mph and would go onto the finals, and square off against rival competitor Greg Anderson, who also was the previous event winner from last year.
Anderson won over Mason McGaha, Cristian Cuadra, and Aaron Stanfield. In the classic match-up with both Enders and Anderson, Enders was off the line first over Anderson and held him off for her 42nd Pro Stock career win and the ninth victory of the season. She had a pass of 6.537 and 209.63 mph over Anderson's 6.547 and 208.74 mph.
"I've got the best crew that stands behind me," said Enders as she proudly hoisted her hard-earned trophy into the air. "And the good Lord above who keeps me calm. All the glory goes to Him. I was speaking to my sister (Courtney Enders) before this round and she said, 'If you get this done you'll have completed the Texas Two-Step for the last time in NHRA history,' since we won't be competing in Houston anymore."Melling Performance has stuck behind me for a lot of years and they've been more than loyal to me when they've had options to do something else. So I really want to thank the Melling family as well as Gallagher and Peoplease. This doesn't happen without those guys. We did it in Texas and I could not be more proud."
With a huge point lead heading into Las Vegas in a couple of weeks, it would not be shocking if the Elite Performance driver would and could clinch another title in her illustrious career.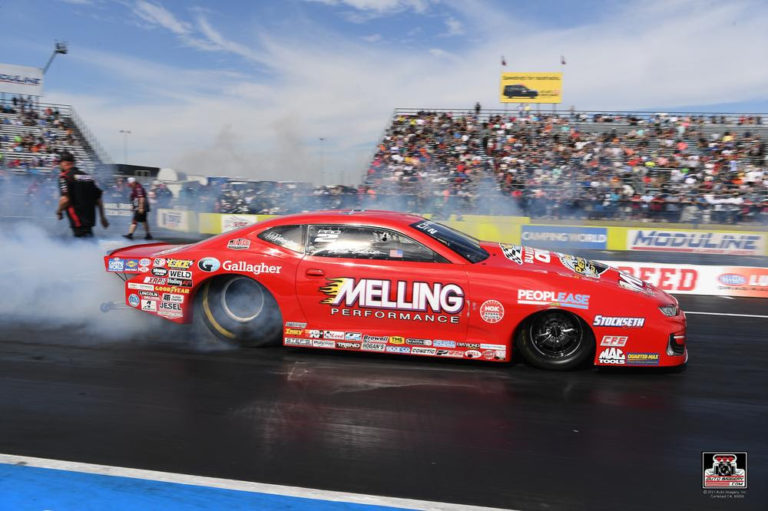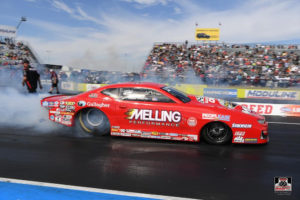 Brittany Force and Matt Hagan Set Track Records – It should not be a shock to see or hear Brittany Force and her Monster Energy John Force Racing dragster set another track record, but this time she did it with an mph speed of 336.70 mph in first round of Top Fuel Eliminator. The California native won against Texas native Buddy Hull. Unfortunately, her day was cut early in the quarterfinals and in an upset, as Kalitta Motorsports' and Top Fuel champion Shawn Langdon won over Force with a 3.721 and 328.29 mph. Still, it was a nice run for Force and her Monster Energy team who still has a shot at winning the championship but will need a lot of help with just two races left.
Speaking of records, look no further than the Tony Stewart Racing team and No. 1 qualifier of Matt Hagan who had a blistering speed in the semis with an mph speed of 338.02 mph in his run over Tasca. Sadly, Hagan was eliminated by his former Don Schumacher Racing teammate Ron Capps in the finals which saw his fourth runner-up of the year.
Hector Arana Jr Spoils Pro Stock Motorcycle – We haven't seen former full-time Pro Stock Motorcycle rider Hector Arana Jr much this year. In fact, he made his return at the U.S. Nationals this past August and is running a limited schedule based on sponsorship. With eyes on championship contenders Angelle Sampey, Matt and Angie Smith, and Joey Gladstone, Arana Jr had no problem being a sleeper pick this weekend. However, it should be no surprise as Arana Jr has 15 victories to his credit. He qualified in the sixth position after his Saturday night run of 6.808 and 199.73 mph out of a 20-bike field. That lined him up against No. 11 qualifier and Matt Smith Racing's Chip Ellis in the first round. Arana Jr won with a pass of 6.917 and 192.98 mph that propelled him into the quarterfinals.
There East Northport, New York native met playoff contender Angie Smith. He won in that round with a pass of 6.917 and 192.98 mph after Angie had troubles with her bike. Arana Jr had his toughest battle yet with five-time Pro Stock Motorcycle champion and championship points leader Matt Smith in the semis. Arana Jr launched off the starting line first with a (.025) to Matt's (.030). The motorcycle rider never trailed against Matt and won once more which would see him in the finals against 2016 Pro Stock Motorcycle champion Jerry Savoie. Savoie led Arana Jr for a brief while, however, Arana Jr would eventually pick up his 16th career victory and first win in over three years since Las Vegas 2019."This is so awesome. You've got to make the best of it," Arana Jr said. "We just have such a passion for it. It's been so long, and we love being out here with all the fans and to bring home a Wally, is the icing on the cake."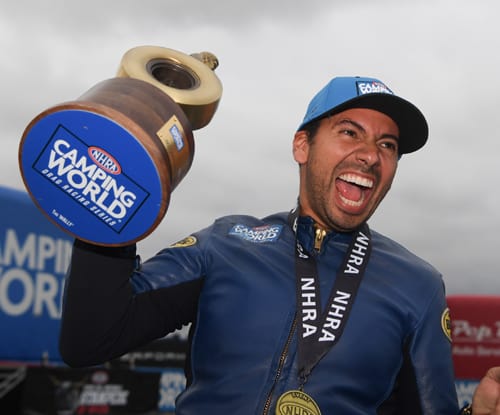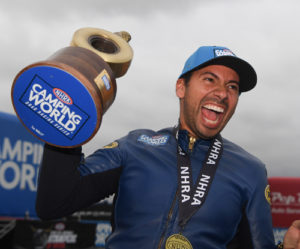 Savoie earned his efforts over Marc Ingwersen, Ryan Oehler, and Steve Johnson to go to the finals.
Other news and notes – After winning in Funny Car, Ron Capps announced his crew chief Jon Medlen would be retiring at the end of the 2022 season. Paul Lee had a victory over J.R. Todd and Blake Alexander won over Alexis DeJoria in the first round of Funny Car. Steve Torrence lost out to a close race over Shawn Langdon who defeated Brittany Force in the quarterfinals. Funny Car Championship points leader Robert Hight lost to eventual race winner Ron Capps. The no. 1 qualifier in Pro Stock Motorcycle Angelle Sampey was eliminated in the first round to Ryan Oehler.
Greg Anderson reached his first finals since his U.S. Nationals victory, however, lost out to nine-time winner Erica Enders. On Friday night, there was the return of "Friday Night Live" qualifying with extra bonus money up for grabs. Taking home the money was Matt Hagan (Funny Car), Austin Prock earning his first No. 1 qualifier in Top Fuel each picking up $15,000, Enders winning $7,500, and Matt Smith obtaining $5,000 after previously knocking off his wife Angie Smith. Finally, Kebin Kensley had an upset victory over Rick Ware Racing's Clay Millican in the first round as well. Former full-time Funny Car driver Jack Beckman returned to the track but not in a Funny Car. He was in the booth commentating with longtime announcer Alan Reinhart.
---
Official NHRA Camping World Results following the 37th annual Texas Fall Nationals
Top Fuel
Justin Ashley
Austin Prock
Antron Brown
Shawn Langdon
Brittany Force
Leah Pruett
Spencer Massey
Kebin Kinsley
Josh Hart
Doug Kalitta
Tony Schumacher
Steve Torrence
Clay Millican
Alex Laughlin
Buddy Hull
Mike Salinas
Funny Car
Ron Capps
Matt Hagan
Bob Tasca III
Robert Hight
Tim Wilkerson
Paul Lee
John Force
Blake Alexander
Cruz Pedregon
Jim Campbell
Terry Haddock
J.R. Todd
Jeff Diehl
Alexis DeJoria
Chad Green
Jack Wyatt
Official NHRA Camping World Championship Points Standings
Top Fuel
Justin Ashley, 2,422 points
Brittany Force, -82
Antron Brown, -84
Steve Torrence, -96
Mike Salinas, -118
Funny Car
Robert Hight, 2,486
Ron Capps, -10
Matt Hagan, -78
John Force, -137
Bob Tasca III, -174
Pro Stock
Erica Enders, 2,557
Aaron Stanfield, -165
Greg Anderson, -195
Troy Coughlin Jr, -212
Kyle Koretsky, -227
Pro Stock Motorcycle
Matt Smith, 2,377 points
Joey Gladstone, -51
Jerry Savoie, -103
Steve Johnson, -118
Angie Smith, -119
Up Next: The NHRA Camping World Series will take a week off before returning Oct 27-30 for the Las Vegas Nationals in Las Vegas, Nevada.