By Matt Courson, Staff Writer
LINCOLN, Ala. — Patience. That's what was key to Ross Chastain's winning move in Sunday's Geico 500 at Talladega Superspeedway.
While entering the tri-oval on the final lap, Chastain was third in line on the inside behind Erik Jones and Kyle Larson. The No. 45 of Kurt Busch had a run on the top, in which Jones and Larson moved up the track to attempt to block the run. This allowed Chastain to slip by and cross the finish line ahead of Austin Dillon.
"Holy cow. I'm always the one going to the top too early, making the mistake," said Ross Chastain. "There at the end it was like eight to go, I was like, I'm not going up there again. I did that a couple times today. I was like, I'll just ride on the bottom. If it works, I'm not going to lose the race for us."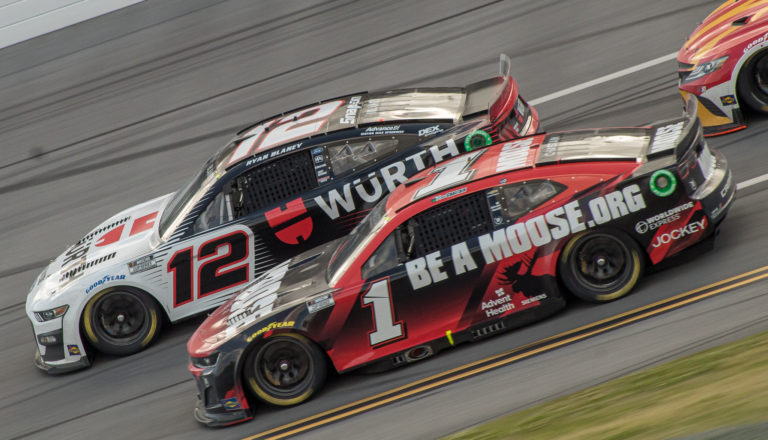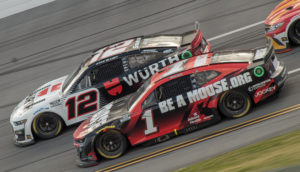 Chastain used experiences from past superspeedway races to put himself in position to win the race.
Chastain started the event in 19th, and fell a lap down due to a speeding penalty. Chastain took the lucky dog award and got back on the lead lap and finished 30th in Stage 1. He drove back through the field and finished ninth in Stage 2.
The win at Talladega is Chastain's second career victory in his first season with Trackhouse Racing. Chastain had no expectations for the 2022 season other than the fact that he had the same crew as he had last year at Chip Ganassi Racing.
"I mean, Justin Marks (Owner, Trackhouse Racing) and what he laid out for us was ambitious," said Chastain. I had no idea, you know, what to expect other than I knew I had my group from last year, I had AdventHealth, the Moose, now with Worldwide Express and Jockey coming onboard, we've got partners. They're believing in us.
We started the year with a lot of races open (for sponsorship). We're almost full now. It's because of the vision of Justin Marks. Pitbull, Armando, we won, yeah!"