By Seth Eggert, Staff Writer
Despite an up and down day, Ty Gibbs earned his first career top-10 finish in the NASCAR Cup Series at Michigan International Speedway.
Rebounding from a Pit Road Penalty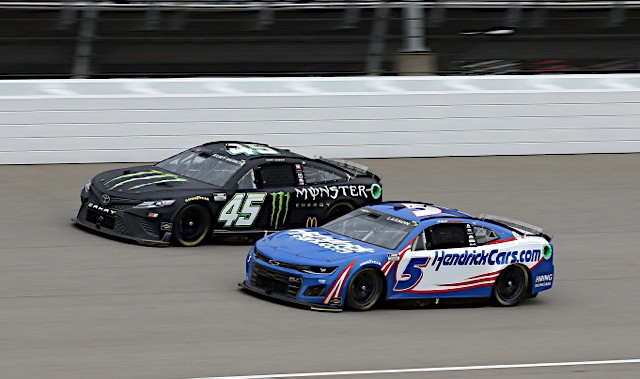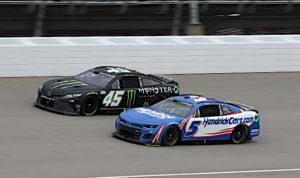 Under the final caution of the FireKeepers Casino 400, Gibbs pitted from inside the top-10. Though the pit stop went off without a hitch, the trip on pit road didn't. NASCAR officials caution the No. 45 Monster Energy Toyota Camry TRD speeding. As a result, Gibbs had to restart at the tail of the field.
Still subbing for Kurt Busch, who is recovering from concussion like symptoms, Gibbs lined up 24th for the final restart with 35 laps to go. He followed 23XI Racing team co-owner Denny Hamlin, who also had a pit road penalty, up through the field. Gibbs' climb through the competition stalled out in 10th. He remained there for the final 10 laps, earning his first career Cup Series top-10 in the process.
Gibbs took to Instagram to thank 23XI Racing after scoring his first career top-10 finish in the NASCAR Cup Series.
https://www.instagram.com/p/Cg-pwvzrY0z/?utm_source=ig_web_copy_link
Overcoming Adversity
However, that was just the third time that Gibbs had to climb through the field. Following the competition caution at the start of the race, he received minor damage in a multi-car wreck. With no time to check up, Gibbs bumped Austin Cindric, sending the Daytona 500 winner spinning to the inside and then head-on into the outside wall.
After pitting during the ensuing caution, Gibbs stayed out at the start of Stage 2. He led two laps under caution before slipping back to seventh on track, where he would remain until green flag pit stops.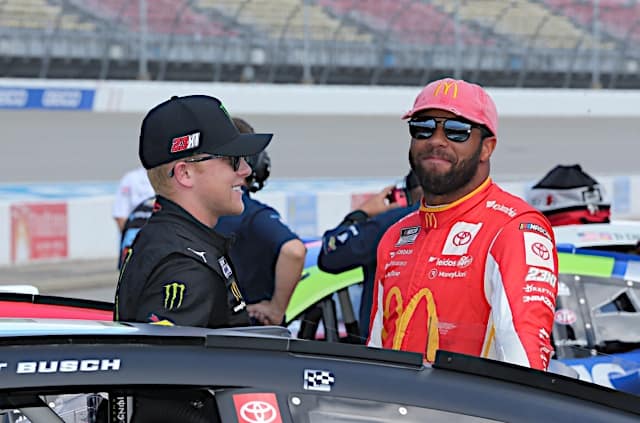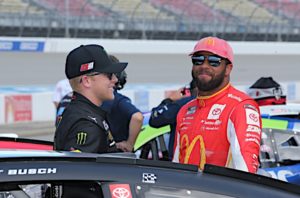 During the first round of green flag pit stops in Stage 2, Gibbs was trapped a lap down when the caution waved. Though his teammate, Bubba Wallace received the free pass, Gibbs took the wave around to move back on the lead lap. The 19-year-old followed his teammate forward. They finished the second Stage just outside the top-10 with Gibbs in 14th.
Though Michigan was just his third career Cup Series start, he's adapted quickly to the Next Gen (Gen 7) car. Gibbs has aided the No. 45 team, keeping the 23XI Racing team 14th in the owner's points standings. The No. 45 is in the playoffs by virtue of Busch's win at Kansas Speedway earlier this season.
Next Scheduled Race
The next scheduled race for the Charlotte, N.C. native is currently the NASCAR Xfinity Series race at Watkins Glen International on Saturday, August 20. The race will be broadcasted on USA Network on TV and can be heard on both the Motor Racing Network and SiriusXM NASCAR Radio Channel 90.
Featured Photo Credit: Photo by Tim Parks / Harold Hinson Photography.