By Seth Eggert, Staff Writer
Driving through the field not once, not twice, but rather four separate times, Bubba Wallace recovered to finish inside the top-10 at Kansas Speedway.
Before a caution waved with 70 laps to go, Wallace's No. 23 McDonald's Toyota Camry had just entered the top-five. The 23XI Racing driver was continuing a climb from before the end of Stage 2. Wallace was one of several drivers caught a lap down and forced to take the wave around when Kevin Harvick spun in the middle of green flag pit stops. He was 10th at the end of the Stage.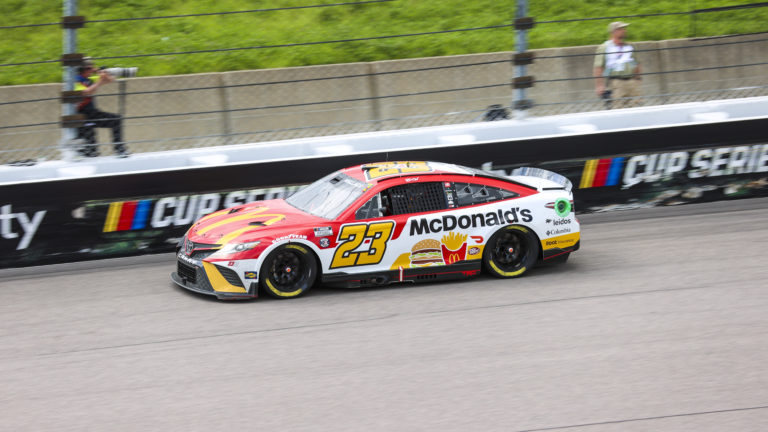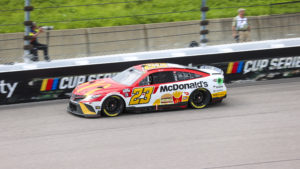 When the Mobile, AL native pitted with 70 to go, he was penalized for an uncontrolled tire. Wallace's crew lost a tire, which rolled into traffic. Alex Bowman struck the tire, sending it into Ross Chastain before it went into the air. Luckily, no crew members were hit by the errant tire. However, Wallace lost his track position, restarting at the tail of the field. That was one of two pit road penalties by his 23XI Racing pit crew during the race.
It was another caution by Harvick that aided the 28-year-old. The Stewart-Haas Racing driver nearly spun off Turn 4, prompting a caution from NASCAR Cup Series officials to check for fluid on track. Wallace restarted the Advent Health 400 in 22nd. A late-race charge saw the Toyota Racing driver surge back up to 12th with 10 laps to go. Over the final 10 laps Wallace worked his way by the Team Penske drivers of Ryan Blaney and Austin Cindric to finish 10th.
Those were just two of the four times that Wallace climbed through the field in the 400-mile race. The first was from his 24th-place qualifying position. Wallace picked cars off quickly, finishing the first Stage in seventh.
The 10th-place finish marked Wallace's first top-10 since the Daytona 500 earlier this season. It is also the 14th top-10 finish of his Cup Series career and his 78th top-10 across NASCAR's three National Touring Series. Wallace's finish bookended the top-10 for 23XI Racing as Kurt Busch scored the maiden win for the No. 45 team and the second win in the organization's history.
The top-10 moved Wallace up from 24th in the championship standings to 22nd. He is 218-points behind leader Chase Elliott. Wallace is 65-points behind the playoff cutline, currently held by Aric Almirola.
Featured Photo Credit: Photo by Rachel Schuoler / Kickin' the Tires.