By Seth Eggert, Associate Editor
DARLINGTON, S.C. – Paying homage to one of his racing heroes, Cole Custer scored a top-five finish in Jason Leffler's paint scheme in Saturday's NASCAR Xfinity Series Shriner's Children's Hospital 200.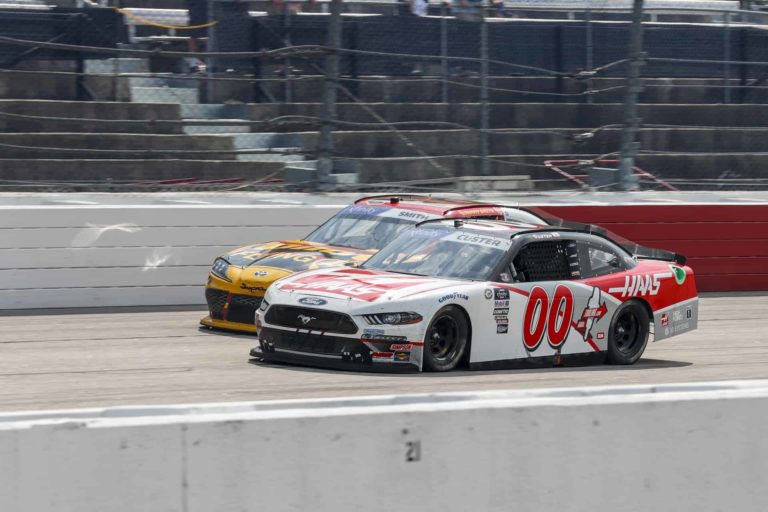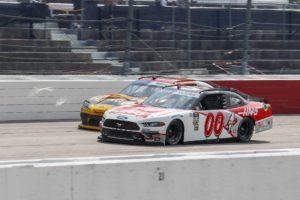 Custer had been inside the top-five in the No. 00 Haas Automation Ford Mustang throughout the final stage of the race at Darlington Raceway. The Stewart-Haas Racing driver was fifth when the final caution of the 200-mile race waved. Crew Chief Jonathon Toney opted to change tires on Custer's 'LEFTurn' tribute car for the final seven-lap run to the finish.
The Ladera Ranch, Calif. native lined up 18th for the final restart. On fresh tires Custer stormed through the field. The old worn surface of 'The Track Too Tough to Tame' slowed much of his competition that were on older tires. Within three laps Custer had re-entered the top-10. With two laps to go, he was inside the top-five.
On the final lap, Custer moved into fourth, ahead of Austin Hill when the leaders collided off Turn 4. The Ford Performance driver snuck by John Hunter Nemechek's crashed car to take third when the checkered flag waved.
"For me (the finish) was exciting," Custer joked. "I was in the middle of the pack on fresh tires, just felt like Superman because you're on 10 lap fresher tires. I restarted 18th, I think finished third. We had a solid car all day, we just didn'tquite have enough for the 10 or the 20 but my guys they're working so hard, all the guys at the shop, we'll get it. Wereally want to win. We'll keep inching up on it and we'll get it here soon. We're close.
"I think we could run with anybody. We show top-five speed at some point every single weekend. It's just a matter of unloading how we want to. Things have changed since the last time I've been in the series. Figuring out what we need in the car, showing up and from there, I think we're just kind of inching up on it on what we need."
The third-place finish marked Custer's fourth top-five since his return to full-time Xfinity Series competition. It is also a marked improvement compared to the first half of the 2023 season and his career-to-date in the NASCAR Cup Series. That improvement shows that the two-time Xfinity championship runner-up is inching to a return to victory lane.
"It's awesome (to be able to run well)," Custer said. "You want to go out there and you want to win races, that's every driver's dream. So being able to compete with guys like Larson and John Hunter, I mean there's a good field out here.It's not easy to win these races so it means a lot to run up front and be with a great team that brings some great cars to the racetrack. Our speed has been we've been on a good stretch here the last month or so."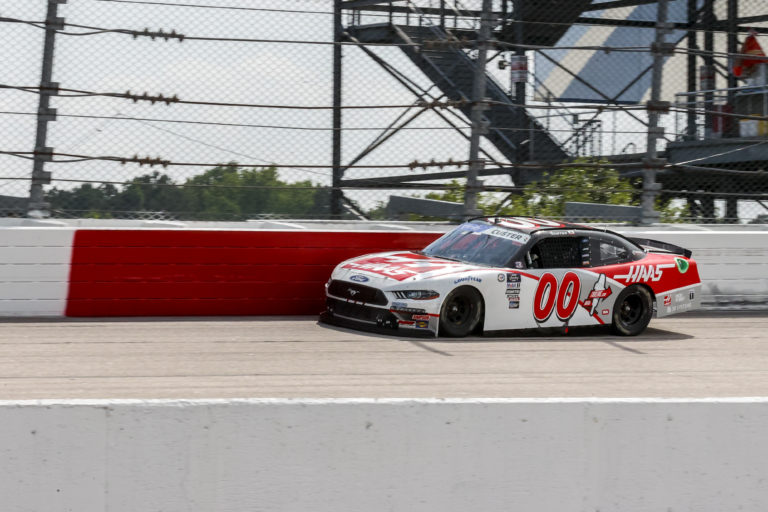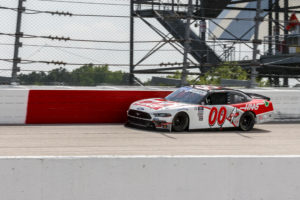 What made Custer's top-five finish special was that he was honoring the late Jason Leffler. The paint scheme he ran as part of NASCAR's Throwback Weekend was the same one that Leffler ran during his tenure at Haas CNC Racing in 2004, the forerunner to the current Stewart-Haas team.
Some of the crew members from that team still work for Stewart-Haas today. That includes Custer's crew chief Toney. Leffler won one race in 2004 at Nashville Superspeedway.
"It was really cool (to honor Jason with this throwback)," Custer explained. "Jason was one of my heroes growing up. I met him when I was younger, loved the guy, and it's awesome to get him a good, solid run and run up front with him. And it was also cool for my crew chief because he actually worked on that car in 2004, so it's awesome for it to all come full circle and get him a good run."
The third-place finish moved Custer up from sixth to fifth in the points standings, 59 behind leader Nemechek. He's 52-points above the cutline, currently held by his teammate, Riley Herbst.
Next for Custer is the Alsco Uniforms 300 at Charlotte Motor Speedway. He has five starts at the 1.5-mile track in the Xfinity Series with two top-five and four top-10 finishes. Custer's best finish on the Charlotte oval is a runner-up in 2018.
The Alsco Uniforms 300 at Charlotte is scheduled for May 27 at 1:00 p.m. ET on Fox Sports 1. The race will also be broadcast on the Performance Racing Network and SiriusXM Radio, channel 90.