By Seth Eggert, Associate Editor
DARLINGTON, S.C. – The Buckle Up South Carolina 200 proved to be a career night for Rajah Caruth as he earned his first career top-10 finish in Friday night's NASCAR Craftsman Truck Series race.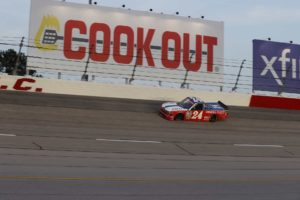 During NASCAR's Throwback Weekend, Caruth challenged race leaders Christian Eckes and William Byron with five laps to go. The GMS Racing driver's No. 24 Wendell Scott Foundation Chevrolet Silverado had the fastest truck on track in the closing laps of the scheduled race distance. Just as Caruth caught William Byron for second, the caution waved when Timmy Hill spun.
On the ensuing restart, Caruth restarted behind Byron. Unfortunately for the Caribbean-American, the NASCAR Cup Series spun his tires. Caruth bounced off of the Kyle Busch Motorsports Chevrolet in Turn 1 as Tanner Gray checked up. Exiting Turn 2, Jake Garcia bounced off of the Drive for Diversity alum's truck and spun into the inside wall.
Another quick caution saw Caruth slip outside the top-five. On the final restart, Caruth battled with Bubba Wallace and Carson Hocevar for position. However, a crash between Caruth's teammate Grant Enfinger and Rev Racing's Nick Sanchez brought out a race-ending caution. The 20-year-old took the caution and checkered flags in sixth.
"I got my shifting done and I was making sure I didn't buzz going from second to third (gear) but it just sucks when you're not the control car and you're just looking to the left and trying to go and the wheel spins bad," Caruth said. "I think (Byron) buzzed them and I was just boxed in. Tanner tried getting up in front of him and they checked up and I didn't check up enough.
"I really wish it went green because I was running those guys down on the fence in Turns 3 and 4. I didn't touch it all night, I'm proud of that. Our No. 24 Wendell Scott Foundation Chevrolet Silverado was really sporty tonight. I can't say enough about the men and women that work on the 24 team. They work extremely hard and it's great to put together a whole night. Hopefully we will continue this momentum next week. I wish it went green because I was running them down."
.@rajahcaruth_ on his strong night where he had a shot to win late.

He picks up his first top-10 of the season here at Darlington. #NASCAR pic.twitter.com/PaM4Nk7A9a

— Noah Lewis (@Noah_Lewis1) May 13, 2023
While Caruth didn't finish inside the top-10 in either of the first two Stages, NASCAR's Throwback weekend was not uneventful. Contact with Hocevar sent the No. 42 Chevrolet spinning in Turn 2 with 32 laps to go in the scheduled distance.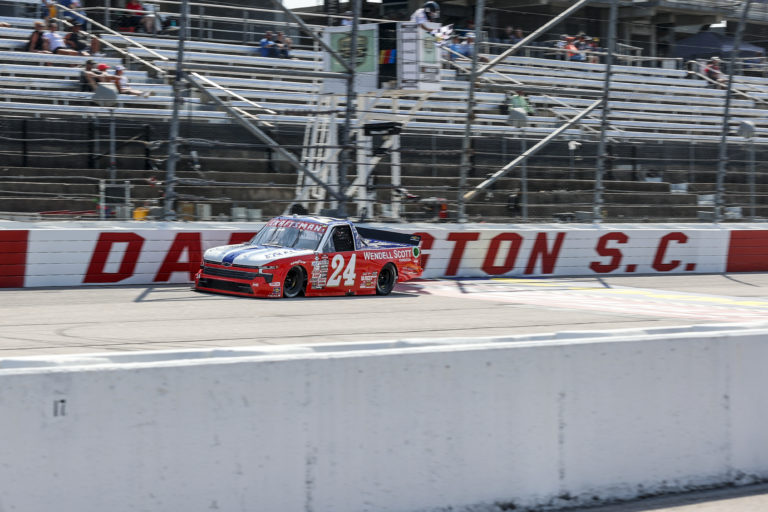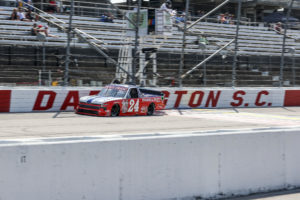 Outside of that contact, and the contact with Byron and Garcia, Caruth's Wendell Scott-inspired throwback was untouched at Darlington Raceway. He never earned a 'Darlington Stripe' through contact with the outside wall at 'The Track Too Tough to Tame.'
The sixth-place finish was the first ever top-10 for Caruth in the Truck Series and came in his 13th career start. He remains 17th in the points standings, 174-points behind leader Zane Smith. Caruth is 69 behind the playoff cutline, currently held by Nick Sanchez.
Next for Caruth is the Tyson 250 at North Wilkesboro Speedway. The Washington, D.C. native has no prior experience outside of iRacing and work on the simulator at the historic racetrack. Though the bulk of his competitors also have little experience at one of NASCAR's original tracks.
The Tyson 250 is scheduled for Saturday, May 20 at 1:30 p.m. ET on FOX. The race will also be broadcast on the Motor Racing Network and SiriusXM NASCAR Radio, channel 90.