By Jerry Jordan, Editor
It wasn't a huge surprise when the press release came Monday night that NASCAR superstar, Denny Hamlin, and NBA phenom, Michael Jordan, had teamed up to field a single-car team with Bubba Wallace behind the wheel but the news – now official – will definitely reverberate throughout the sports world.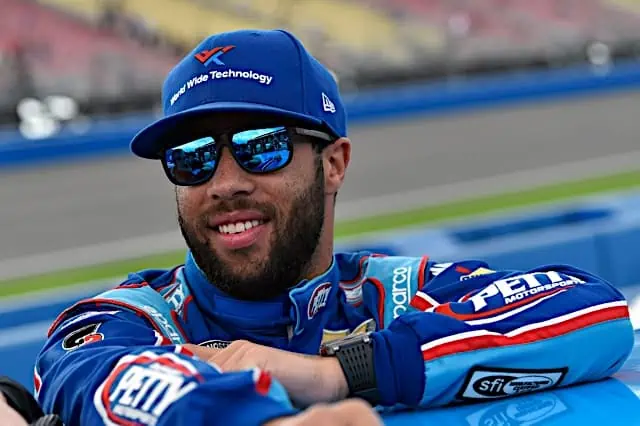 For weeks, there had been rumors that Hamlin and Jordan, longtime partners in racing ventures, were working on securing a team and a charter for an upstart organization in the NASCAR Cup Series. There was also strong speculation that Bubba Wallace would be the driver, as referenced on the The Kickin' Show weekly podcast, last week when it was confirmed that he was no longer a candidate for the No. 42 ride at Chip Ganassi Racing. Wallace had already announced he would be leaving Richard Petty Motorsports at the end of the season, so the watch-party was in full-swing to see where he would end up and that alliance lands him with one of the biggest names in sport's history.
"Growing up in North Carolina, my parents would take my brothers, sisters and me to races, and I've been a NASCAR fan my whole life," said Jordan. "The opportunity to own my own racing team in partnership with my friend, Denny Hamlin, and to have Bubba Wallace driving for us, is very exciting for me. Historically, NASCAR has struggled with diversity and there have been few Black owners. The timing seemed perfect as NASCAR is evolving and embracing social change more and more. In addition to the recent commitment and donations I have made to combat systemic racism, I see this as a chance to educate a new audience and open more opportunities for Black people in racing."
Tonight, I'm excited to announce MJ and I are starting a new, single car @NASCAR Cup Series team for 2021. Deciding on a driver was easy – it had to be @BubbaWallace. pic.twitter.com/nIJv0X6ZOX

— Denny Hamlin (@dennyhamlin) September 22, 2020
For those wondering what will happen to Hamlin's ride at Joe Gibbs Racing, they need not worry. He will retain driving duties in the No. 11 FedEx Toyota and continue pursuing a NASCAR Cup Series Championship. With seven wins, so-far, this season, it very well could come sooner, rather than later. Hamlin will hold a minority ownership stake in the team and Jordan will be the controlling partner of the yet-to-be-named team.
"This is a unique, once-in-a-lifetime opportunity that I believe is a great fit for me at this point in my career," said Wallace, who is the first African-American driver to race full-time at the NASCAR Cup Series level since Scott. "Both Michael and Denny are great competitors and are focused on building the best team they possibly can to go out and compete for race wins. I'm grateful and humbled that Michael and Denny believe in me and I'm super pumped to begin this adventure with them."
Hamlin and Wallace have been friends for years both play basketball together. The relationship between Hamlin and Jordan is also a lengthy one that grew out of their love of golf and they already had a business alliance in the iRacing world.
"Starting a race team has been something that Michael and I have talked about while playing golf together over the years, but the timing or circumstances were never really right," said the 39-year-old Hamlin. "It just makes sense now to lay the foundation for my racing career after I'm done driving and also help an up-and-coming driver like Bubba take his career to a higher level. Plus, Michael and Bubba can be a powerful voice together, not only in our sport, but also well beyond it."
Although sponsorship and a car number have also not been determined, there has been strong speculation the number could be 23 and that some sponsorship could come from Nike. Jordan is Nike's biggest star and made his mark on the basketball world in the No. 23 jersey for the Chicago Bulls. He is also the owner of the Charlotte Hornets NBA team. He led the Bulls to six NBA Championships and was named Finals MVP during each of those series. Since its creation, his Jordan Brand (a division of NIKE) has been an innovator of athletic shoes and apparel. As one of the world's most popular and recognizable figures, Jordan's endorsement portfolio includes Gatorade, Upper Deck and Hanes, among others. He is a strong supporter of charitable causes that assist at-risk youth, help kids with disabilities and illnesses and, along with Jordan Brand, recently made a 10-year, $100 million commitment to social justice initiatives.
Wallace has played a major role in NASCAR's recent attempts to reach out and bridge the gap between the sport and minority fans. He spoke out against racism and changed his stance on the Confederate Flag being displayed at racetracks, leading NASCAR to ban it at all tracks where they currently race. Although the decision met with some resistance and protests, Wallace has stood strong and is a social justice leader in the NASCAR garage. He is also considered one of the nicest and most-personable drivers to talk with and is known to spend his downtime hanging out with infield campers and signing autographs for young fans.
Following the announcement, NASCAR released a statement via its Twitter account stating, "We proudly welcome Michael Jordan int the NASCAR family, and look forward to watching Michael, Denny Hamlin and Bubba Wallace compete in 2021. Michael is an iconic sports figure and celebrated champion whose fiercely competitive nature has placed him among the greatest athletes of all time. His presence at NASCAR's top level will further strengthen the competition, excitement and momentum growing around our sport. We wish Michael and his team tremendous success."