By Jerry Jordan, Editor
When you're 13-years-old it can be hard to juggle school, extra-curricular activities and personal time but when you combine those with being an up-and-coming star in the auto racing world, things get even more hectic as Lumberton's Ryder Wells found out this past weekend. Had it not been for some quick thinking, even quicker wrench-work and maybe a bit of luck, Wells would not have made his first trip to Victory Lane in his micro-sprint car at Gulf Coast Speedway.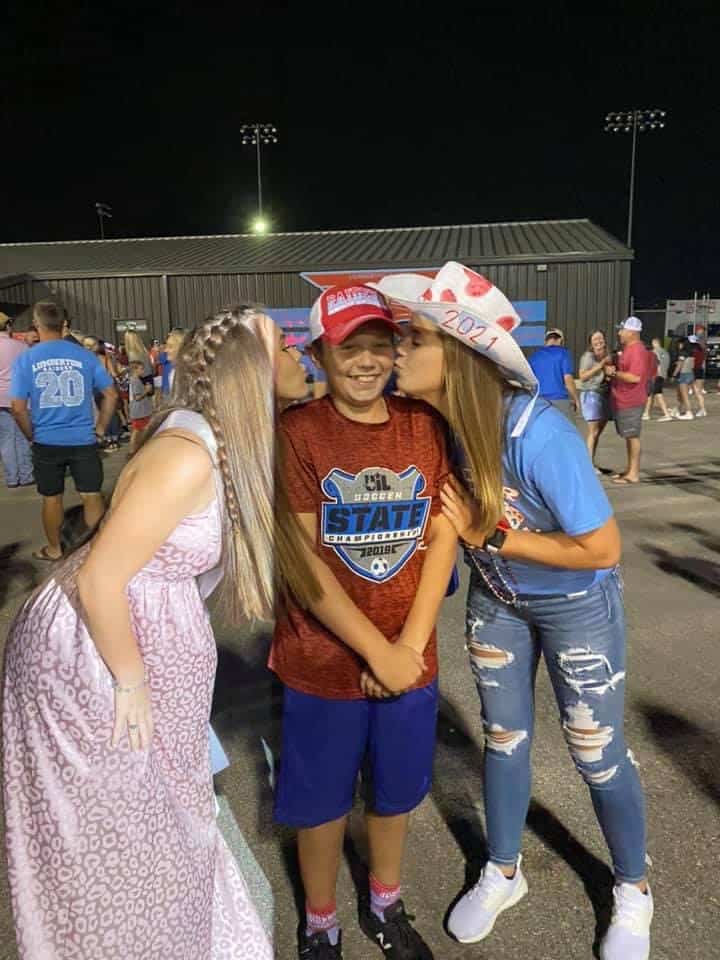 It was supposed to be an off-weekend for racing, so Wells went to Lumberton High School's Homecoming celebration Friday night and planned to make major changes to his racecar – converting it to power steering, changing both axles and making other modifications over the weekend. He and his dad/crew chief, Zach Wells, had already begun tearing the car down and were set to begin the rebuild on Saturday. But sometime after the younger Wells was getting double "air-kisses" from high school girls at the homecoming celebration, he found out he could race Saturday night and have a good shot at taking over the points lead in the Gulf Coast Speedway (located in Alvin, Texas) track championship standings.
"It was a last-minute decision to go to Gulf Coast Speedway because we didn't know they had their own points standings," Ryder Wells said.
Zach Wells said, when he relayed the information to Ryder, the immediate reaction was, "I'm racing." But the car wasn't in race-shape. So, early Saturday morning Zach went to work on logistics and after a flurry of phone calls, he joined Ryder outside in the race shop. The micro-sprint was in pieces but Ryder had already put most of it back together when his dad arrived and they both went to work ensuring everything was set-up right and ready to race as soon as they rolled off the hauler.
"He was out there working on it," Zach Wells said. "It is amazing how much that kid can build a car without me having to be out there telling him what to do. When I came out, we set the wing, got the right gear set-up, fueled the car and loaded it into the hauler so we would be ready when we got to the track."
However, there was another catch, Ryder had a soccer game that day that he couldn't miss. In addition to being a young racer, he is a superstar goalie for the Houston Dynamo Dash Youth Soccer team. The game was at 2:30 p.m. and heat races at Gulf Coast Speedway usually begin around 6:30 p.m. to 7 p.m. If Ryder wasn't done with the game by 4 p.m., there would be no way to make the two-hour drive to the track from Beaumont.
As it would happen, things fell into place perfectly, there was hardly any traffic and the No. 24 Kickin' the Tires/Preferred Contractors Sawyer racing machine rolled out to the track just in time for him to make the heat race.
"We were rushing to get there from the game and I barely got there on time," Ryder Wells said. "I had to put my race suit and my shoes on in the truck when we were on the was from the game to track. After the heat race, I came in and told dad that we needed to stiffen the rear shocks and the car would be perfect. It worked and we went to Victory Lane. I passed them in Turns 3 and 4 on the high side and never looked back.
"We had a really fast car last night. I got the win, so now I am in first in the Gulf Coast (track) standing, second in the POWrI (600 Restrictor) standings and first in the battle for rookie of the year."
Ryder said after the race that he was super-excited to get the win and that the car was the best it had ever been at the track before. He was fast from the start, moving from fifth to second in the heat race and then starting on the outside pole for the feature race. Whatever they did to the shocks helped him get through the turns and he was sideways off Turn 4 still wheeling the car to the checkered flag, despite having a half-a-lap lead on the field.
"Wow, that car was fast," Ryder Wells said. "It's great to get the win and be competing for two championships. I knew the win would come, we just had to keep working on it. I can't wait to get back to the track. I just want to thank everyone who makes it possible for me to race, mom and dad, Kickin' the Tires, Preferred Contractors and all my family and friends who support me."