By Matt Courson, Staff Writer
BRISTOL, Tenn. — A last name familiar to the NASCAR community will soon appear on products sold by Sugarlands Distilling Co.
On Saturday afternoon prior to the Bass Pro Shops NRA Night Race at Bristol, Dale and Amy Earnhardt, alongside Ned Vickers (President and Founder of Sugarlands Distilling) announced a strategic partnership that will have the Earnhardt name present on new and existing products.
With the partnership, one of Sugarlands signature products, The Electric Orange Sippin' Cream', will now be known as Dale and Amy's Electric Orange Sippin' Cream. The 40-proof drink beverage features a bright, fresh orange zest with a smooth taste of vanilla cream.
"Amy and I are excited to be part of the Sugarlands family. The Electric Orange Sippin' Cream has become one of our favorites, and we're thrilled to have our names on it," said Dale Earnhardt Jr. "From the first time we met Ned, we were impressed with his vision and passion. We're proud to kick off this partnership, and we're looking forward to what the future holds."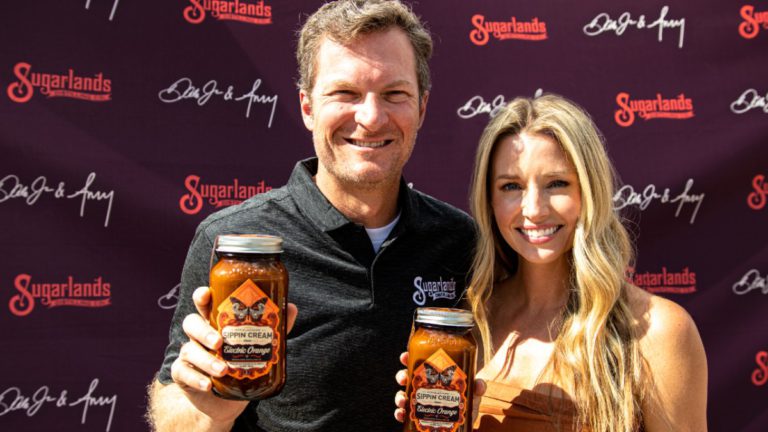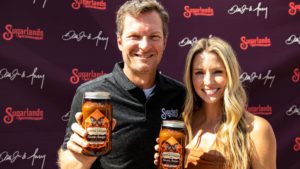 Sugarlands Distilling launched in 2014 and has worked their way into the NASCAR marketing community. The Gatlinburg, Tenn. company partnered with Bristol Motor Speedway and released a limited-edition corn whiskey to commemorate the track's 60th anniversary. Previous commemorative products were released for milestones at Daytona International Speedway and Talladega Superspeedway. In 2019, Sugarlands became the Official Moonshine of NASCAR.
"Few names are as synonymous with racing in America as Earnhardt, and we're honored to welcome Dale and Amy to the Sugarlands family," said Vickers. "We're thrilled to add their names to our Electric Orange Sippin' Cream and can't wait to collaborate with both Dale and Amy on future releases."
Besides the Earnhardt's, Sugarlands has also partnered with country music superstar Cole Swindell and Major League Baseball hall of famer Chipper Jones.
"Teaming with the Earnhardts further integrates Sugarlands into the racing community while expanding our already diverse partnership portfolio," said Sugarlands Chief Revenue Officer, Patrick Sullivan. "Collaborations with names as recognizable as Dale Jr. and Amy help strengthen the Sugarlands name with customers while providing tremendous value for our retail partners."