By Briar Starr, Staff Writer
Darrell Waltrip is a synonymous name in motorsports, primarily in NASCAR. Fans today know him as a broadcaster on FOX from 2001 through 2019 for the NASCAR Cup Series. However, today's current generation may not know that the Tennessean also competed as a driver from 1972 before retiring at the end of 2000.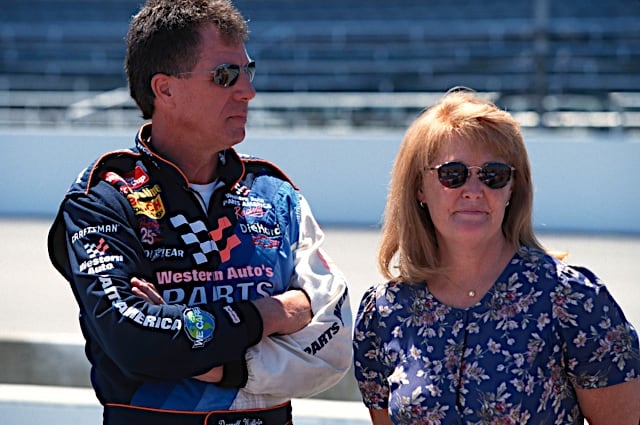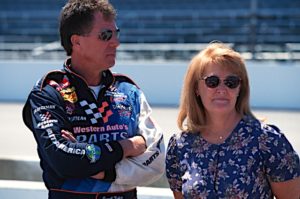 Waltrip is an 84-time Cup Series winner and has won three Cup Series championships in 1981, and '82, and his last championship in '85. While his success as a Cup Series driver really took in 1977 and '78, his rookie years in the sport had their growing pains and were quite the learning experience from '72 through '75 racing on a part-time schedule and owning his own team.
In this week's first season, Kickin' The Tires catches up with the former NASCAR driver and discusses Waltrip's early years in the sport. What it was like to own a car and drive independently, having the late Jake Elder as his crew chief, winning for the first time at his home track in Nashville, and so much more in first seasons.
Waltrip's first start in NASCAR came in the 1972 season, competing in only five races at the time. He began as an independent, as owning a race team of your own was normal back in the day. He recalls how his career got started and if NASCAR was a dream come true for him.
"Yes and no, it's not like it is today where the drivers are in Cup at age 21 or 22," Waltrip said. "There just weren't that many cars back in the day, so you had to have your own car and be independent. I went to Talladega that year and my first car was a Mercury, and I bought the car from Holman and Moody."
"I had wrecked at Daytona in the Saturday race. So, I took the car over to Dick Hutcherson and Eddie Pagan of Hutcherson-Pagan Enterprises. Hutcherson was a great guy and great to me, but he told me 'we could make this car into a '71 Mercury and you could run into the Cup Series. When I bought the car, it was originally a '69 Mercury."
"When I went to Talladega for my first start, it was a fun weekend. Jake Elder was my crew chief and I didn't know Jake. He worked for Hutcherson-Pagan and Dick had sent him down to Talladega to take care of me and the car. It was the first time Goodyear had been down there. The tires I had were the older tires and I only had 12 sets. I didn't have the money to buy new tires."
"The funny thing about that race is I made more money selling my tires than I did racing in the race. I made about $600 to $700 selling more tires. It was a blessing in disguise. I was pretty aggrogrant and obnoxious at the time, and pretty confident. That first year in '72 was really fun."
When Waltrip first entered the sport in '72, he only competed in five races. However, the '73 season was supposed to be his rookie season competing in more races. Despite doing so, Waltrip said NASCAR didn't really what he had to say at the time.
"We originally decided to run Rookie of the Year in '73," he added. "I didn't go to Riverside because the track was too far and I didn't have that kind of money. I finished really well at Daytona and finished second in Texas. My average finish was a lot better than the late Lennie Pond. I won more money and all my numbers were better than his. Really, I talked too much and probably talked myself out of the rookie of the year with NASCAR. They didn't really appreciate what I had to say at the time and some of the things I did. Lennie ended up winning rookie of the year."
"It's funny, I never put enough emphasis on winning championships when I first entered. I was more interested in winning races. I thought it was more important to win a race than it was to win rookie of the year and a championship. It wouldn't be until when I went to drive for Junior Johnson that I figured out winning championships were important.
As D.W. first entered the Cup Series, he originally ran on a part-time schedule, not a full-time schedule like most drivers do today. However, there was an ally that came in and helped Waltrip to race more. The Tennessean explains why he didn't run as much as he would've liked.
"Money," Waltrip said. "It was mainly the money. I was racing at the Nashville Fairgrounds on Saturday nights in order to have enough money to race on Sundays. I just didn't have the money. I called Bill France Jr (son of NASCAR founder Bill France Sr) and I said 'Bill. I'm done, I can't race anymore. I don't have any more money, I'm broke and I owe people money. I can't go to any more races."
"The next race was Dover and Bill said 'John Reynolds is a really good friend of mine. Let me talk to John and see if we can help you out to get you to that race.' Bill called Reynolds and I went to Dover and did a bunch of Public Relations work for them. They (NASCAR and Reynolds) paid me $2,500 after I got done helping them."
"Helping tracks and tracks helping me along the way helped keep me in business. '74 was a tough year, as I almost called it quits. I said to heck with racing, I'm going to go back and race late models in Nashville. I had this desire of wanting to be a Cup Series driver and it all just worked out. Bill France Jr was a lot of help to me."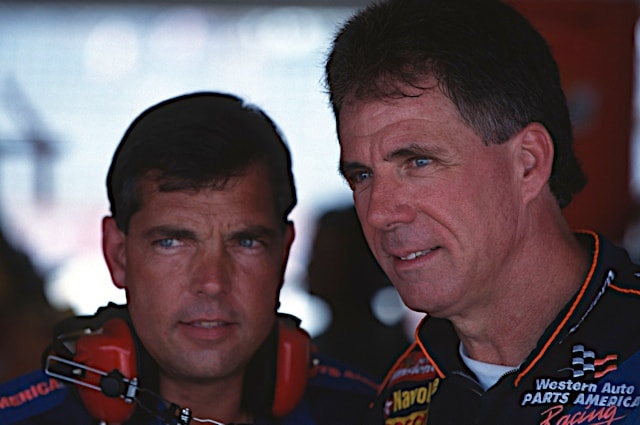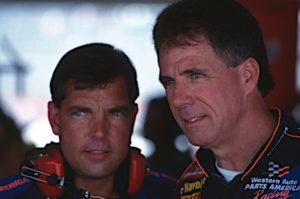 In '72, Waltrip's first career start in the Cup Series came at the massive track of Talladega Superspeedway, which was still relatively new at the time when it first opened in 1969. 50 cars entered the race with Waltrip starting 25th but ultimately fell out early with an engine failure. The 75-year-old describes what it was like racing at Talladega.
"Hutcherson and Pagan had put a great car together for me," the 84-time Cup Series winner said. "The car was a '71 Mercury. There were issues with the car. There were parts dragging on the ground when I was racing. My then-crew chief Jake Elder got mad and quit. A crew member from Bobby Allison's pit helped me cut the cross member out where it wouldn't drag on the ground."
"You have to remember, I'm a rookie. When I was racing, I was not that verse in what was going on with the tires and managing your equipment. I just think I could potentially be cheating. Jake was known to be a good cheater. We're out there passing Richard Petty, Cale Yarborough, Buddy Baker, and Bobby Allison. They were having tire trouble and we weren't. I was convinced in my mind, Jake did something to this car. I thought for a while, this is my first race and I'm going to win it. Unfortunately, the engine blew. I learned a lot and went home. The weekend was a very emotional weekend."
During Waltrip's early years, the Tennessean had respectable finishes of eight at Atlanta and third at Nashville in '72 while upping his top fives and 10 finishes in the '74 season. Waltrip goes into detail about whether or not learning the car was a challenge for him.
"I was an outsider when I first entered the sport," he said. "There were guys like Cale Yarborough, Richard Petty, David Pearson, and Bobby Allison, they were a group called the winner circle. They were all in the winner's circle and I wasn't. I was originally from Owensboro, Kentucky and I was trying to break into the circle."
"I had to fight a little harder than some would to get in that clique. I was committed. I felt like I could compete with these guys. I just kept fighting and never gave up. In the end, it worked out. It was hard getting into that clique. The guys were racing each other and they didn't need any outsiders coming in messing up what they had. It took a long time to be considered to get in that group."
In the following season in '73, Waltrip made his first Daytona 500 start. The former Cup Series driver started 11th and finished 12th. He recalls what it was like getting to race at Daytona for the first time.
"Marty Robinson was a great friend of mine and he and I made contact during the race," he said. "The contact knocked him out of the race but not me, I kept going. You could finish 10th and be 15 laps down. That's the way it was back in the day. Heck, you could finish fifth and still be five or six laps down. You had to hang in there and do the best you could."
"By being an independent car, you had to fit somewhere right in the middle. You had to find your niche and made sure you did the best with what you had at the time. Everyone knew I could drive and I had the desire. Everyone knew I needed a little help and people were able to help me out."
In the '75 season, the three-time Cup Series champion's first win occurred at Nashville. Waltrip started on the pole and finished first after leading 147 laps.
"Winning Nashville was a huge relief," Waltrip said. "The ironic thing about that win is Cale Yarborough had a better car than us. However, Cale had wrecked in the pits and we ended up winning the race. The other ironic thing about that race is when I won my first race, Jake Elder was my crew chief. When I won my last race in the Southern 500, Elder was my crew chief."
After winning his first race at Nashville in the '75 season, Waltrip went on to win 83 more races in the Cup Series and 13 in the NASCAR Busch Series. He reflects back on whether or not he knew at the time as a rookie if he would have so much success moving forward.
"I realized early on, it was all about the equipment, you had to have had the right equipment to be able to compete," he said. "I tried doing it on my own, but I just couldn't. I didn't have the money to run on my own. I was on the verge of quitting before Bill France Jr helped me. I had a chance to drive for Bud Moore for a few races, I went back to race my car for a while."
"Digard Racing came along and they hired me to drive the 88 car. That was really a stepping stone to start out on your own with not a lot of help. You impress people and they see that you can drive and give you an opportunity. The DiGard place was a mess when I first went in. I hired Robert Yates, Buddy Parrott, and David Ifft. I had a lot of good people. They were in Daytona and they moved to Charlotte. When DiGard moved to Charlotte, things really took off from there."
After his career took off at Digard Racing and Junior Johnson, Waltrip has plenty of trophies in his collection. However, he ponders what his favorite trophy is in his collection.
"I have two or three in my collection," the Tennessean said. "You have to have a Daytona 500 trophy in your collection. I have one of those. I'm the only five-time winner of the Coca-Cola 600 at Charlotte. The race that really means a lot to me and it's the only race I won there is in 1987 in Martinsville. That was the weekend my daughter Jessica was born and then the weekend in '92 at Bristol means a lot to me as my other daughter Sarah Kaitlyn was born. I have a lot of great trophies, but I wish I could've done more and won more championships."
To follow up on his statement, Waltrip says his first Cup championship in 1981 was his favorite.
"The first one will always be my favorite," Waltrip said. "When you get to drive for your hero Junior Johnson, that was great. You didn't want to disappoint Junior Johnson. You wanted to be the best you could be. I learned so much about NASCAR from Junior. Driving for Junior that first year and winning that first championship, we accomplished that really well."
As the interview wrapped, Waltrip thinks about if he could do anything differently in his career.
"I think about that question a lot," Waltrip said. "I made a lot of friends. Bobby Allison was a great friend and we were good rivals on the track. Dale Earnhardt was a great friend and we were rivals. It's amazing when you're competing against someone, you don't like what they do but when you quit and have a little time to reflect, you think about what a great friendship you had with the different drivers you were racing with."
"The people are so different back in the day than what they are now. Back in the day, racing was a hobby, it was fun. We didn't do racing because we liked it, we did racing because it was fun. Now it's a business, so that changes the dynamics a lot."
"With that being said, you look at the trophies you won, but it's the people that helped get you there. I think about all the people that took a chance on a kid from Tennessee, who helped me a lot. I could have never got to where I was if it weren't without the people I was associated with."
Throughout Waltrip's career, the 75-year-old has amassed 84 Cup Series wins with three Cup Series championships in 809 starts and earned 13 Busch Series wins in 95 starts. Additionally, Waltrip has earned 276 top fives and 309 Top 10 finishes with 59 pole positions. In the Busch Series, he earned 40 top fives and 53 Top 10 finishes. Lastly, Waltrip has competed in the NASCAR Truck Series with 17 starts, one top-five, and eight Top 10 finishes.
Race fans can "follow" Waltrip on Twitter to learn more about what he is up to today.