By Seth Eggert, Staff Writer
Only four teams on the 2023 eNASCAR Coca-Cola iRacing Series grid have the same driver lineup as the 2022 season. One of those teams is Stewart-Haas eSports that sees both Dylan Duval and Steven Wilson returning to the team.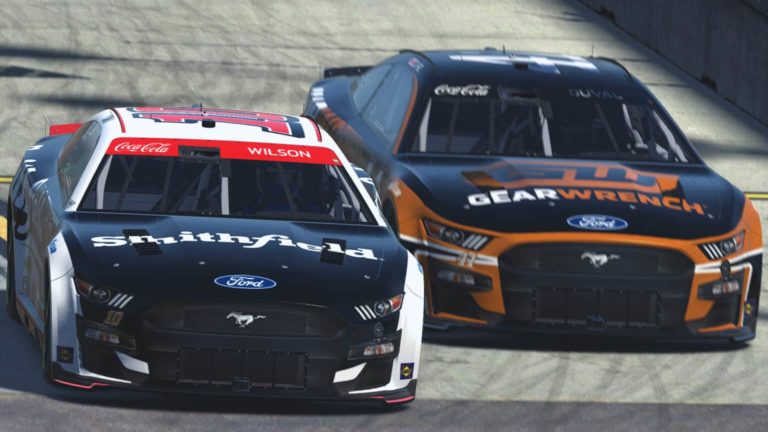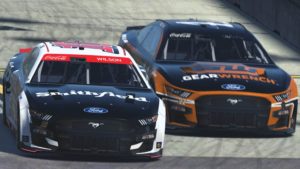 For Duval, 2023 marks his fourth consecutive season with the endemic NASCAR team. The Halifax, Nova Scotia native has helped the 2022 eNASCAR Team Championship-winning organization pick his teammate in 2021 and 2022.
"Dylan's a great teammate to have, and he's the one who got me on Stewart-Haas in the first place, so I appreciate him for that," Wilson said of Duval's involvement in getting him onto the team. "I think we can do it again. I think we had a good year last year, obviously."
With Wilson making the eNASCAR Championship Four and avoiding relegation, it was an easy choice to keep the team together. Duval will remain in the team's virtual No. 41 Ford Mustang for the foreseeable future.
"I'll be here as long as they (Stewart-Haas eSports) let me be here," Duval stated. "Steven was on board, locked in before free agency, so I couldn't actually agree to terms right away, but I pretty much knew as soon as the window opened that I was getting a phone call from Jake (Morris, Stewart-Haas eSports' Team Manager) and we were going to work out the details."
Meanwhile for Wilson, not only did Duval and the team want him back, but so did the sponsor. He remains in the No. 10 Smithfield Ford Mustang after a career season in 2022. Wilson's toy pig, a nod to the Smithfield sponsorship, will also make an appearance as well.
"Pretty much, Smithfield really want to be back," Wilson said. "It was easy to come to terms, but it's a great team. I've loved being a part of it in the past couple of years. The pig will return, so I'm sure there will be some bacon to be had as well."
The end of the 2022 season stung for Wilson. A miscue on pit road pushed the Stewart-Haas driver to take two tires in the championship race, held on stage at the NASCAR Hall of Fame. Ultimately, that two-tire call left him fourth in the championship when the checkered flag fell. Wilson aims to put that behind him and focus on improving in 2023.
"I'm ready to get the season started," Wilson said. "Hopefully I'll end up three points positions better than last year. That's the goal, but I mean anything can happen. Last year was a really good year, but I'll just see what I can do to hopefully make it another good deal this year."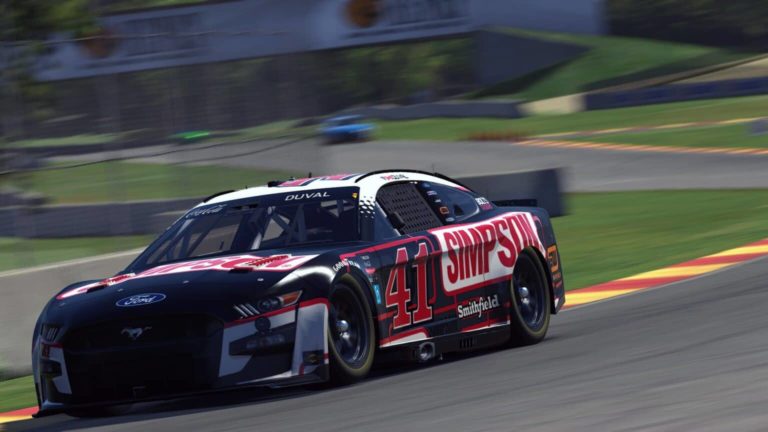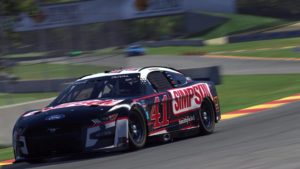 While Wilson is relatively new to the series, having made his debut a couple years ago, Duval is a stalwart of eNASCAR. The Canadian made his debut in 2012 and has been full-time since 2016. In the team era of eNASCAR, Stewart-Haas has been the only place that Duval has called home. That loyalty is something that he recognizes and respects.
"It means a lot … just being here (in the eNASCAR Coca-Cola iRacing Series)," Duval said. "I've been racing in and out of the series since 2012, basically full-time since 2016. There's not many of us who have been around for that long. It's something I'm proud of.
"More so than anything, I'm just more excited to be back with Stewart-Haas for a fourth straight year. They've been good to me. They've had my back. They picked me up that first year with free agency and it meant a lot. We've just continued to grow."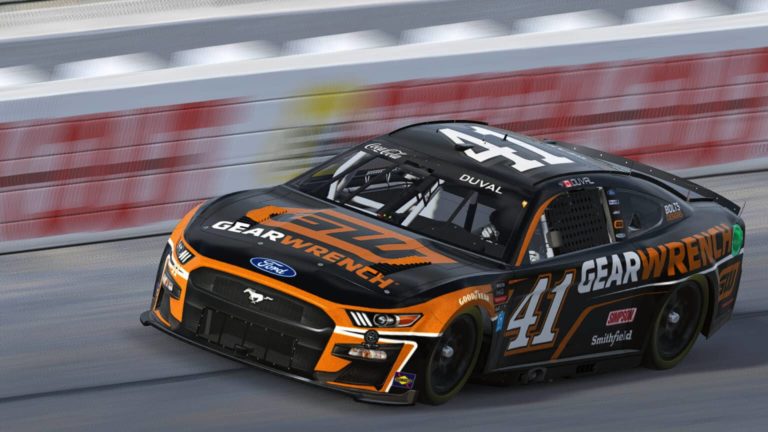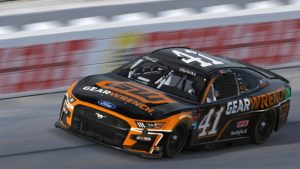 As the veteran of the team, Duval has worked hard to avoid relegation. In 2022 he finished 16th in points. However, like any real-life driver would, Duval is quick to point out that there were points left on the table. Accidents not of his own doing wiped out top-five and top-10 runs.
Though he didn't win, the points that were left on the table potentially could have put Duval in position to make the eNASCAR Playoffs on points. A 16th-place finish in points, despite the wrecks, is a testament to his consistency. That consistency is what Duval is striving to build on in 2023.
"I ran really well, ended up 16th in points," Duval said. "But I really felt like I should have been one of those guys competing for a playoff spot, like the guys who were in the position to be the last person in the points since I felt like I ran with them every week.
"Had some top-fives and top-10s taken away at no fault of my own. I really felt like I had playoff potential this past season, which is something I'm proud of. It just gives me that much more confidence. I feel like I can get back to that top level where I was back in 2016."
The ultimate goal, for both of Stewart-Haas eSports' drivers is a trip back to victory lane. For Wilson, that means building on his multi-win season from 2022. It is also just a portion of his ultimate goal. A return to the eNASCAR Playoffs and in turn, championship glory.
"I want to win a championship," Wilson said. "It really stunk last year to end the way I did, but that's my main goal. Obviously the first goal is to make it to the playoffs, get a win, just get settled and see what happens from there."
Duval meanwhile has some more modest goals. He is still looking for his second career win over six years after his win in the then-eNASCAR Peak Antifreeze Series at Indianapolis Motor Speedway in 2016. Duval's first goal is to make that trip back to victory lane.
Depending on when that victory comes, it would easily lead to another goal, an eNASCAR Playoff berth. Duval's secondary goal is to successfully defend Stewart-Haas eSports' 2022 Team Championship.
"I want to win, I want to get back to victory lane," Duval said. "I want to make the playoffs, and if for whatever reason that doesn't end up happening, the secondary goal is the Team Championship. That Team Championship, seeing what I've been a part of since 2020, it meant a lot to me personally. I'd like to back that up. But ultimately, for me personally I want to win again."
Ultimately, one of eNASCAR's most successful duos aim to improve on their success to date, both have playoff berths, and possibly both the driver and team titles.