By Seth Eggert, Staff Writer
CHARLOTTE, N.C. – For the first time in eNASCAR Coca-Cola iRacing Series history, the Championship Four drivers competed on stage in front of a live audience. NASCAR and iRacing officials did their best to make the drivers comfortable while also producing a historic and successful inaugural event at the NASCAR Hall of Fame.
Though three of the four drivers weren't on their normal iRacing rigs, the models and sim seats were nearly identical to their normal setups. Graham Bowlin and Steven Wilson competed on a single monitor setup. Wilson was on a Victory Sim rig.
Meanwhile 2022 eNASCAR champion Casey Kirwan was on his normal triple-monitor Sim Seats rig, which took a couple hours to setup. Bobby Zalenski had a similar triple-monitor setup to what he had at home.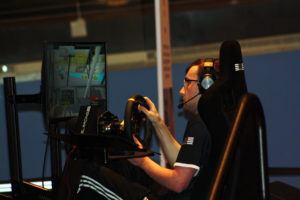 Bowlin's choice of a single monitor was a mirror image to the eNASCAR Pro Battle that the Carolina eSports Hub hosted in May. Like in May, Bowlin was on a Next Level Racing sim rig, as was Zalenski.
"That's what I chose," Bowlin stated. "I've been racing around with just one monitor. There's no reason to change. My muscle memory is good, it's like my driving been the best it's ever been so I'm just ready to race."
On hand for the historic event for the eNASCAR Series was Dale Earnhardt Jr. The former driver and current NASCAR on NBC Analyst designed and presented the trophy. 'The Dale Earnhardt Jr. Trophy' harkens back to the NASCAR Winston Cup Series trophy presented from the 1970s through 2003.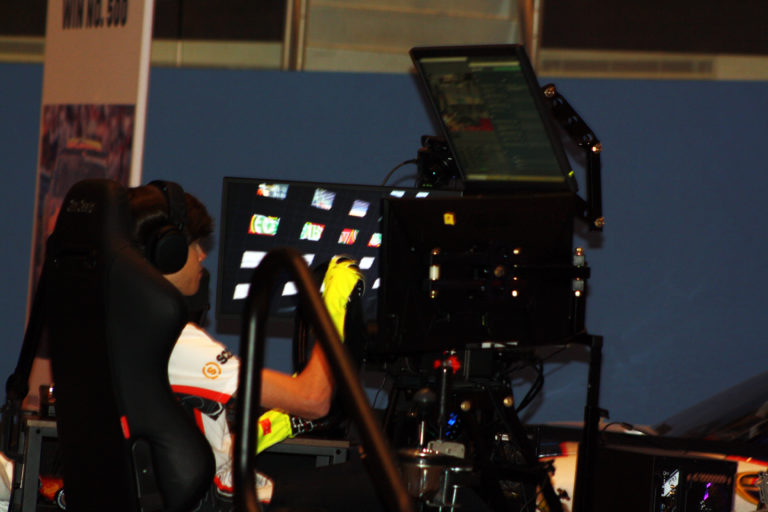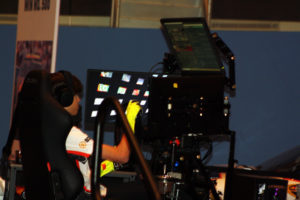 Luckily, that trophy's new home is not far away. Matthews, N.C. native and XSET driver Kirwan won the championship. He was the only driver racing on his own rig and sleeping in his own bed in the lead up to the championship race. That increased his comfort level throughout the weekend.
"It's crazy man, I talked to Dale for a while, and it was really cool to talk to him," Kirwan reflected. "Just having someone like that involved in general is crazy. For me personally it was just cool whether I ran fourth tonight to everyone and or finished last of all the of the championship four. It's just cool. I'm lucky that it's in my hometown. I have family and friends that came in and got to experience it with them. It was super cool.
"I think (I had an advantage). I know Graham got here like Friday, so he had (the Pro Battle earlier this year). He felt pretty comfortable they got. They had a lot of time to get used to stuff, and they had plenty of time to practice. I didn't have to go through traveling through airports and sitting in a hotel and just being by yourself on your phone at night.
"I still got to chill at home and hang with the family and the dog. I think that was just probably the biggest advantage of it all with the rig, everything being familiar, but I don't know how much of that played into it."
Although racing in a different environment, on a different rig could throw even the best eNASCAR drivers a curveball, Wilson didn't believe it was a factor. He slid through his pit box during a crucial round of pit stops.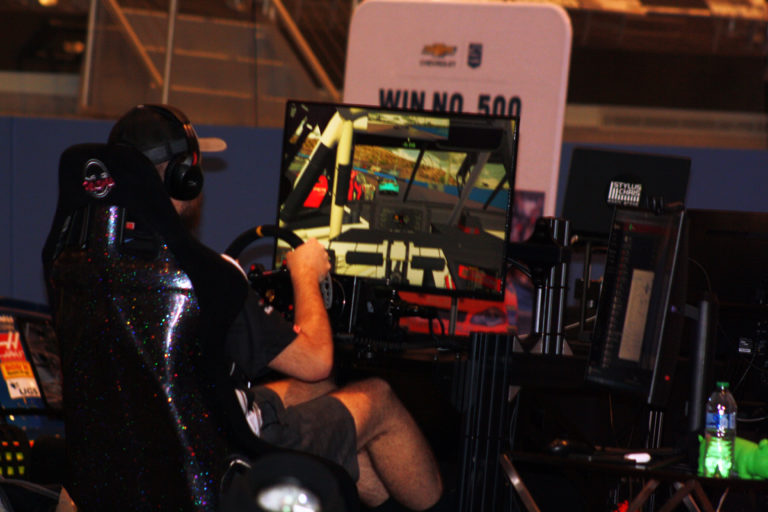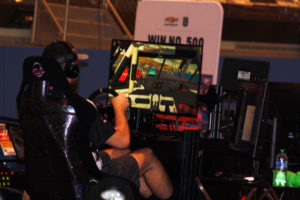 A spur of the moment decision to avoid losing track position resulted in a two-tire stop. Wilson faded as others on four tires kept their speed throughout the final run of the race at the virtual Phoenix Raceway.
"I don't think the rig played into it," Wilson explained. "I don't think anything played into the race. It was just that was what I had for tonight and just come back next year. Usually before races, honestly, I just I don't usually practice getting in the box on old tires.
"Obviously that bit me today I just slipped through and then spur at that moment right then and there I was like 'I can't lose 10 spots, I can't lose however many spots.' I just unchecked the tires and went with it and it was obviously not the right decision. I probably would have finished better on four, but I still would not have been in the place for a championship. It was just kind of doing what I had to do to win."
The driver with the farthest to travel, and the most time to plan, was Zalenski. The Joe Gibbs Racing driver won at Talladega Superspeedway, and secured a Championship Four berth, just over a month before the championship race.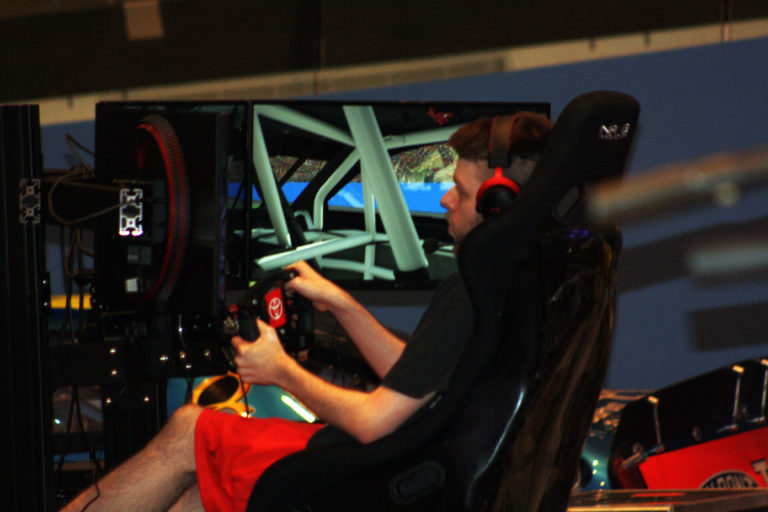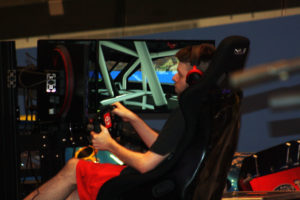 Zalenski was flying from his native Fresno, Calif. to Charlotte, N.C. It was only his second time on a plane and the furthest that he had ever traveled away from home.
While iRacing and NASCAR worked to keep the drivers as comfortable as possible, Zalenski had to come to terms with his severe scoliosis. He had been reserved about his medical condition since he raced online but knew it would be noticed now that he was racing on stage, on camera, and in front of a crowd.
"It was pretty painful," Zalenski admitted. "Something I never talked about was my condition because it's never been relevant. I just raced online. That was an interesting thing to come to terms with. I just accepted it.
"I was born with very severe scoliosis, so I had surgery about 10 years ago. It was like 200-degree curves in the spine if I didn't get surgery, I wouldn't be able to be here racing for sure. My lungs would be squished because it just gets worse. I had surgery and the best I could do is two 50-degree angles. Most of the spine is metal nails and screws. I'm all patched up. With all that considered, it's crazy that I'm doing this. I always wanted to be a NASCAR driver. It just wasn't in the cards for me."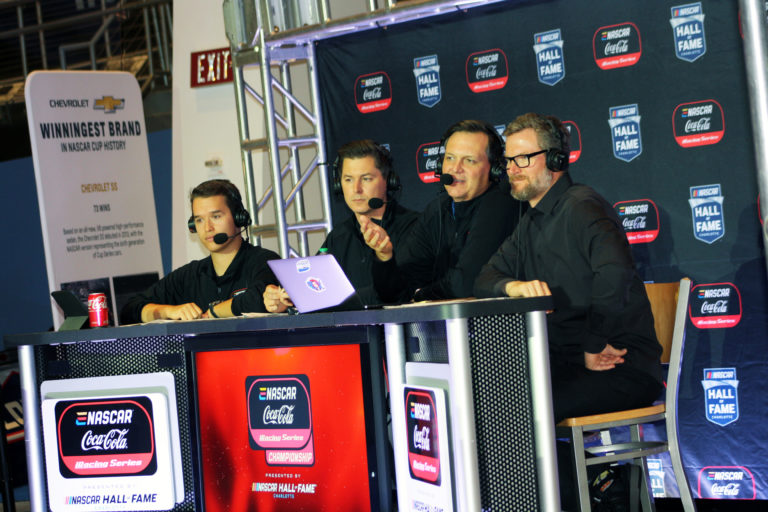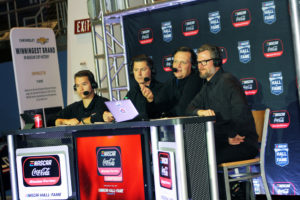 Over 100 people including NASCAR drivers, NASCAR and iRacing dignitaries, friends, family, and fans watched as history was made. Stewart-Haas Racing's Aric Almirola, Our Motorsports and XSET's Anthony Alfredo, and NASCAR Drive for Diversity competitor Rajah Caruth were among the real-life drivers in attendance.
Also joining them in attendance were iRacing Executive Vice President Steve Myers, iRacing's Director of Marketing Kevin Bobbitt, and NASCAR's Gaming and eSports representative Ray Smith.
Overall, the first of its kind event for the eNASCAR Coca-Cola iRacing Series championship was a success. Each of the Championship Four drivers were on an equal footing, either on their own iRacing rig or one nearly identical to their personal rig.
Moreover, the atmosphere of competing on stage at the NASCAR Hall of Fame elevated the status of NASCAR's eSports division to a level that it previously had not achieved.
Whether this is the first of an annual tradition for NASCAR and iRacing or just a one-off event like the eNASCAR Heat Pro League's championship race in 2019, the 2022 Coca-Cola iRacing Series Championship Four drivers, especially Kirwan, have memories that they will never forget.