By Seth Eggert, Staff Writer
RIDGEWAY, VA – One week removed from being parked for intentionally wrecking Kyle Larson at Las Vegas Motor Speedway, Bubba Wallace was humbled by the experience and lessons learned while hoping for consistency in penalties moving forward.
Accepting the Penalty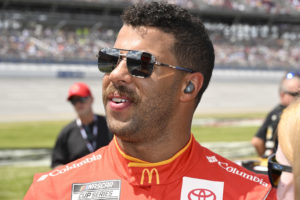 NASCAR Cup Series officials suspended the 23XI Racing driver, effectively parking him from the Dixie Vodka 400 at Homestead-Miami Speedway. The penalty was the first time in the three National Touring Series that NASCAR had parked a driver since 2019.
Wallace incurred the penalty after hooking Larson in the right rear on the frontstretch on lap 95 of the South Point 400. The resulting accident swept up Christopher Bell before the Mobile, AL native walked across the active track and confronted Larson.
"I totally accept the penalty and the repercussions that come from my actions," Wallace explained.
Striving for Consistency
Wallace also had a conversation with NASCAR's Steven O'Donnell and Steve Phelps after the incident.
"I talked to (Steve) O'Donnell (NASCAR) and I talked to (Steve) Phelps (NASCAR)," Wallace continued. "I said, 'Hey, I'm good with being the example if we can keep this consistent moving forward,' because it's happened multiple times this year and it's something that may continue to happen you know, for other drivers down the road."
While Wallace was the first since Johnny Sauter to be parked for retaliation since 2019, he is not only driver to retaliate in the past three years. Penalties for retaliation have varied since 2019.
Ben Rhodes (Texas, 2020), Austin Wayne Self (Martinsville, 2021) and Carson Hocevar (IRP, 2022) were not penalized after they retaliated, hooking another driver in the right rear in the same manner as Wallace.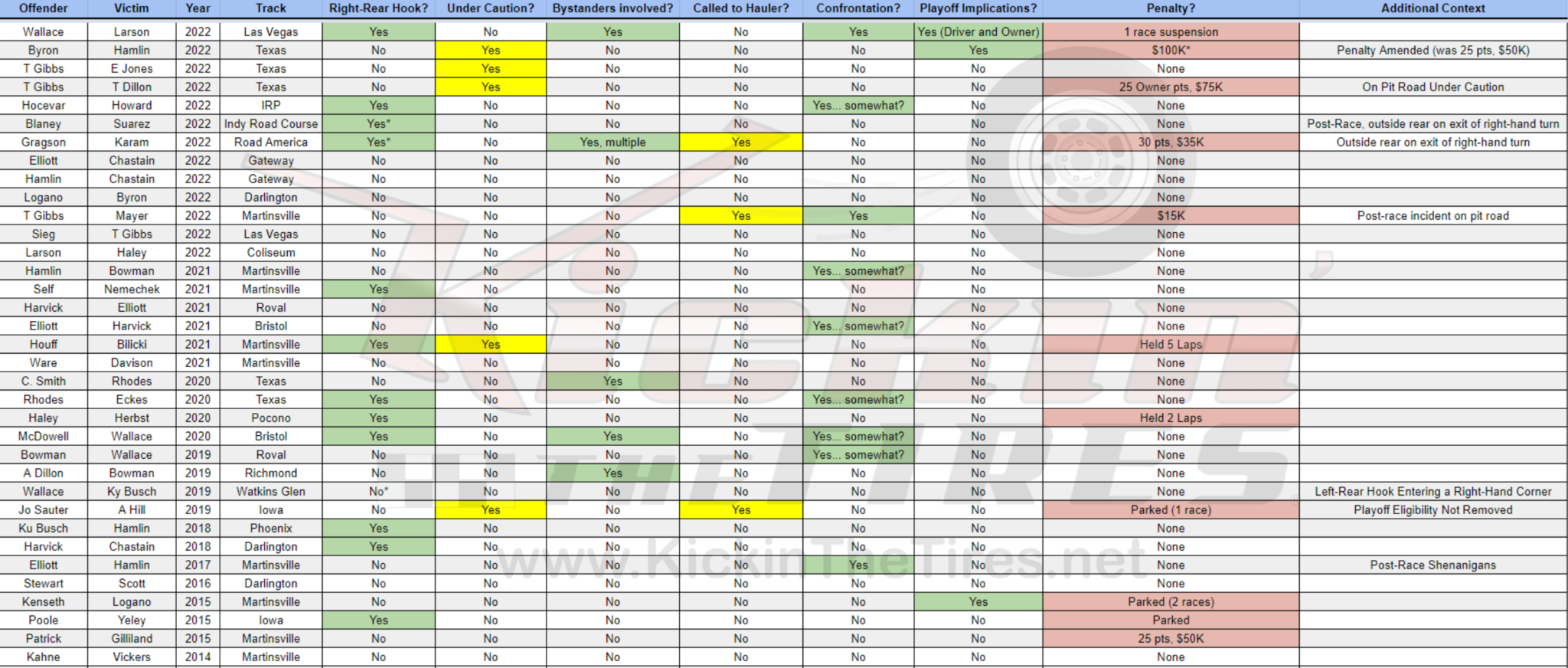 Justin Haley was held for two laps at Pocono Raceway in 2020 after he retaliated against Riley Herbst. Noah Gragson received the harshest penalty, until Wallace, after he retaliated against Sage Karam at Road America earlier this season.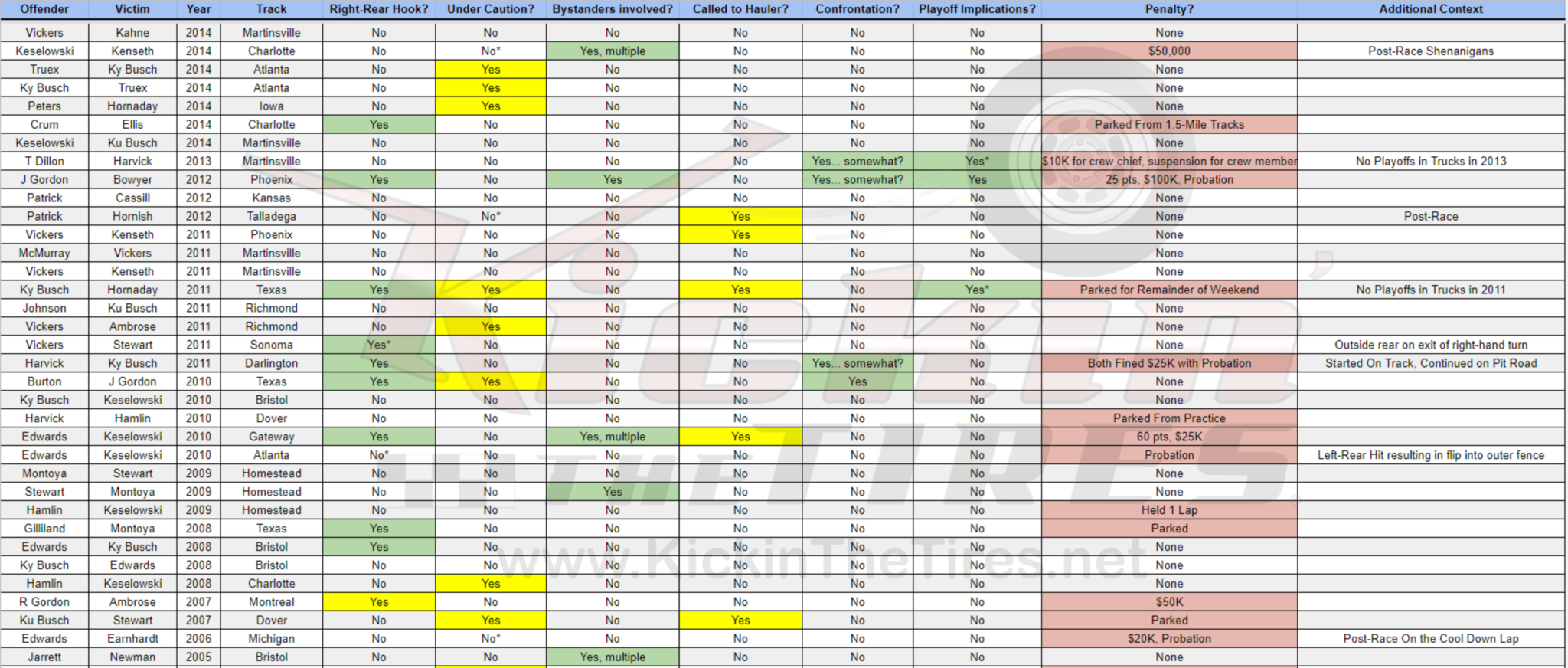 Gragson's retaliation swept up 13 other drivers. The JR Motorsports driver was penalized 30 driver and owner points and fined $35,000 for his actions.
"I definitely learned my lesson, but we have to be consistent with this no matter if it's here at Martinsville or if it's at Daytona or Talladega," Wallace adamantly stated. "We have to keep it consistent across the boards and across the series. That was the conversation, it was a good conversation."
Lessons Learned
While the retaliation on Larson was a spur of the moment decision, Wallace regrets the decision in hindsight. Looking at the sport in a different angle, the 29-year-old understands the light he put himself, 23XI Racing, and his sponsors in.
With the lessons that he's learned, Wallace plans to move on and move forward.
"What have I learned?" Wallace reflected. "You have to think before you do. In this sport, it's the heat of the moment type things that get to you. Seeing that and going back and looking at a 10,000-foot view, definitely could have handled everything way different and been in a different spot.
"I put myself in a bad light, I put our team in a bad light, our sponsors – it's just something that I'm not proud of, but moving on, moving forward and not allowed to make that mistake again."
Back on Track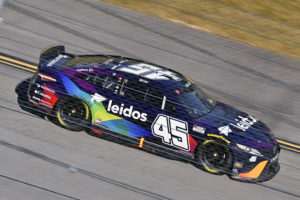 Returning to the track, Wallace will be behind the wheel of the No. 45 Leidos Toyota Camry in the Xfinity 500. However, he is not coming back with a vengeance. Instead, he's focusing on maintaining the speed he had prior to Las Vegas.
Wallace also reached out to Larson. The two fan favorite drivers recognized each other's frustrations. The duo had a positive conversation and agreed to move on.
"I'm not coming back with a vengeance or anything like that," Wallace emphasized. "I'm just going to continue to do what we've been doing. And for the record, I have talked to Larson, and we had a great conversation this week. I think the best thing for us is we both understood where our frustrations were and moving forward and how we both can handle those situations better."
Looking Forward
Until the incident at Las Vegas, Wallace had been on pace for a career year. He's earned one victory, five top-five and nine top-10 finishes, along with his first career pole in the NASCAR Cup Series.
"I haven't lost the edge that we've been on," Wallace stated. "The second half of this season has been really, really strong and the best of my career. Now I've kind of put a bad light over this with this deal last week and I hate that because we still have the momentum on our side and a lot of things to do and excited to be back at the track and with the team here."
While the recent results don't reflect it, Martinsville Speedway has historically been a strong track for Wallace. He earned his first career NASCAR Camping World Truck Series win at the track. He led 23 laps at 'The Paperclip' in the 2021 Spring race.
"We have Leidos on our car and great track for us here at Martinsville," Wallace continued. "Great track for us here at Martinsville. There's a lot of good things going into this weekend."
The Xfinity 500 at Martinsville Speedway is scheduled for Sunday, October 30 at 2:00 p.m. ET on NBC. The race will also be broadcast on the Motor Racing Network and SiriusXM NASCAR Radio, channel 90.