By Seth Eggert, Associate Editor
CONCORD, N.C. – Embracing his inner Kyle Busch and Dale Earnhardt, Jr., TRICON Garage co-owner David Gilliland took the opportunity of an open NASCAR Craftsman Truck Series race to evaluate his operation in Friday night's North Carolina Education Lottery 200.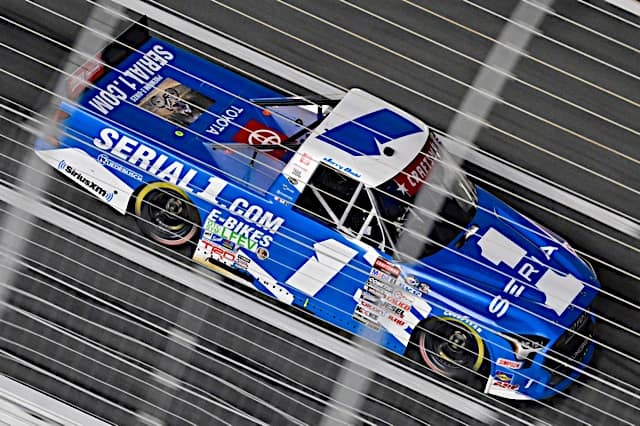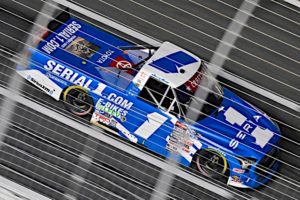 The Riverside, Calif. native battled with his own trucks throughout the 200-mile race at Charlotte Motor Speedway. Gilliland had a spirited battle with both Tanner and Taylor Gray as Corey Heim and Dean Thompson battled for the win. Though TRICON didn't take home the checkered flag, the team did have all five entries inside the top-10 throughout much of the race.
TRICON swept half of the top-10 in Stage 1. By Stage 2, the team still had four of their teams scoring Stage points, including Gilliland's No. 1 Serial 1 E-Bikes Toyota Tundra TRD Pro. Ultimately the Toyota powerhouse had three of its' trucks finish in the top-10.
"I won't be coming back full time, but I learned a lot tonight," Gilliland admitted. "It was fun. I'm really proud of TRICON Garage and all the folks that work there and make all this stuff possible. All of our five of our trucks were in the top-10 for the first part of the race. Then four of them in the top-10 for a long time there towards the end was something that I'm very proud of.
"I'm prouder of that on the ownership side than driving but being able to race with them side by side, door to door was a lot of fun. I'm just really proud of the team and how we're working together and communicating. Corey's leading the points. It was a great points night for him tonight and it's a good night overall."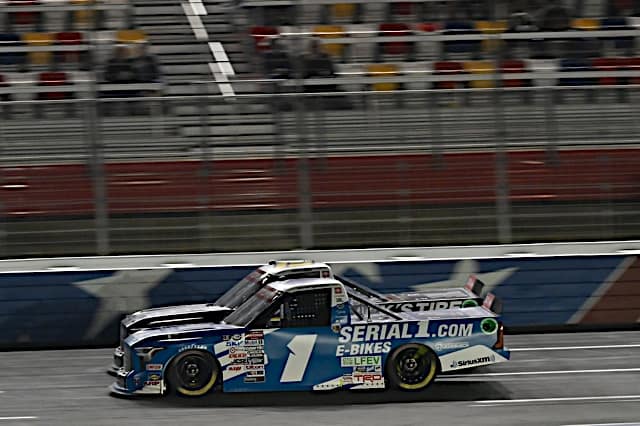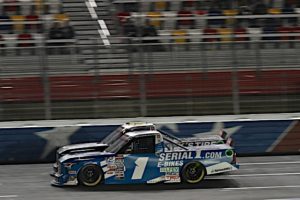 For Gilliland himself, he faded on the late-race restarts. As the field went three and four-wide repeatedly, his Tundra was swallowed up by the competition. He took the checkered flag in 14th.
Much like how Busch runs a handful of races for his team, Kyle Busch Motorsports, and Earnhardt in the Xfinity Series for JR Motorsports, Gilliland will compete in his own trucks from time to time. Prior to Friday night's race, the last time the 47-year-old competed was in 2021 at Darlington Raceway. Gilliland doesn't expect to get back behind the wheel again this season, but wouldn't rule it out.
"Me racing this race tonight will further help develop our TRICON drivers," Gilliland explained. "It's probably just a one off. We have a couple open races in the in the one truck towards the end of the year, so I wouldn'trule it out 100% but probably not. The race opened up and I had a good opportunity to come out and run andsee what we had."
Like Busch and Earnhardt, Gilliland used the opportunity to race to evaluate where TRICON and its' drivers are. Though he admitted that if he competed more often that he'd have a better idea of where the team sits.
However, TRICON's performance so far in 2023 suggests that the team is trending upward. In 53 combined Truck starts this season the team has one win, 10 top-five and 24 top-10 finishes. The organization also has three poles 11 races into the Truck Series season.
"It would be better if I raced more often," Gilliland admitted. "I think the way our trucks are performing, the way they're qualifying, the way they're racing and the way they're finishing is the best marker of where our team is at today. We had to change the bodies on over 50 vehicles, which is a heck of an undertaking, and we do everything in house.
"We build our own chassis, our bodies, chassis, dyno, paint, everything and it's a lot to do. We got a lot of people that have to work hand in hand to produce vehicles, to come out on the racetrack and compete for wins."
Next for TRICON Garage is the Toyota 200 on Saturday, June 3, at 1:30 p.m. ET on Fox Sports 1. The race will also be broadcast on the Motor Racing Network and SiriusXM NASCAR Radio, channel 90.