By Seth Eggert, Associate Editor
CONCORD, N.C. – The Daytona 500 is the most presitigious race on the NASCAR Cup Series schedule, but the emphasis that drivers and teams have put on earning Stage points has turned the Coca-Cola 600 into the most important race of the regular season in the Stage era.
The 600-mile race at Charlotte Motor Speedway has earned that title because it uniquely has not three but four Stages. Like every other race on the Cup Series schedule, the first stages pay points to the top-10 finishers along with a Playoff Point to the winner of the Stage. However, there's three opportunities at Charlotte compared to two throughout the remainder of the schedule.
What started as a way of recognizing the longest race of the season in mileage and making it unique has slowly made it more important that other races on the calendar.
"It's certainly 10 more points that you wouldn't be able to get on any other week, so being able to emphasize a good race is important," Austin Cindric admitted. "Just from a numbers side, I would say it could be one of the most important regular season races as far as an opportunity to get points or separate yourself or being able to maximize having a good day, a good car, good execution. That pays off 25 percent more than any other race we have."
Similarly, to the Coca-Cola 600, a perfect race in the Daytona 500 could result in 70 points. Both of the Daytona Qualifying Duel races pay out points to the top-10 finishers. The only difference is that, unlike a traditional Stage, the Duel races do not award a Playoff Point to either of their winners.
In the six Coca-Cola 600s that have taken place in the Stage Era, 11 drivers have scored more points than the eventual winner. Only twice has the winner swept every Stage and the race win, Kyle Busch in 2018 and Kyle Larson in 2021. In 2021, Larson only scored 10 more points than his Hendrick Motorsports teammate, and runner-up finisher, Chase Elliott.
Meanwhile, in 2018, Busch scored 16 more points than his then-Joe Gibbs Racing teammate Martin Truex, Jr., about the same as a perfect race elsewhere when the winner sweeps the Stages, netting 60 points and second place earning just 35 with no Stage points.
However, those additional Stage points could mean the difference between making the NASCAR Playoffs or being on the outside looking in. The additional Playoff Point from the third of four Stages also has the effect of adding a little more of a cushion further into the playoffs. All of those added benefits compound the various strategy calls that can take place in the Coca-Cola 600.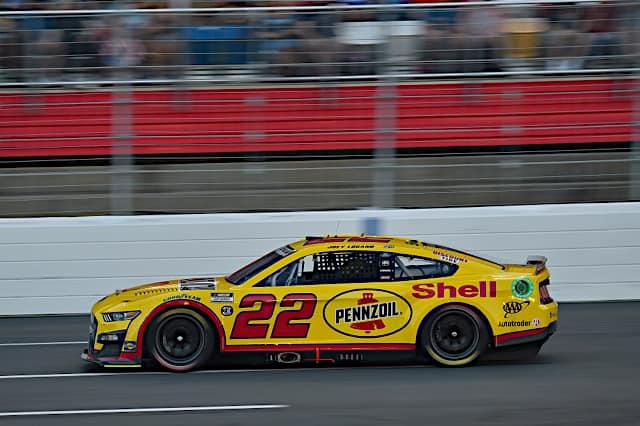 Though he has yet to win a Stage in the Coca-Cola 600, two-time Cup Series champion Joey Logano has 38 career Stage wins. Those additional points aided the Team Penske driver's two title runs. Logano sits sixth in all-time Stage wins in the Cup Series. He is also one of just seven drivers to have earned 30 or more Stage wins.
"It's a very important race for that reason," Logano explained. "When you add another 10 possible points and another playoff point sitting there, it's one of those days that if you have a good car and you're fast, boy, you can stack in some points. You can have an amazing day. Hopefully we have that, but that's what makes the 600 different and special and you have that added stage to it, and, really, if it goes green stage to stage, there's not a whole bunch of opportunity on strategy.
"You can split it down the center. There might be few people that go long, a few people go short if it goes green, but it's not like there's a caution and half the cars take two or stay out or whatever. If there is a caution, it may change some things up, but if there's no cautions, a fast car is just (going to) get a lot of points, and if there is a car up front and they execute the day, they're (going to) come walking out of here with a boat load of points."
Both drivers that have swept all four Stages at Charlotte have gone on to win the regular season championship. However, only Larson has gone on to win the championship in the same season.
With the increased importance of the Coca-Cola 600 and its extra Stage, drivers and teams alike will try to buoy their season with an added boost from the 600.