By: Sarah Handy, Staff Writer
If you follow motorsports in any aspect there's a chance you've heard of Hunter Smith, FitStop Performance or both. FitStop Performance has a family of drivers that they work with on a regular basis including NASCAR drivers Corey LaJoie, Spencer Boyd and Austin Theriault.
However, Smith hasn't always taken his training and fitness to the level it's at now. Smith is 23-years old, was born and raised in Wantage, New Jersey and actually began his career in the motorsports industry in 2008 at the age of 12.
"I started racing go-karts and gradually progressed through the ranks as a driver.  I had a pretty solid career driving a good bit of different cars," Smith said. I've raced go karts, dirt modifies, dirt late models, asphalt late models, and even spent about two years as a development driver in the NASCAR Whelen Southern Modified Tour."
Smith grew up playing what he referred to as normal sports such as soccer, basketball, baseball and football to name a few but it was his stint in NASCAR when he started taking his training and fitness to another level.
"I simply wanted to be the best and looked for any advantage possible, and I felt making myself a better athlete, both physically and mentally, would be huge.  I ran my last race in 2018 and decided to open FitStop Performance," said Smith.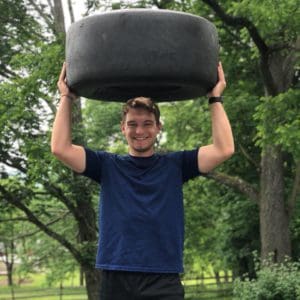 The New Jersey native received an education through the National Academy of Sports Medicine and currently holds his personal trainer certification along with specialization in corrective exercise.
"The health & fitness industry, along with the racing industry, is constantly changing.  So, I always have to keep my eyes and ears open to new concepts and ways to potentially make our program better and keep our drivers ahead". said Smith.
FitStop Performance focuses on physical and mental training of motorsports athletes. At FitStop Performance they want their athletes to become the best athlete as well as the best version of themselves.
"I typically start my days when my alarm goes off around 3:45 AM because on most days, clients start at 5 AM," noted Smith. "A normal day is filled with training, meetings, planning new fitness programs, and then your usual business work like marketing, book keeping, and so forth. Somewhere in there I fit in my own workout, as well."
As mentioned earlier, FitStop Performance's family of drivers include NASCAR Cup Series drivers Corey LaJoie, Spencer Boyd and Austin Theriault. In addition, their drivers include Brandon Lynn (ARCA), Matt Linker (Late Models), Josh Stark (Late Models), Dacin Robertson (Legends), Belle Rondeau (Legends), and Carson Ramsey (Bandoleros).
NASCAR driver Spencer Boyd weighed in on working out at FitStop Performance saying, "Working out at FitStop has been a lot of fun, from your general fitness to focusing in on reaction time. I've been with Hunter's program for about a year and have seen it grow. Proud to be part of the FitStop family," said Boyd.
ARCA Racing Champion and NASCAR driver Austin Theriault said, "It's been great to work with a trainer who has a first hand understanding of what we go through physically and mentally in a race car", said Theriault.
Smith has been a racing fan since he was born and while his family never raced, they have always loved the sport. His parents as well as himself had drivers they pulled for each week. Smith's dad was always an Earnhardt fan, while his mom has pulled for Ryan Newman since he entered the sport. Smith said he has always pulled for and had a heroic amount of respect for seven-time NASCAR Champion, Jimmie Johnson.
"While we still all have these drivers to cheer on, we are all huge fans of our 'Team FitStop' drivers," noted Smith. "They are not just clients; we welcome each and every one of our drivers into our family and pull for them on a regular basis."
Each driver has his or her own program because each athlete requires different needs. However, each client goes through an in-depth assessment to see what their needs are. While Smith said it's hard to describe a "typical routine", he did say they base every program with five key components.
"The first is cardiovascular endurance, we make sure that they can perform and keep focused in their style of racing while maintaining an elevated heart rate over a long period of time. Second, we work on muscular strength/endurance to help them avoid muscle fatigue and recover from races faster.  Third, we have cognitive function, this is all to help train their brains, eyes, and body to react quicker and more efficient under stress.  Fourth, we look at corrective exercise and flexibility where we correct muscle imbalances that could cause unnecessary fatigue, weakness, or discomfort. Finally, we have neck strength and concussion prevention. Simply stating, a strong neck can help resist force of an impact on the brain and upper spine," said Smith.
Within' the state of North Carolina, a fitness trainer can't provide diet plans. However, they can educate. "I strongly educate each driver on what's good and what's not," said Smith. "An ideal diet for a driver is roughly 60% carbohydrates, 20% protein, and 20% fat. There are special cases where we may change that, but typically that's what we stick to."
Recently, Smith started a FitStop Podcast which has gained a lot of attention through out social media. "I'm super excited about the FitStop Podcast. I just wanted an outlet to have some great conversations with people that I often interact with," noted Smith. "I also wanted to help educate people on maintaining a healthy lifestyle. Going forward, I just want to have more and more guests and I hope that the audience listening keeps learning!"
Smith has stated that he wants FitStop Performance to be successful and help as many race car drivers as possible, with that being the reason he started the business to begin with. "I would love for us to become the top training business for motorsports athletes and the place everyone in the sport wants to go", said Smith. "I will say, I always want my program to be affordable on 'any' level of racing and a driver with 'any' budget. We simply want to help."
If you're reading this and want to get involved in a regular fitness routine but need some advice or a push to do so, Smith says, "The best advice I'd give someone wanting to get into a fitness routine is find someone who is educated and there to help, like a fitness trainer. At the end of the day, doing something is better than nothing, but having a guide and someone supporting you along the way can get you the proper results, the proper way."
Smith credits his father with giving him the best advice he's ever received.
"When I was racing, he would always tell me 'run your race'. Which basically means, 'don't worry about everyone else, and do what you know how to do'. While Smith doesn't race anymore, he's carried that motto through life. "It's sometimes hard to focus on your own 'race' when others seem to be way ahead, but all we can control is ourselves and what we do with our own resources", said Smith.
To find out more information on FitStop Performance, and the FitStop Podcast, please visit: http://www.fitstopperform.com
FitStop Performance can also be found on all major social media platforms.
Facebook: https://www.facebook.com/FitStopPerform/
Twitter: @FitStopPerform
Instagram: @fitstopperform.
In addition, Smith would like to thank all of FitStop Performance's clients, supporters and their partners at Off Axis Paint, and The Joie of Seating. Kickin' the Tires would also like to thank Hunter Smith for taking time out of his busy schedule to talk to us and answer questions for this exclusive piece as well as Spencer Boyd and Austin Theriault.