By Sarah Handy, Staff Writer
The NASCAR Cup Series will tackle Charlotte Motor Speedway on Sunday evening for the Coca-Cola 600 with several drivers having a distinct, legal advantage. Hydration. It's important that drivers stay hydrated during the duration of a race to maintain both physical and mental peak performance. This is where the FluidLogic Smart hydration system comes into play, something that several of NASCAR's elite drivers utilize.
About FluidLogic
FluidLogic utilizes the MagLock magnetic connection, the system delivers the right amount of water to the driver through a 4-mil hydration hose. The hose runs through the center of their fresh-air hose to a mouthpiece designed to attach to their radio mic. Using the FluidLogic Smartphone app along with Bluetooth, fluid and its frequency can be pre programmed.
Thanks to this technology, the computer alerts the driver that it is time to hydrate with an LED light on the steering wheel. When the LED light flashes, the driver pushes the button, and the "instant-on" pump delivers the perfect amount of water to keep them hydrated during the race.
Ricky Stenhouse Jr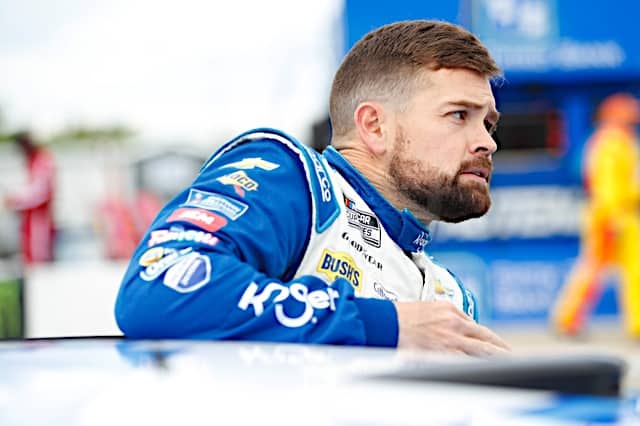 NASCAR Cup Series driver Ricky Stenhouse Jr has been using the hydration system for the last three seasons. As a member of 'Hydration Nation', Stenhouse will be utilizing the system for 600 miles of racing this Sunday in his No. 47 Kroger Chevrolet for JTG Daugherty Racing.
"I think proper hydration has been overlooked by a lot of people," said Stenhouse Jr. "Until I started using the FluidLogic hydration system, I realized that I had [also] been overlooking the advantages of being properly hydrated.
With races being three to four hours long, staying hydrated is difficult. FluidLogic allows me to drink metered amounts throughout the race, with an indicator light that reminds me to drink. It also keeps the fluid cooler than it would be from a normal water bottle."
Heading into this weekend's Coca-Cola 600 at Charlotte, Stenhouse Jr has earned one top-five, one top-10 and six top-15 finishes. His best finish this season thus far is a second-place result at the Bristol Motor Speedway dirt race in March.
In 16 over-all starts at CMS, Stenhouse has two top-five and three top-10 finishes. His best finish at the track is a fourth-place finish in last May's Alsco Uniforms 500.
The Developer
FluidLogic was developed by Ed Jaeger, an entrepreneur and racer himself, and his company, Rainmaker Solutions, Inc. When Jaeger was competing, he found it challenging to stay hydrated. Fumbling with water bottles while trying to focus at driving a race car was an unneeded distraction. For five years, him and his team researched and tested a number of hands-free systems. The outcome was FluidLogic.
"As a racer myself, I saw how dehydration can take a toll on a driver, both during and after a race," said Jaeger in a press release. "Drivers tell us that they can now focus more on driving without having to think about getting the proper amount of fluids. They delegate that responsibility to the FluidLogic system. The end result is they can focus more, perform better during the race and feel better afterwards."
Documentation of FluidLogic
The performance of FluidLogic was documented by Dr. David Ferguson, assistant professor, Department of Kinesiology, at Michigan State University, who studies the physiological stress placed on racecar drivers and pit crews. Ferguson currently works with NASCAR; Indy Car and Formula One teams to help increase the performance and safety of drivers and crew members.
"Race car drivers routinely compete in hot cockpits while wearing fire protective suits," said Dr. Ferguson. "The thermal strain can increase core body temperature by four degrees Fahrenheit, eliciting seven pounds of sweat loss. This type of strain can induce mental and physical fatigue. Thus, it is necessary to rehydrate the driver during competition to mitigate these impairments. Unfortunately, most drivers use hydration methods that do not provide the precise amount their body needs and are difficult to use."
For more information, visit http://www.FluidLogic.com
Feature Photo Credit: FluidLogic