By Jerry Jordan, Editor
Differing appeal outcomes for the same penalty violation will likely lead NASCAR to alter its rulebook, as it has done in the past when clashes with teams don't play out in their favor, sources have confided to Kickin' the Tires.
So, what did Kaulig Racing do to the louvers that Hendrick Motorsports didn't? Nothing. It was the same issue. However, Hendrick had an advantage going into the appeal that Kaulig didn't. Hendrick is well-versed in the NASCAR appeals arena. They have been before the panel numerous times and they are masters at it. Kaulig, however, has never had an appeal at the Cup Series level. It is likely they weren't as smooth and convincing as Hendrick.
Despite the Hendrick appeal going predominantly in their favor with only a $100,000 fine for their drivers, Alex Bowman, William Byron, Kyle Larson, and the No. 9 team, and no loss of NASCAR Cup Series Championship Team Owner or Driver points; Kaulig gets hammered with a $100,000 fine, crew chief suspension, a 75-point owners penalty and a 10-point playoff penalty.
Originally, the four Hendrick teams and the Kaulig team all received the same penalty – 100 championship owner points and 10 Playoff points to the No. 31; the loss of 100 championship driver points and 10 Playoff points to Haley; and a $100,000 fine and four-race suspension for the crew chiefs.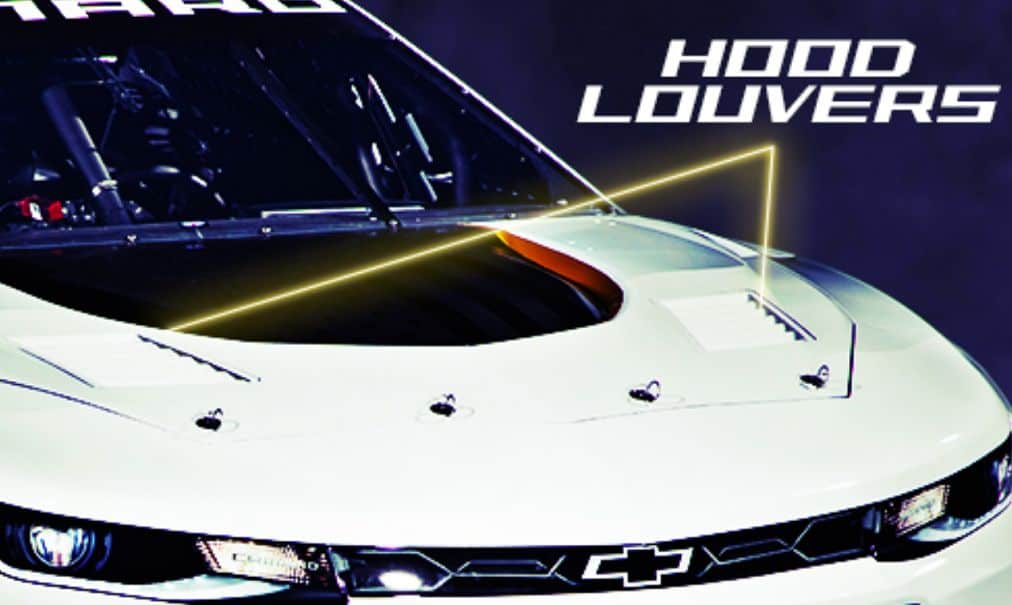 According to multiple sources in the garage, who spoke in-depth about the situation on the absolute promise of anonymity, the violations by Kaulig and Hendrick were the same – the teams "shaved" or "changed" an area in the inner porting of the hood louvers that NASCAR had repeatedly said could not be altered.
"There was an edge on the inside bottom of the louver and they removed it," one of the sources said. "NASCAR knew there was an issue with the louvers and has been working to resolve it. They allowed us to work on the outer areas of the louver to make them fit the hood but the inner portion was off-limits. Everyone knew this. This wasn't an area that just got sanded away or smoothed over, it was there and, in their case, it wasn't.
"Was it an aero advantage, if it wasn't, why did they risk it and why was it only their cars and then the one Kaulig car? They figured something out. I don't know how they came up with it; if it was from the wind tunnel or testing for the Le Mans (Garage 56) car. They have been very quiet about it."
According to the entry list for Phoenix, where the Hendrick and Kaulig cars were busted, there were 16 Chevrolets, 14 Ford and six Toyotas. The only cars having issues with the hood louvers were the four Hendrick cars and the No. 31 Kaulig car of Justin Haley. A NASCAR source confirmed teams were allowed to only work on the outer areas of the louvers but would not elaborate further.
In its statement, after the Hendrick appeal, NASCAR said, "We are pleased that the National Motorsports Appeals Panel agreed that Hendrick Motorsports violated the rule book. However, we are disappointed that the entirety of the penalty was not upheld. A points penalty is a strong deterrent that is necessary to govern the garage following rule book violations, and we believe that it was an important part of the penalty in this case and moving forward. We will continue to inspect and officiate the NASCAR garage at the highest level of scrutiny to ensure a fair and level playing field for our fans and the entire garage."
NASCAR officials declined requests for further clarification on the louver issues.
So, how does NASCAR lose the first appeal and then win the second? Different judges and different advocates make for different outcomes. Kaulig Racing president, Chris Rice, will address the outcome on RaceHub.
Our Team President, @C_Rice1, will be zooming into @NASCAR Race Hub tonight around 6:40 PM EST to discuss our response to today's appeal news. pic.twitter.com/uQQ1zp4NUf

— Kaulig Racing (@KauligRacing) April 5, 2023
During his appearance on the show, Rice all but confirmed he would continue down the appeals path with NASCAR. He said a final announcement would come Thursday but, he "owes it to everyone at Kaulig Racing to continue this fight."
"I stand behind my guys and I know what we did was legal," Rice said. "We are not going to give up, it is just, kind of, disheartening."
Rice added that losing the points is big for the team but losing Justin Haley's crew chief, Trent Owens, was a big hit for them because he and Haley had, "just started clicking."
One crew chief in the garage said on Sunday, "Those guys (Hendrick Motorsports) are great at appeals. They have all the money, they have the best experts and they have a secret weapon. When Chad Knaus retires he can begin a second career as a magician because he is the master of misdirection.
"They did it last year with Byron at Texas by picking apart the rulebook with 'and' and 'or' and I think they did it two weeks ago with this," he said. "How else does the appeal panel say that you violated the rule but you didn't violate it enough to get the full penalty assessed by NASCAR? I don't envy the position NASCAR is in because they can't win and someone is going to be upset when this is over."
Some media reported after the initial Hendrick penalty reduction that it was now open season in NASCAR for teams to try anything and gamble on the appeals panel. However, that isn't necessarily the sentiment of all crew chiefs in the garage. Those who talked with Kickin' the Tires say they are now more worried about NASCAR making an example of them.
"I don't want to change something and take an unplanned vacation or get a massive penalty. I mean, we, sort of, asked for this by wanting to have stringent rules and then we complain when we get caught," the crew chief said.
On Saturday, at Richmond Raceway, Kevin Harvick said he wouldn't mind having the appeals hearing become more open. They have forever been behind closed doors and the arguments made rarely get played out in their entirety to other members of the sport or the fans.
"I think it's a case-by-case situation and it's really hard not knowing exactly what was said," Harvick told members of the media. "We should make them like public hearings, I think it would be way more fun."
Denny Hamlin, who is facing his own appeal on April 6 for comments he made admitting he wrecked Ross Chastain on purpose in the closing laps of the race at Phoenix, said he knows a lot about the case specifically that he can't comment on.
"Yeah, I know too much about it," Hamlin said, in reference to why Hendrick was so confident ahead of its appeal. "I can't. I can't go any into that. So it's, you know, they, they did a good job."
He said the first verdict was a difficult outcome for NASCAR and perhaps the appeals panel wasn't aware of the same things that team owners were told by NASCAR about not manipulating single-sourced parts. He did admit that it makes taking a risk somewhat worth it from a competitive versus financial standpoint if the appeals panel continues ruling in favor of the teams. Obviously, that is not what happened in the Kaulig case on Wednesday.
"It's tough," Hamlin said. "I mean, this is kind of a bad bad beat for a NASCAR because I know that they sat us all down again. They probably didn't sit down with the panelists. Like they did to us as team owners and say these penalties are going to be this because you've asked us to do this and everyone agreed on it. But you know, again, if the panelists aren't privy to that information, then they can make any decision.
"Yeah, it's a little worrisome from my standpoint as a team owner because I mean, I don't want to have to hire designers to work on parts that they shouldn't. You know that's the part we don't want is that you know, I'm already low on headcount and treading water. I don't want to continue to have to hire people to develop stuff that we're not supposed to develop."
NASCAR on FOX analyst and former Cup Series championship crew chief, Larry McReynolds, explained on Sunday that he still didn't know what exactly had been done but he was clear on the fact that the rulebook stated that whatever it was, it shouldn't have been.
"I got such mixed feelings on it," McReynolds told Kickin' the Tires. "You either violate the rules or you didn't. NASCAR basically put it in the rule book, it is as short and simple as you can make it. 'You cannot alter or modify a single source part period. L2 penalty.'"
McReynolds said he didn't think Hendrick and Kaulig did anything malicious but he still wasn't sure, at the time, what alteration had taken place. He said on the West Coast Swing, teams were flying parts and pieces back and forth on airplanes just to get their cars ready for the next race.
"I was a little disappointed in the appeals committee (regarding the Hendrick appeal)," McReynolds said. "Uphold or completely rescind it. There is no in-between on this deal.
"As a crew chief, I tried to follow format and not look at who's at fault," McReynolds said. "That doesn't solve anything. What are we going to do to fix it? It's not about a particular manufacturer or team, it's what do we do to put it behind us that is most important and move forward."
Obviously, the second appeal committee saw a reason to reduce the penalty slightly but unlike the first committee, the group didn't appear to have bought into whatever argument was being promulgated to the panel. If the Hendrick scenario led sources to think that NASCAR would move to change parts of its rulebook, Wednesday's decision probably seals that fate.
"You can bet there is something coming," said another crew chief, who responded to a text inquiry following the Kaulig decision.
Other crew chiefs responded by saying they were somewhat confused with the original appeal outcome but Wednesday's decision made more sense.
Kyle Busch commented on Saturday at Richmond that teams knew not to push the limits but some thought it was worth the risk.
"… I think it shows a break in the system and it's a matter of what you think you can get away with or how you build your case, how good your lawyers are," Busch said.