By Seth Eggert, Staff Writer
There were penalties aplenty as NASCAR Cup Series officials dropped the hammer on five NASCAR teams, as well as Denny Hamlin, for violations during the United Rentals Workers United 500 race weekend at Phoenix Raceway.
Hendrick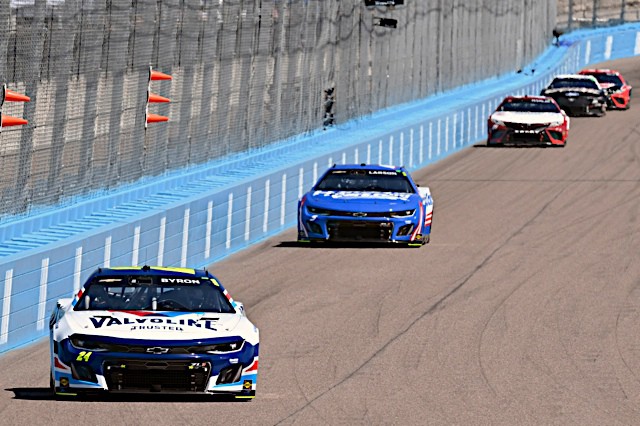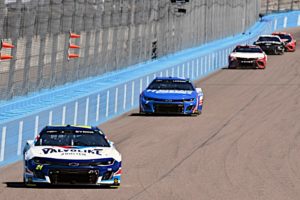 All four of the Hendrick Motorsports teams, as well as Kaulig Racing's No. 31 team had their hood louvers confiscated by NASCAR at Phoenix. The violation, an L2 Penalty, on the four Hendrick cars was found in opening day technical inspection while Kaulig's was in pre-qualifying inspection.
The exact rule that NASCAR referenced is "Overall Assembled Vehicle Rules; 14.5.4.2.A Radiator Duct" with a note stating "Unapproved modification of a single source vendor supplied part."
While the part never made it on track on Alex Bowman's No. 48, Josh Berry's No. 9, William Byron's No. 24, and Kyle Larson's No. 5, all four Chevrolet teams were penalized.
The Penalties
Bowman, Byron, and Larson, and their teams, were docked 100 driver and owner points, in addition to 10 playoff points. The Hendrick No. 9 team was penalized 100 owner points and 10 playoff points.
Crew chiefs Alan Gustafson, Blake Harris, Cliff Daniels, and Rudy Fugle were all fined $100,000 each and suspended from the next four race weekends.
Combined, the $400,000 is the biggest penalty to a single organization in NASCAR's 75-year history. Before Hendrick's penalty the biggest penalty for a single organization was $300,000 from Michael Waltrip Racing for the 'Spingate' controversy at Richmond Raceway in 2013.
While Hendrick has announced an appeal, all four crew chiefs will sit out Atlanta Motor Speedway. Replacement crew chiefs will be announced at a later time.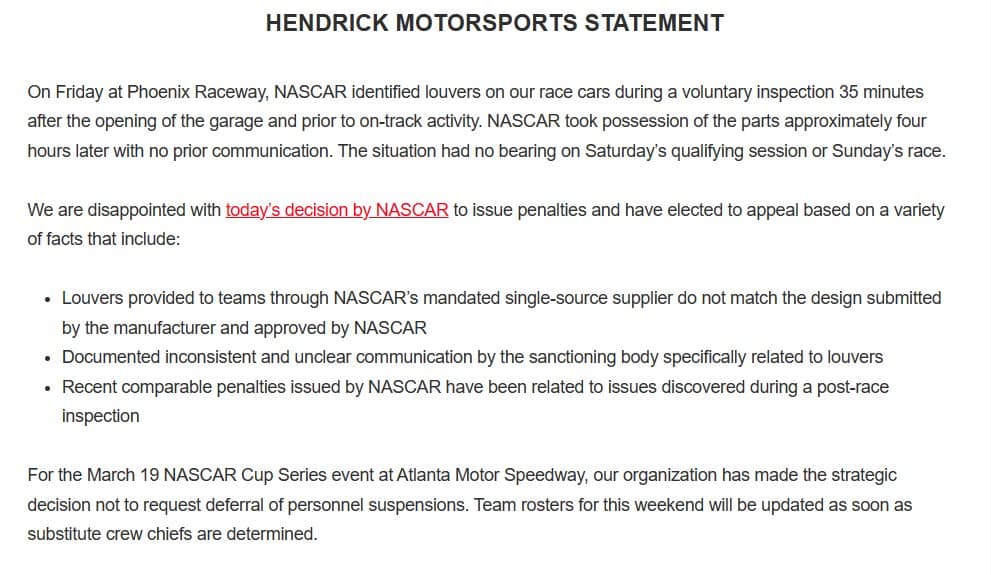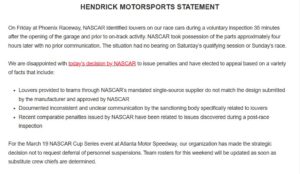 Kaulig
Like the four Hendrick Motorsports teams, Justin Haley's No. 31 Kaulig Racing Chevrolet Camaro ZL1 team was docked 100 driver and owner points, 10 playoff points, and Trent Owens has been suspended for the next four events and fined $100,000.
The 100-point penalty, if not appealed, would put Haley 49th in points with a negative point total.
As of the writing of this article Kaulig has not stated whether they will appeal the penalty.
Hamlin
The other penalty that headlined Wednesday's penalty report was a behavioral penalty for Hamlin. On his Dirty Mo' Media podcast 'Actions Detrimental,' the Joe Gibbs Racing driver admitted to intentionally wrecking Ross Chastain at Phoenix.
This is the latest in a string of incidents between Hamlin and Chastain that date back to an early-race incident at World Wide Technology Raceway at Gateway last year.
For the incident at Phoenix, NASCAR officials cited sections 4.4, parts B and D of the Member's Code of Conduct. Hamlin was penalized 25 driver points and $50,000 for the following:
"Attempting to manipulate the outcome of the race or championship, wrecking or spinning another vehicle, whether or not that vehicle is removed from competition as a result, and actions by a NASCAR Member that NASCAR finds to be detrimental to stock car racing or NASCAR."
As of the writing of this article Hamlin, nor his Joe Gibbs Racing team have commented on the penalty or whether they will appeal NASCAR's decision.
NASCAR also suspended two crew members from Aric Almirola's team for a safety violation after his right front tire detached on track. Almirola was also held for two laps during the race.
Though early in the season, each of these penalties, pending appeals, could have long-term impacts on both the regular season championship and the playoffs as a whole.
This story will be updated as more information becomes available.