By Seth Eggert, Associate Editor
NORTH WILKESBORO, N.C. – "Those that fail to learn from history are doomed to repeat it."
Those words etched into history by Winston Churchill live and breathe through valuable life lessons in every aspect of our world today. In the American world of motorsports, it lives in NASCAR's Throwback Weekend.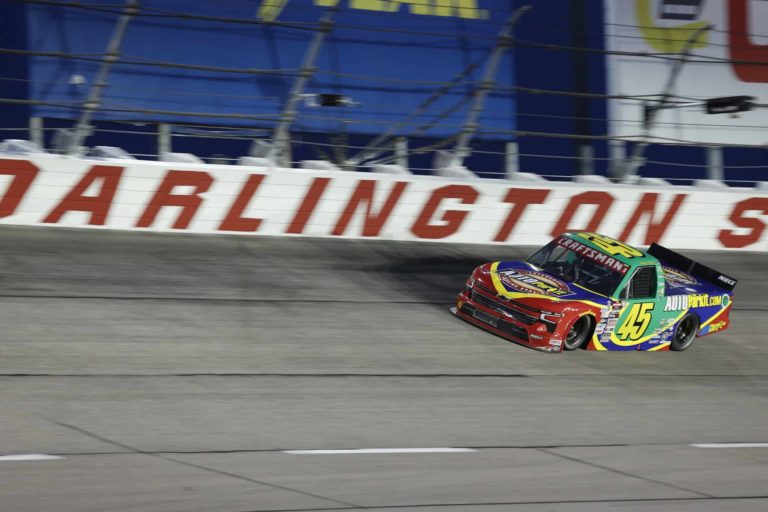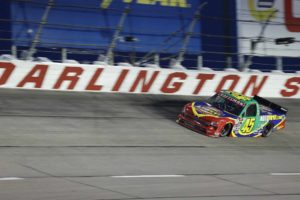 Those lessons include the good, the bad, and the ugly, while also celebrating iconic paint schemes. Throwback weekend currently resides at Darlington Raceway, with some throwbacks bleeding into All-Star Race weekend at North Wilkesboro Speedway.
Both tracks are among the oldest in NASCAR. North Wilkesboro predates the start of NASCAR while Darlington is the original paved 'superspeedway' in NASCAR history.
"I think (throwback weekend) is really important and there isn't a racetrack that hosts better than Darlington," Greg Biffle explained. "I think it just wouldn't be the same if it was Martinsville or Charlotte or someplace else. I think it's fitting. Let's face it our country (doesn't) embrace our history much as we should and look at it from all perspectives, good and bad.
"We learned a lot about all these racers and what they've done over the years and what kind of improvements we've had in safety and what kind of improvements we've had in the racecars. It's great to see."
Some of the lessons through the paint schemes, the fanfare, and documentary spots by NASCAR on FOX and others highlight different parts of the sport. Some paint schemes honored darker on-track moments of the sport, like Lawless Alan's throwback to the late Adam Petty's Spree paint scheme. Other throwbacks were to lesser-known parts of racing history to younger fans.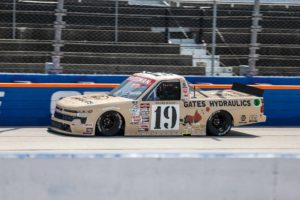 Christian Eckes and Bill McAnally honored NASCAR Hall of Famer Hershel McGriff. The paint scheme they chose to honor was of McGriff's 1950 Carerra Panamericana race (Pan American Road Race) that stretched 2,100 miles in Mexico. McGriff and co-driver Ray Elliott won the six-day race by just over one minute. He then proceeded to drive that Oldsmobile 88 to Darlington for the inaugural Southern 500.
"I used to drive for (McAnally) a few years back, and he asked me about the throwback thing," McGriff said. "It was quite an honor. They painted that [truck] up for the roses (like) the first car that I drove. (It looked like) the same car that I won, the Pan American Road Race with and when we left we didn't have a sponsor or anything.
"We just thought Portland is known as the 'City of Roses,' so we painted the roses on there and of course they followed through. It was the same year I've won the Pan American and also come back here and run the first race. Of course, we drove from Portland here and run the race.
"I did that twice. I did that in 51, too. People can't imagine. But in them days, they didn't have all the big motels and stuff we got nowadays. They had those little places you could rent for 6-7 dollars a night, but I carried a pillow, we had bench seats, there was no bucket seats in the cars."
Eckes, in the McGriff throwback, went on to win the NASCAR Craftsman Truck Series race at Darlington. The NASCAR Hall of Famer, who doesn't typically watch Truck Series races, watched this one because 'his car' was on track. McGriff didn't know it he saw it in victory lane, but his name was on the truck.
"In the winner circle I looked up and I see my name on the door, that was special," an emotional McGriff admitted.
Within each paint scheme, whether it's a throwback to McGriff, Petty, Dale Earnhardt Jr., Kevin Harvick, Wendell Scott, or someone else is a time capsule to a moment in time, a bygone era. Each offers a lesson for the driver, the fans, and others to learn about where the sport has come from.
One part of those iconic paint schemes is also who designed some of them. Whether it was iconic NASCAR artist Sam Bass, artist Garry Hill, or someone else, the designers of today get to pay homage to those that came before them. Those schemes allow for the inner fan of the modern designers to continue the legacy of Bass, Hill, and more.
"Well, for me it's really surreal to even be able to carry on some of the legacies that the previous designers, like Sam Bass," Kyle Williams explained. "Bass and others have created and designed and these schemes that mean so much to designers, but even to NASCAR fans as a whole. We all really lean into that nostalgia of the 80s and 90s and even earlier.
"There's a lot of people that grew up in the mid 2000s, that now they're getting nostalgic for paint schemes from 2007, 2008. There's so many decades and so much heritage that I think needs to be recognized.
"For me to be able to be a small part of that when I do that and I get the opportunity to do that, I really try to make everything as accurate as humanly possible. And I believe that every other designer is the exact same way, because that heritage means so much to us and the fact that we get the opportunity to even be a part of it is just insane because we're all race fans from very, very early ages. Even if we only got into it at 15, 20-years-old, it still has that same feeling."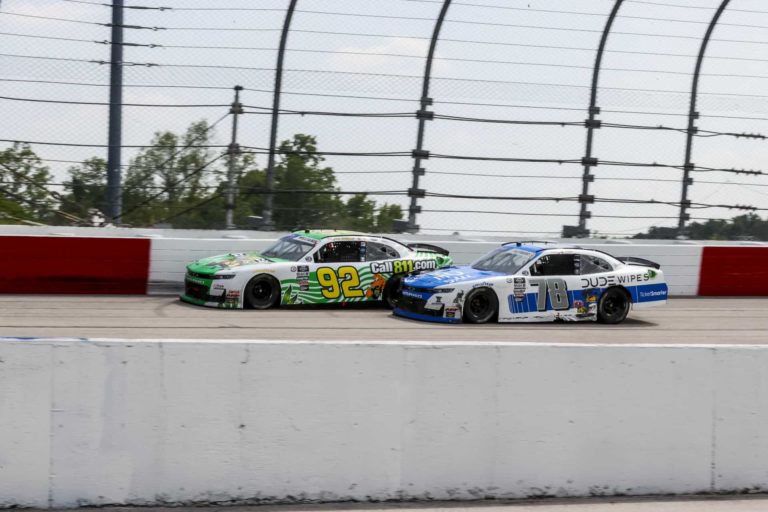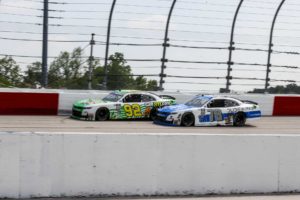 While the designers get to pay homage to the NASCAR artists of the 1980s, 90s, and 2000s, the sponsors drive a lot of the decisions that are made. For some, sponsors throwback to one of their own cars, while others, such as Josh Williams' throwback to Kevin Harvick's 2005 NASCAR Busch Series race in Mexico was one that could fit the sponsor logos.
Anthony Alfredo's throwback to Earnhardt Jr.'s 2017 paint scheme is one that was sponsor driven. The colors of Alfredo's No. 78 Dude Wipes Chevrolet Camaro SS matched the colors of Earnhardt's 2017 No. 88 Nationwide Chevrolet.
"I've only ever worked on one (throwback) which was the recent one for Anthony Alfredo, the 2017 Earnhardt throwback," Noah Sweet said. "I didn't decide on the 2017 throwback, that was that was assigned to me, and it really comes down to sponsors.
"They like to pick out a throwback that matches their color scheme or one that they can easily put their logo on to. There's some sponsors that like to change their logo, some that don't. Sometimes it comes down to if you could wrap the car the way the paint looks like on the 24 car. I wasn't involved in that process at all, but there's so many like small little steps I don't like for me specifically.
"The engine turn pattern inside the 88 for like the 2017 scheme, I had to replicate that in vector. We didn't have like a reflective metal turn like textured vinyl like they used on the car, so we had to replicate that a different way. It really starts at the sponsor like bottom line for really any car."
While highlighting the positives of the sport, and those that we've lost, it is also important to remember and learn from the darker moments of the sports' history. From the trials and tribulations that Wendell Scott faced, the missed opportunities in safety advances, and more.
Acknowledging those mistakes, those hardships, during Throwback Weekend allows the sport to reconcile and move forward to broader horizons, which ultimately, will allow NASCAR to avoid repeating the mistakes of the past.