By Cole Cusumano, Staff Writer
AVONDALE, Ariz. – On January 24, all felt right in the racing world as Jimmie Johnson strapped back into a stock car as part of a test session at Phoenix Raceway. Since stepping away from full-time racing in the NASCAR Cup Series in 2020, a lot has changed in the 807 days between his last start.
The seven-time champion is coming off a two-year stint racing in the NTT IndyCar Series and made the official transition to co-owner of Legacy Motor Club (formerly Petty GMS Racing) in November 2022. Now Johnson will have to familiarize himself with the Next Gen car in preparation for his five-race schedule this season.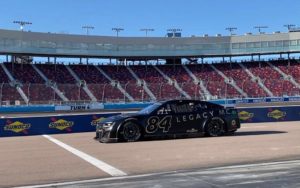 Johnson tested under NASCAR's Select Driver Orientation Testing Rules, which limits the team to three sets of tires and how much data can be collected, at a track he will not be competing at in 2023. Additionally, the seven-time champion turned laps around the one-mile tri-oval with the 2022 configuration to play a bit of catch up, while the other participants tested various modifications to the current short track package for this year.
Given the time between Johnson's last start in NASCAR and the introduction of a radically different stock car, the purpose of this test was to get the 47-year-old acclimated to all the changes since his departure. However, in true champion fashion, he elected to seek speed as opposed to comfortability.
Although timing and scoring wasn't disclosed, Johnson and the No. 84 team were pleased with their speed in his Next Gen debut and felt they were on pace with the six full-time drivers in attendance.
"It's been nice to be back in my wheelhouse," Johnson said. "Today, I think the fifth or sixth time by was my fastest time in the car. To be able to be on pace with the group that quick, it was nice to have that to fall back on, and really instinctively drive the car instead of worrying about every little detail and where I put the car and how I use the pedals and the wheel, like I've been doing in IndyCar the last two years."
Working alongside the No. 84 team was Johnson's long-time friend, former teammate and current Scottsdale, Arizona resident Casey Mears. Like the rest of the racing world, Mears was eager to see the seven-time champ in a NASCAR stock car again, but also saw this as a great opportunity to constructively get together with his buddy.
Mears, who made over 50 starts between IndyCar and Indy Lights, believes the two years Johnson spent away from NASCAR and in the open-wheel series enabled him to get up to speed relatively quickly, thanks to similar tire sidewalls and the new sequential gearbox on the seventh-generation stock car.
"Talking with him, there's some nuances that are different with this new car relative to the last cars he drove in NASCAR," Mears said. "If he would've just sat out the last couple years and then came back, he might be a little more rusty, but he hopped back in and was right up to speed. He seemed really comfortable and really excited about the new opportunity; not only from a racing standpoint, but from an ownership standpoint."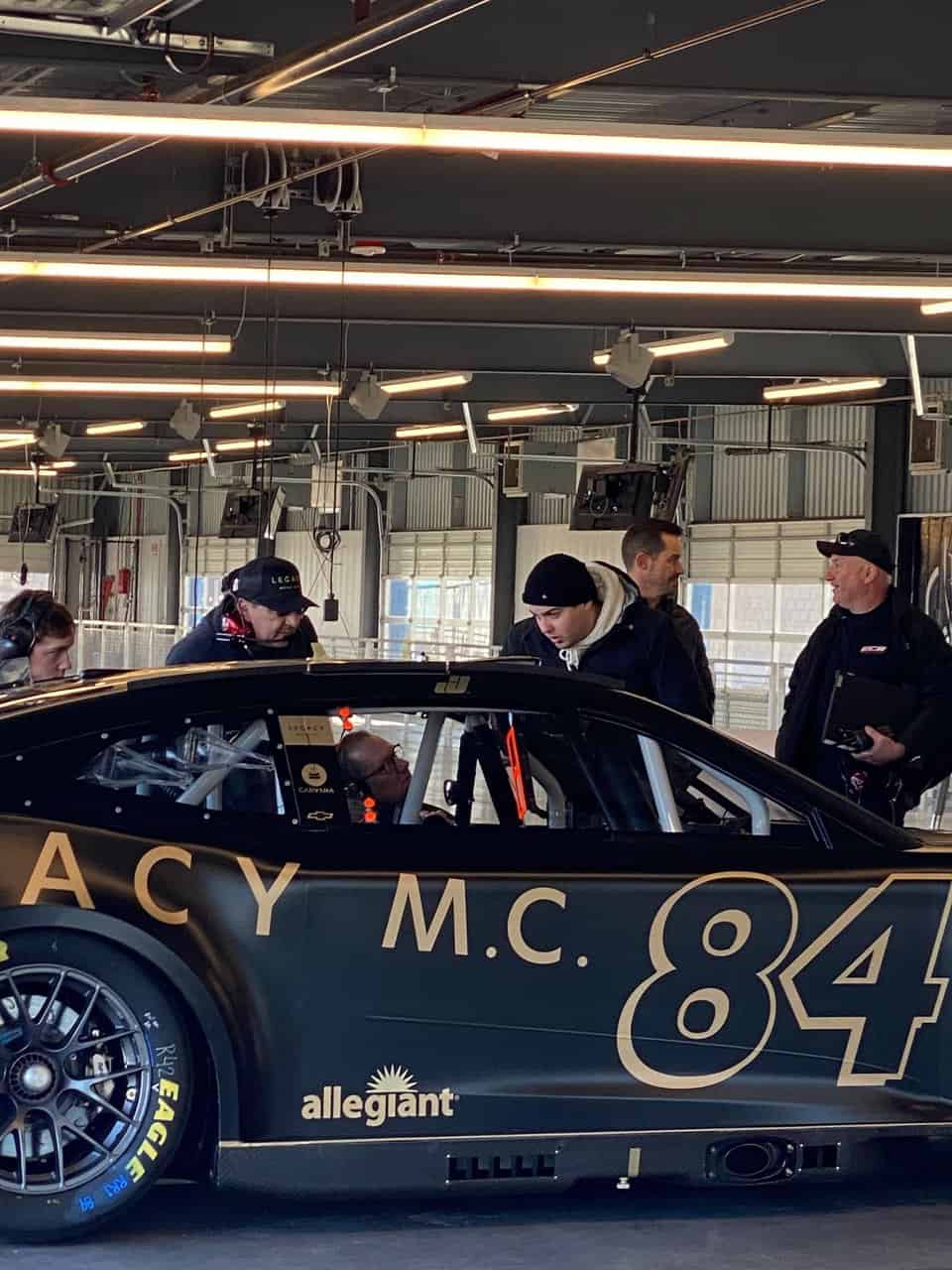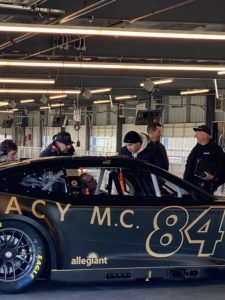 While Johnson did notice some similarities in the way the Gen-7 car drove compared to IndyCar, he credited his adaptability to invaluable time spent in the simulator. However, even with the pin-point accuracy of the augmented reality resources, Johnson knows nothing beats physical seat time.
One of Johnson's biggest challenges after making his first run was working through shifting. In an interesting turn of events, 2023 Rookie of the Year contender Noah Gragson took initiative by offering the seven-time champion (and his new boss) advice on how to navigate the new methods of operation with the Next Gen car.
"We were really talking about pit road and how you have to use your [timing], because it's a lot different," Gragson said. "You used to be able to bump it into neutral and left foot brake into the pit box. Now you have to left foot clutch it, right foot brake, so just kind of walking him through that, because I have a little experience.
"It was pretty cool to see his progression throughout the day. We're all just trying to learn together and work together."
Johnson was grateful for Gragson's input, which eliminated some of his primary struggles to start the day, and put his mind at ease in reference to driving the car correctly.
"My first outing, I'm glad no one was really paying attention to what I was doing on the straightaways, because I had a hard time finding the upshift and then the downshift timing," Johnson said. "Once you're in the turn and loaded up, the car drives really nice. But the drivetrain bump stops, aero platform, steering assembly, all that's going on – the car is kind of tricky on the straightaways. I thought I was doing everything wrong and I just came to find out it's part of the way this car drives."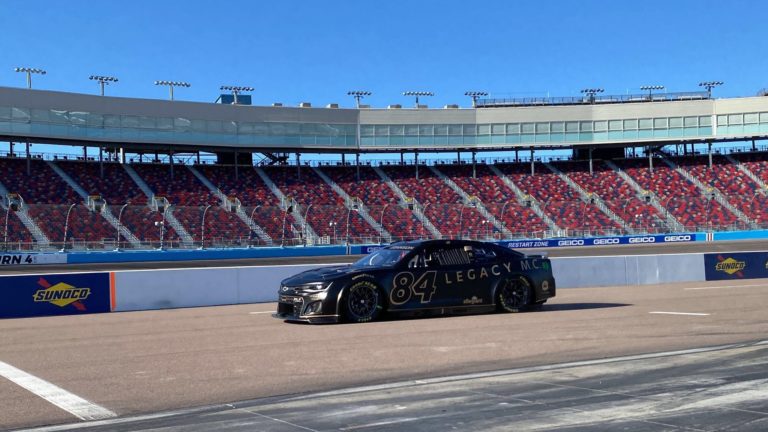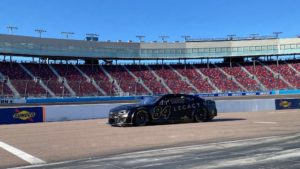 The seven-time NASCAR champion is not the only one that has experienced difficulties in shifting in the Next Gen car. Ryan Blaney, Denny Hamlin, and Kevin Harvick each found trouble throughout the 2022 season after they reverted to the 'H-Pattern' style of shifting.
Johnson went through his three sets of tires with an hour remaining in the test, bringing an early end to his track time in Phoenix. The next time the seven-time champion will strap into a Next Gen car will likely be on the high banks of Daytona International Speedway, where he'll attempt to qualify for The Great American Race.
The Daytona 500 is currently the only race locked in on Johnson's five-race schedule, but he hopes to have more clarity on the other events he'll be running in the coming weeks.
Johnson told reporters he believes the door is "probably shut" on IndyCar for 2023, meaning the Indy 500 and Coca-Cola 600 double will likely have to wait another year. He still hoping to get an invite to race in the 24 Hours of Le Mans after helping develop the Garage56 car this offseason.