By Seth Eggert, Associate Editor
Ridgeway, Va. – For Brandon Jones, his a top-five finish in Saturday night's NASCAR Xfinity Series race at Martinsville Speedway was a long-time coming during his tenure with JR Motorsports.
The five-time winner in the Xfinity Series joined the team owned by Dale Earnhardt Jr. prior to the 2023 season. Though he's shown significant speed each race, Jones' results haven't backed-up the speed, until now.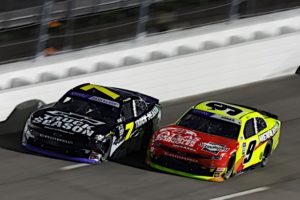 The driver of the No. 9 Menards / Atlas Roofing Chevrolet Camaro SS pushed forward after the final restart of the Call 811 Before You Dig 250. Put three-wide and in the middle several times, Jones contended with his JR Motorsports teammates Josh Berry and Justin Allgaier, as well as Daniel Hemric and others.
However, Jones didn't have quite the speed to run down eventual race winner John Hunter Nemechek, or his former teammate, Sammy Smith. When the checkered flag waved, he was fifth. After flat tires, crashes, and other mechanical woes, Jones finally finished inside the top-10 eight races into the season.
"I can't believe that this is the first one, but it is what it is, right?" Jones said. "I think that we definitely neededthis to turn some momentum around. We've been fast all year. I keep telling everybody that I sound like a broken record properly and (that) just I don't have finishes yet to show for it. It was nice to finally finish. I think that (at times) we were the fastest car on the track.
"You need track position here I think to really be a contender to win the race. You really need to restart at the end, need to be about third on a restart and use the guy up. That's pretty much how you can get it done here. But the 20 was really quick all day, they were hard to catch.
"I don't know if we quite had enough for them, but that was nice to at least come on with a top-five here.Would have wanted one more for Dash 4 Cash qualifier, but like I said, this is a good, change of events for us here to get going into today."
The speed in Jones' JR Motorsports Chevrolet was apparent early on. After qualifying 10th, he finished the first Stage there. In Stage 2 he climbed up to fifth, netting seven addition points in total.
The fifth-place finish was Jones' first since the Xfinity Series' regular season finale at Bristol Motor Speedway last year. It was his 37th career top-five finish.
The top-five moved Jones up from 14th to 13th in the points standings. He is 120-points behind leader, and race winner, Nemechek. Jones is currently 30-points behind the playoff cutline, held by fellow Chevrolet Racing driver Sheldon Creed.
Next for Jones is the Ag-Pro 300 at Talladega Superspeedway. He has three top-five and four top-10 finishes at the 2.66-mile track with two runner-up finishes.
The Ag-Pro 300 at Talladega is scheduled for Saturday, April 22, at 4:00 p.m. ET on Fox Sports 1 following the completion of the ARCA Menards Series race. The race will also be broadcast on the Motor Racing Network and SiriusXM NASCAR Radio, channel 90.