By Seth Eggert, Staff Writer
The drivers of Kaulig Racing, and team President Chris Rice, opted for some mid-week fun, racing School Buses at the Cook Out Summer Shootout at Charlotte Motor Speedway.
Racing School Buses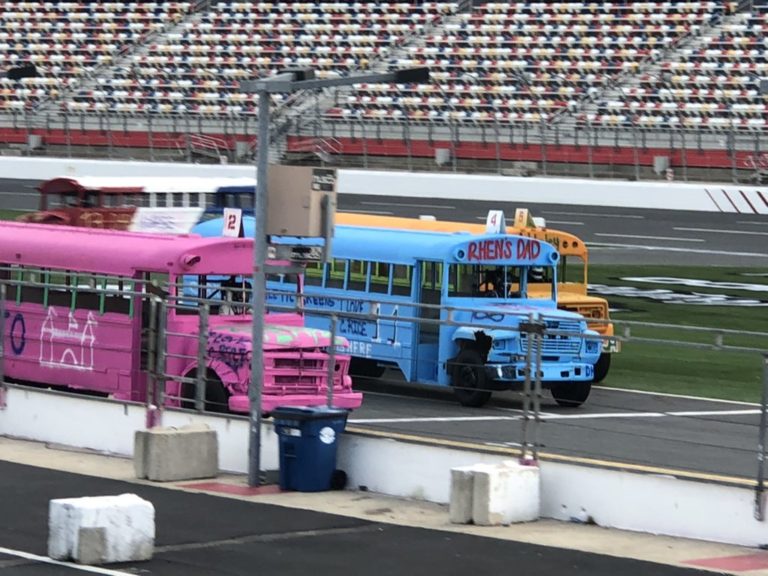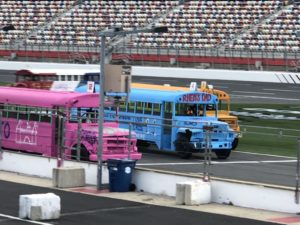 The three NASCAR drivers were joined by Rice and guest driver Quinten Haley in a five-bus, five-lap shootout on the frontstretch ¼-Mile at Charlotte. Though the aging School Buses proved to be a struggle for the Kaulig Racing President as he had to swap to back-up before the race. His drivers gave him a half a head start, though Rice's time in the lead was short-lived.
Xfinity Series driver Landon Cassill quickly took the top spot. However, it was not without a challenge from defending Xfinity champion Daniel Hemric and Cup Series driver Justin Haley. The trio traded paint throughout the five-lap bout. In a spectacular show of luck and car control, Cassill was pitched into a drift in Turns 1 and 2, briefly tilting onto the two right-side wheels as he took out the barrels lining the track. The regular driver of the No. 10 Chevrolet Camaro SS reigned in his bus and maintained the lead.
THIS IS MAYHEM!!! 🤯🤯🤯

Around goes @Justin_Haley_!@NASCAR | @KauligRacing | #SCTop10 pic.twitter.com/OdUymH8pHM

— Charlotte Motor Speedway (@CLTMotorSpdwy) August 2, 2022
As part of the Cook Out Summer Shootout, the Kaulig Racing School Bus 'Slobberknocker' was broadcasted live on Flo Racing. As with other events broadcasted on Flo Racing, replays and highlights are available.
Charlotte Motor Speedway also filmed a portion of the race which can be found here.
The Finish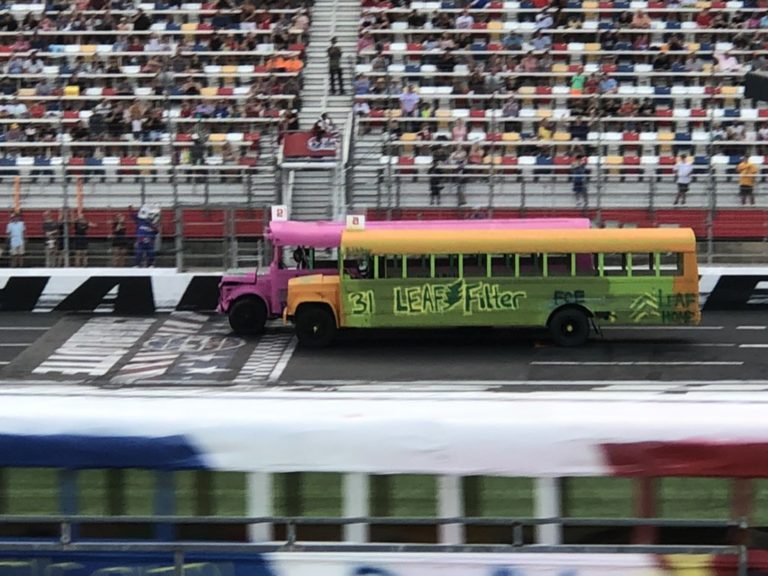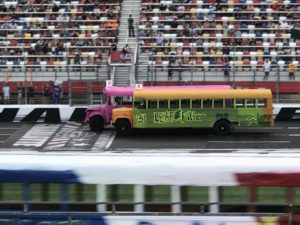 Meanwhile, Haley used the opportunity to sneak by Hemric for second. The driver of the No. 31 Leaf Filter Gutter Protection Chevrolet Camaro ZL1 1LE in the Cup Series hounded Cassill for the lead for the remainder of the race. Repeated contact between the duo led to a photo finish. Cassill beat Haley by a wheel for the victory in the Kaulig Racing School Bus 'Slobberknocker.'
"It drove beautifully," Cassill joked from victory lane. "It was on rails — had the left side planted. He's (Justin Haley) a good driver. He was trying to take the gap where he could. We made a little contact there, but I just kept in the gap."
Giving Back to Short Track Racing
The idea for the School Bus race ultimately came from Rice. The combination of competition and team building exercise pitted three of Kaulig's full-time drivers against one another for fun. More importantly, it was also a way to give back to the Speedway and the up-and-coming drivers of US Legends Cars.
"I don't know what I was thinking (when I agreed to race School Buses)," Rice joked about the race on SiriusXM NASCAR Radio's Sirius Speedway with Dave Moody. "It's not about me, it's not about us. This is about what Kaulig Racing can do for the local short tracks. What more can we do to give back to the Summer Shootout where Daniel Hemric won a million dollars. That's what it's about, to have a little fun, rub some fenders with my drivers, and to have a little fun, smile, and enjoy it."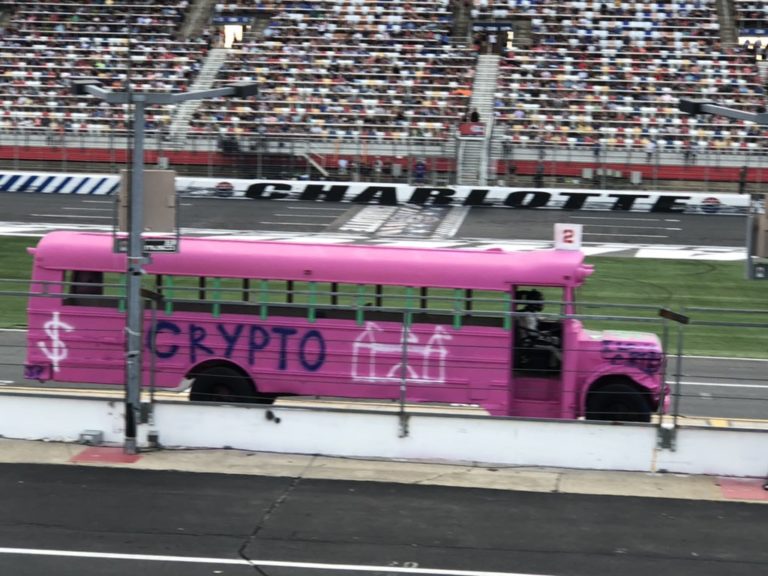 The spark of inspiration for the way to give back to short track racing by Kaulig Racing via a School Bus race was Rice posting a teaser on social media last week. Both US Legends Cars and Charlotte Motor Speedway picked up on the idea and the 'slobberknocker' was born.
"That was all on Chris Rice," Hemric admitted to Kickin' the Tires about the idea for the team to race School Buses. "I was fortunate to do it twice in the past and had a blast doing it here. When I saw him put the little teaser out, he didn't really know they (US Legends Cars and Charlotte Motor Speedway) would bite on it, and they did.
"It's cool to come out and celebrate what all these racers have done over the last 10 weeks from being here running this series many, many times. A lot goes into it, so it's cool to come out here and kind of put a little bit of show as they celebrate their final week."
Mid-Race Theatrics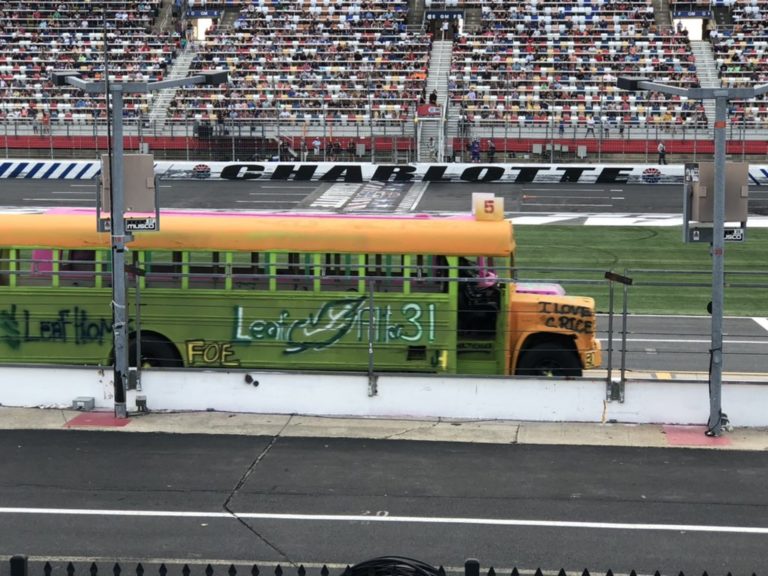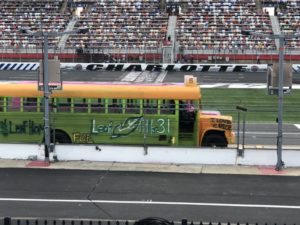 Though Hemric finished third, it was not without theatrics. The driver of the No. 11 AG1 – Athletic Greens Chevrolet aimed to make sure there was contact throughout the race. However, that plan backfired as the radiator was damaged and a small fire broke out on Hemric's School Bus at the end of the race. In a planned move, he cut through the infield turf on the final lap in a bid to beat his Kaulig teammates to the checkered flag. Hemric made the last-minute shortcut too late and still crossed the line in third.
"I was disappointed in myself," Hemric joked about the race to Kickin' the Tires. "I wanted to make sure we had some contact throughout the race, but I used my bus up a little too early and I knocked the radiator out of it. I think it was a fire behind my seat, but it was fun to watch Landon Cassill and Justin Haley go at it. I tried to cut through the infield coming to the checkered, and I made my decision too late."
The Absent Driver
The only full-time Kaulig Racing driver not to take part in the School Bus 'Slobberknocker' was A.J. Allmendinger. Though, Haley joked on social media that they were, "lucky A.J. wasn't there to lap them.
Just lucky @AJDinger wasn't there to lap us.. 😅 https://t.co/hIODNbW7CK

— Justin Haley (@Justin_Haley_) August 3, 2022
You can watch Allmendinger, Cassill, and Hemric compete in the NASCAR Xfinity Series New Holland 250 at Michigan International Speedway this weekend on USA Network on Saturday, August 6 at 3:30 pm ET. Meanwhile Haley can be seen in the Cup Series FireKeepers Casino 400 at 3:00 pm ET on Sunday, August 7. Both races are also broadcasted on the Motor Racing Network and SiriusXM NASCAR Radio Channel 90.
Featured Photo Credit: Photo Courtesy of Charlotte Motor Speedway.