By Cole Cusumano, Staff Writer
It's safe to say Roush Fenway Keselowski Racing is officially on the cusp of returning to their former glory. Now halfway through the regular season, the second-year team owner and driver for the newly-branded Ford stable put an exclamation mark to this statement once the checkered-flag waved at Darlington Raceway.
Overshadowed by the mayhem that went down between Kyle Larson and Ross Chastain in the closing laps of the Goodyear 400, Brad Keselowski led the charge for what would end up being RFK Racing's third organizational top-10 effort of the season, while simultaneously matching his season total from last year (six) through 13 races.
Keselowski started 10th in his borderline best-in-show Castrol GTX heritage Mustang for the main event of NASCAR's Throwback Weekend, and he ran even better than the car looked.
The former champion racked up 11 stage points throughout the 295-lap gauntlet after racing right around the top five all day. In fact, Keselowski had an average running position of sixth at the 1.366-mile track — his sixth start averaging a top-10 run this year.
In the end, Keselowski wound up fourth with an outside shot at his first victory since 2021. On a restart with 13 to go, Martin Truex Jr. collided with Joey Logano from the second row and triggered an eight-car pileup that included the driver of the No. 6, who ran into the left-rear quarter panel of third-place finisher Chase Elliott.
As made evident by William Byron's 0.781-second margin of victory over Kevin Harvick, Keselowski and the two drivers ahead of him didn't stand much of a chance with their battered stock cars.
"I felt like at the end it turned into a wreck fest and we got tore up and salvaged what we could salvage," Keselowski said. "Ultimately, we were a fifth or sixth-place car all day and ended up fourth. It was a real solid day. I felt like the whole team did a great job."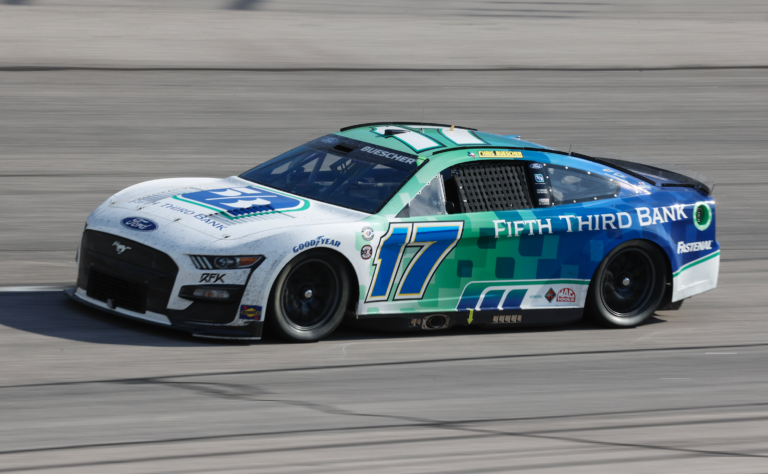 While this may have been Keselowski's best statistical race from start to finish this season, it was also validation of the team's speed all year and how far they've come from last year.
Through 13 races in 2022, Keselowski was scored 31st in the standings. This year, he firmly sits ninth halfway through the regular season, and has proven to be a top-10 car on a weekly basis.
Chris Buescher rounded out the day in the 10th-spot for RFK Racing, and was a benefactory of the late-race chaos that ensued in South Carolina. He started 27th and finished the opening stages 28th and 29th, respectively, before rallying for his fifth top 10 of the season.
Although Buescher hasn't made quite as much noise as his career-best season one year ago, he's done a great job picking up where he left off – which has been good enough to rank him 13th in the standings, compared to 21st at this point in 2022.
"We got rolling pretty good and avoided the last two wrecks," Buescher said. "We really wanted to see what we could do with those last 10 green flag laps to see what we could do with it, but just didn't get that opportunity.
"The way this day started, we'd have taken a 10th if you would have told us we could get there. We still have a little work to do, but it's such a track position sensitive race again. We were just planted and basically stuck and that's why the restarts are as chaotic as they are."
Taking a step back and looking at the bigger picture, RFK Racing is evidently much more competitive as a whole in 2023 with both drivers firmly on the playoff bubble halfway through the regular season.
Last year, Buescher snapped a six-year winless drought while Keselowski struggled. Now, it's only a matter of time before the 14-year full-time veteran finds his way back to victory lane as his unfavorable streak climbs to 75 races.
But first, the RFK Racing pair will seek $1 million while indulging in the nostalgia of competing at North Wilkesboro Speedway for the All-Star Race exhibition on May 21 at 8 p.m. ET on Fox. Sports 1.