By Seth Eggert, Associate Editor
Those that are named the 'Greatest of All-Time' often reached the pinnacle of recognition for the sport that they represent, the hall of fame. NASCAR recently named their 75 Greatest Drivers, adding 25 to the original 50 named in 1998. But, does being on the list signal a future induction to the NASCAR Hall of Fame?
Of the original 50, 36 have been inducted into the hallowed ground of NASCAR's Hall of Fame. That equates to 72% of those on the original list.
Adding to those on the list that are already in the Hall, another four, Neil Bonnet, A.J. Foyt, Harry Gant, and Ricky Rudd were among those nominated to the Hall last year. That brings the number up to 40 that have been nominated or inducted, 80% of those on the original 50 Greatest Drivers List.
Of the 25 that were added to the list for NASCAR's 75th Anniversary season in 2023, six are already Hall of Famers, accounting for 42 of 75 drivers, 56% of those on the list.
Four of the 25 named to the list in 2023, Sam Ard, Jeff Burton, Carl Edwards, and Larry Phillips have been nominated to the Hall as well. That brings the number of drivers on the list that have been nominated or inducted to the Hall of Fame to 50, two-thirds of the list.
That implies that being on the list is a good omen for further recognition of accomplishments on and off the track.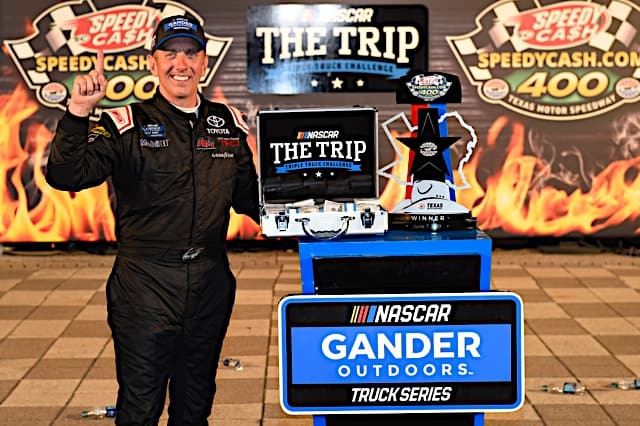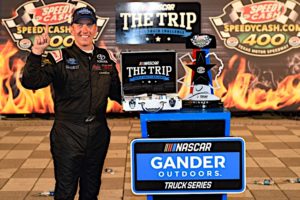 Greg Biffle, the 2000 NASCAR Craftsman Truck Series and 2002 NASCAR Xfinity Series (then Busch) champion was among the 25 added to the 75 Greatest Drivers List. In addition to his titles, Biffle has 56 victories across the three National Touring Series. Those numbers are equivalent to Dale Earnhardt Jr.'s numbers.
Like Biffle, Earnhardt Jr. was named to the 75 Greatest Drivers List. Unlike the former Roush Fenway Racing driver, Earnhardt Jr. is in the NASCAR Hall of Fame.
Biffle was humble when asked if being named to NASCAR's prestigious list has given him hope for the Hall of Fame.
"Man, that would be something special to get to get nominated and be on that list and potentially make it," Biffle humbly admitted. "I hope so, but I'm not going to say that's a tougher list for sure, but there's a lot of candidates that are on that list. I got my hopes up, but we'll see."
Not all on the original 50 Greatest Drivers List or updated 75 Greatest Drivers list have championships. Foyt, Gant, and Rudd never won titles in NASCAR. Each won at least one of NASCAR's 'Crown Jewel' races, such as the 1972 Daytona 500 for Foyt. Each have been nominated to the Hall of Fame.
One driver that mirrors the stats of those three drivers is Kasey Kahne. During his 16-year tenure in NASCAR, Kahne won three Coca-Cola 600s and the 2017 Brickyard 400, which ultimately was his final victory. The Enumclaw, WA native also has the same number of NASCAR Cup Series victories as Gant, 18.
Where Biffle was humble about his chances for the Hall of Fame, Kahne downplayed his own. Instead, he preferred to reminisce about his time in the sport.
"It really doesn't (make me think about my chances)," Kahne stated. "I don't know about any of that, but to be on this list feels really good and know that I was a big part of NASCAR, during the span I was involved in it.
"I loved it, I loved the fans, all of our partners, everybody that was part of the sport prior to that all I did was watch NASCAR races. I knew a lot about it as a kid growing up just watching. I've met all those people over the years and ran into a good bit of margin this morning."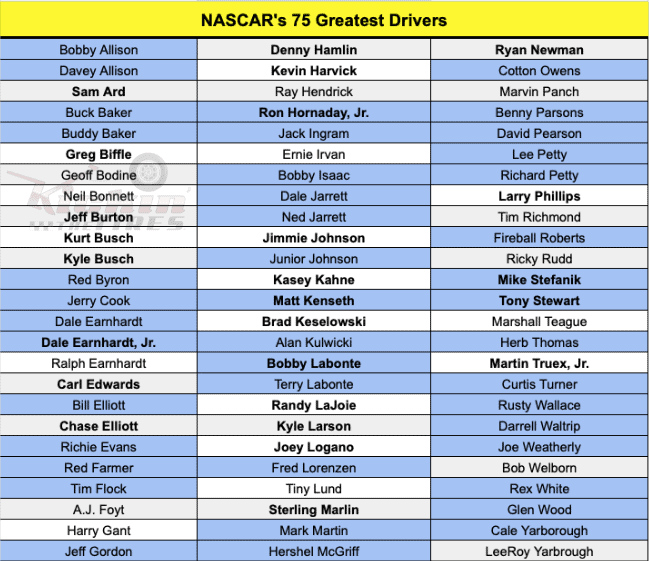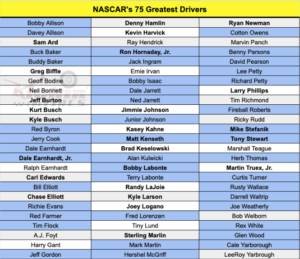 The makeup of NASCAR's 75 Greatest Drivers List includes success in all ranks of competition from Cup to Truck and Modifieds to Late Models. Geoffrey Bodine is one that, though he made it to the Cup Series, had success throughout each series.
Bodine, like Gant and Kahne, had 18 Cup Series victories, including the 1986 Daytona 500. He also won the Dogwood 500, a crown jewel for Modifieds at Martinsville Speedway several times among other crown jewels for the Modified Tour. Bodine even made it into the Guinness Book of World Records for most wins in one season, with 55 wins in 84 Feature starts in 1978.
However, Bodine was pessimistic about his odds of making it to the Hall of Fame.
"No," Bodine flatly said. "There's history there that's in the way of that happening, which is fine. I didn't come here for any award or recognition. I came here to see the people. I'm that kind of guy. I don't need anything. I love to give back, and so for the Hall of Fame, everyone in it is great, they deserve it. I don't need to be there though."
With only three inductees each year for the NASCAR Hall of Fame, currently, two Modern Era and one Pioneer Era, it will take time for all of those on the 75 Greatest Driver List to enter the hallowed grounds of the Hall. Which of those drivers that will make it into the Hall of Fame first is unknown.
With 25 years until the next time NASCAR expands the Greatest Drivers List, odds are that many, if not all 75, could someday be in the Hall of Fame.