By Seth Eggert, Associate Editor
The attempt at 'The Double,' competing in both the Indianapolis 500 and Coca-Cola 600 is becoming more of a reality for 2021 NASCAR Cup Series champion Kyle Larson.
A part of the pre-race festivities for the Verizon 200 at the Brickyard for Larson was the unveiling of his paint schemes for the 'Hendrick 1100.' The No. 17 HendrickCars.com Dallara iR-18 that he'll drive for Arrow McLaren in conjunction with Hendrick Motorsports' and the paint scheme of his traditional No. 5 HendrickCars.com Chevrolet Camaro ZL1 were both unveiled at Indianapolis Motor Speedway.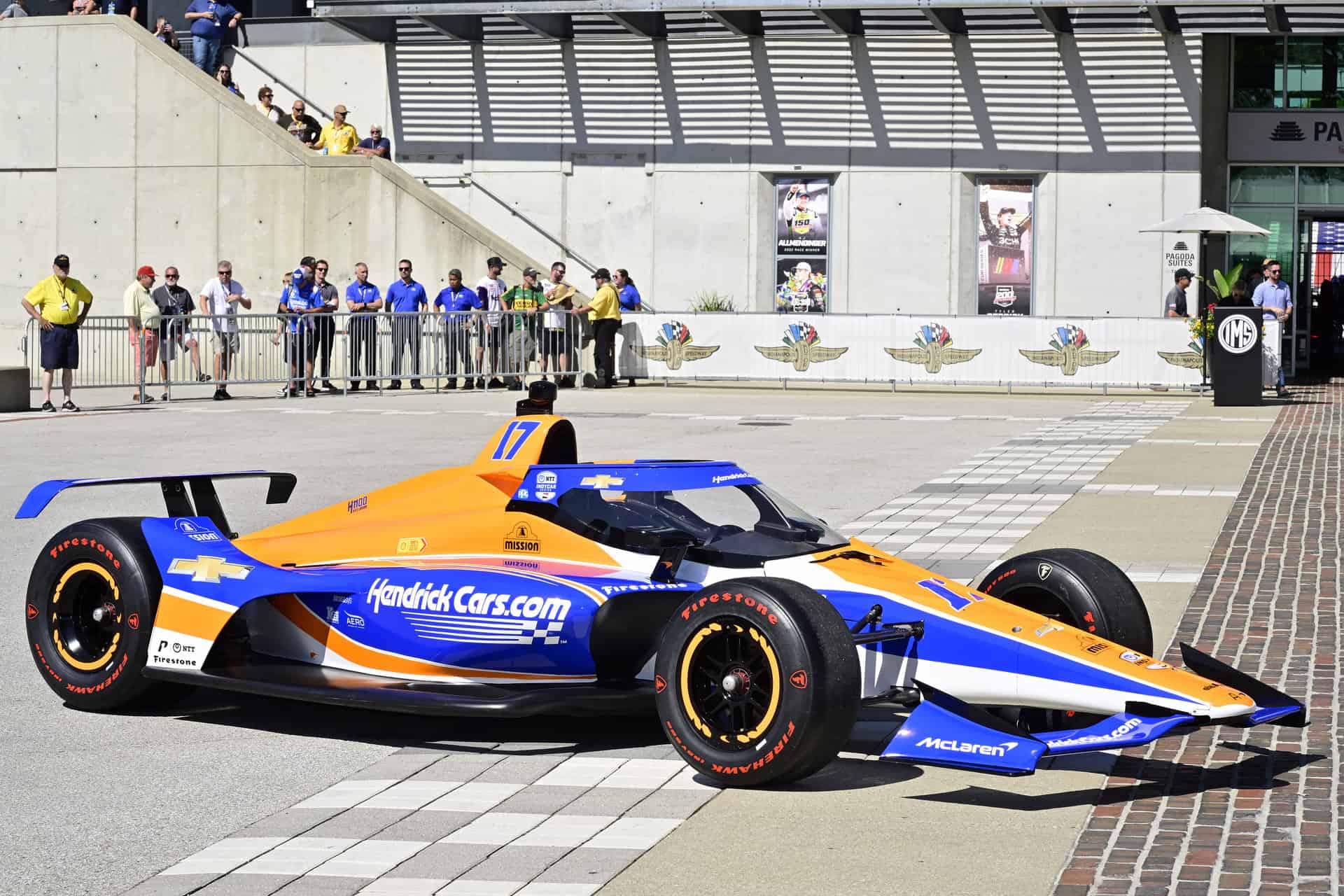 Larson is following in the footsteps of John Andretti, Kurt Busch, Robby Gordon, and Tony Stewart, all of whom successfully qualified for both events. Of those drivers, only three-time NASCAR Cup Series champion and 1997 IndyCar champion Stewart completed all 1,100 miles on the same day in 2001. Gordon was one lap shy of the feat in 2002.
The rare attempt at double duty is one that just five drivers have attempted. Davy Jones is the only IndyCar regular to attempt 'The Double,' but failed to qualify for the race at Charlotte Motor Speedway. The preparation for the grueling 1,100-mile marathon starts over a year in advance. For Larson, his attempt was announced 500 days ahead of time.
"I'm extremely excited, but at the same time, I'm so busy racing and trying to take care of my family that it hasn't really set in yet that it's truly a reality," Larson admitted. When you have days like today and you unveil the car, all those little steps, it definitely "makes it seem more real.
"But I'm sure once things slowdown in the off-season and I have a lot of time to sit around and think about the upcoming season is when it's really going to hit. I'm sure that's when all the nervousness will start to creep in, but as well as the excitement."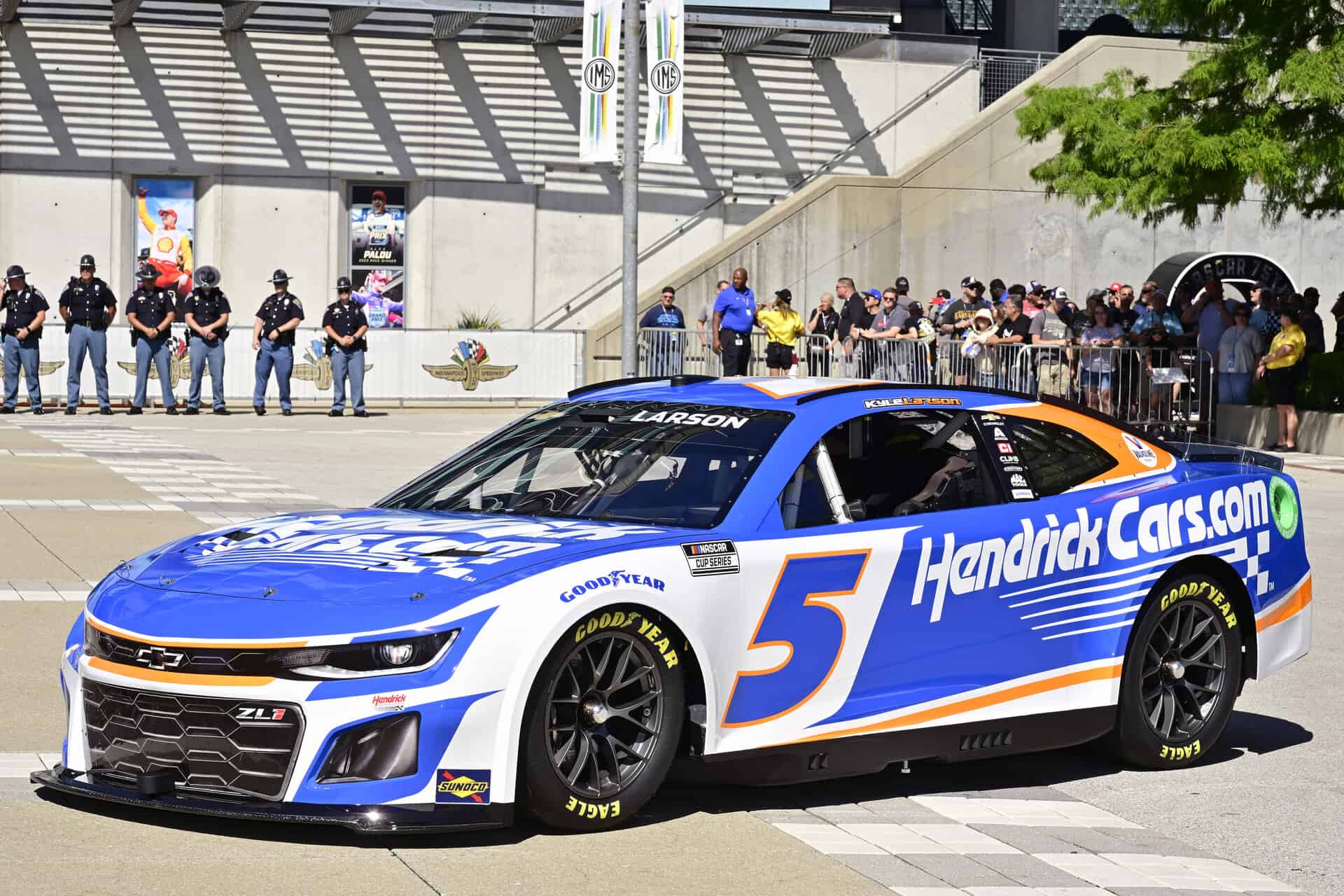 Although he is a champion in NASCAR, and a winner in virtually every kind of racecar that he's competed in, Larson will still be required to participate in rookie orientation practice at Indianapolis Motor Speedway, just as 2004 Cup champion Busch was. However, Larson does have several simulators at his disposal to help prepare for the differences between NASCAR's Next Gen car and IndyCar's Dallara.
He's already turned laps, at the Mid-Ohio Sports Car Course, in the simulator. One of the main areas Larson has had to focus on is his braking zones. The maximum brake pressure of the Dallara iR-18 is dramatically higher than any car Larson has competed in.
"(The engineers) would chime in," Larson explained, "'hey, everything looks good. Just keep working on your braking zones and stuff. Okay, more brake pressure, go a little deeper. Yep, that's a little better.' And I'm like, well, how much more do I need? They're like, 'well, you need about a thousand more pounds of brake pressure.' I'm like what?
"The max brake pressure there is like 2,800 pounds. That's insane. I've never pushed anything that hard. Like for instance, here into turn one we'd be like 800 pounds of brake pressure max. Trying to get your brain wrapped around slamming the pedal that hard and releasing it quickly but also like maintaining some was just super difficult for me. I couldn't ever figure it out. I felt like I regressed once I got closer to the max brake pressure stuff.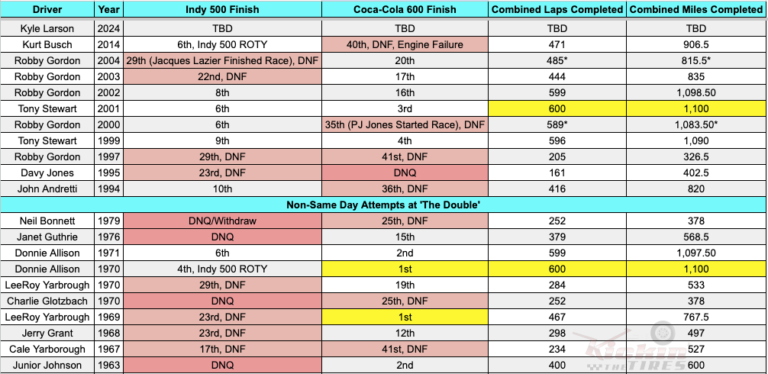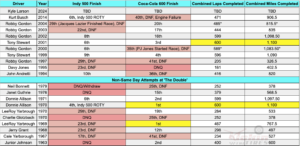 With Larson's NTT IndyCar Series entry being a joint effort between Arrow McLaren and Hendrick Motorsports this marks the first time that team owner Rick Hendrick has competed at 'The Greatest Spectacle in Racing.' It comes off the heels of fielding the NASCAR Garage 56 entry in the 2023 24 Hours of Le Mans.
Though Hendrick himself has never competed in the Indianapolis 500 before, he did have the 1980 Indy 500 Rookie of the Year Tim Richmond compete for him in NASCAR. However, the opportunity to attempt 'The Double' on the same day didn't present itself until several years after Richmond's death.
"I think Daytona and the Indy 500, and I got to do the 24 Hours of Le Mans, so I'm kind of getting my bucketful here," Hendrick joked. "I never dreamed I'd go to Daytona in a stock car, so we're coming up on 40 years next year. This is such an unbelievable place, that and Charlotte, doing the 600 and this race. It's going to be unbelievable.
"We all talked about it. Kyle wanted to do it. We're just very fortunate that Arrow McLaren were able to put it together for us. So, I can't wait to have that car in the museum."
The last time a driver attempted 'The Double' was in 2014. Busch won Rookie of the Year honors in Indianapolis. A blown motor ended his race in Charlotte shy of the 300-lap mark. Stewart has the best finishes in the two races of any driver to complete 'The Double' on the same day, sixth and third in 2001.
Long before two of the most presitigious races in American motorsports were on the same day, 2024 NASCAR Hall of Fame inductee Donnie Allison went one step further. He won the Coca-Cola 600 (then known as the World 600). One-week later Allison finished fourth and won Rookie of the Year honors in the Indy 500 in 1970. To date, Allison is the only driver to win one of the races and start the other in the same year.
All of the preparation that Larson is putting into his attempt is to try to achieve what no driver to date has, to win both races on the same day. Just thinking about rookie orientation, which will take place in October, has the Elk Grove, Calif. native nervous. Those nerves will likely melt away once he climbs behind the wheel as he attempts to race into history.
"I look forward to prepping even more," Larson explained. "I, obviously, look forward to October and getting to do the rookie orientation. I have thought about that a little bit, so I am nervous when I do think about that. But I think once I get in the car, a lot of those nerves will hopefully go away after a few laps, and it will feel like home, just like all the other racecars I drive."
Until rookie orientation, the next step on his journey to 'The Double' in 2024, Larson is still competing for a second Cup Series title. With two victories, the 31-year-old is locked into the playoff grid.