By Seth Eggert, Associate Editor
The concept of 'Sim to Reality' got a boost in Sunday's EchoPark Automotive Grand Prix at Circuit of the Americas with Tyler Reddick's win. Reddick's victory was aided by 23XI Racing's eNASCAR Coca-Cola iRacing Series driver, Keegan Leahy.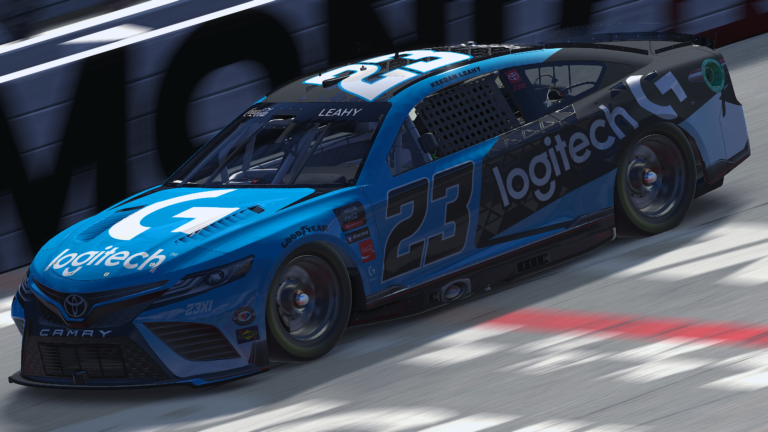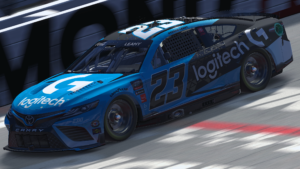 The 2021 eNASCAR champion has been with 23XI Racing for several years, dating back to when the team competed on iRacing under the 'Denny Hamlin Racing' moniker in 2020. The lengthy relationship gave Reddick the opportunity to work with 23XI's NASCAR Cup Series drivers Reddick and Bubba Wallace, as well as team co-owner, Denny Hamlin.
Leahy worked in the simulator with Reddick. They're work allowed the No. 45 Monster Energy Toyota Camry TRD to shave time off ever lap at Circuit of the Americas (COTA). The 'gig' as Leahy calls it is the most recent evolution of the concept of 'sim to reality,' drivers moving from iRacing into real world competition.
"It's (been) a long time coming," Leahy explained. "I've been building my relationship up with 23XI and Denny Hamlin and now the drivers, Tyler Reddick and Bubba Wallace, slowly getting to know the team. They invited me down a few months ago for just to see a race, observe and watch the behind the scenes sit on the pit box, have my headset on listening, and they also gave me a tour of the shop, showed them what they're doing.
"[I] was able to really get some good behind the scenes view into what goes on for a race, and even the preparation that goes into a race in the week before. I expressed interest, and they expressed interest, and it was like, hey, maybe this can be a bit of a gig for me."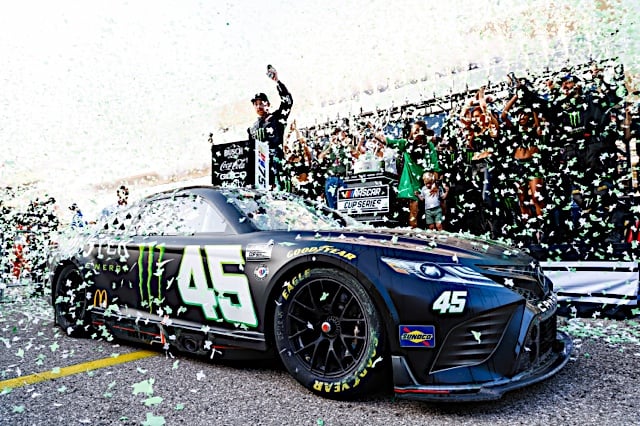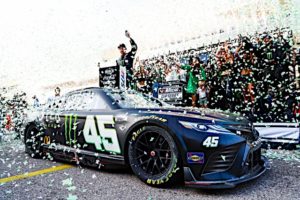 In victory lane, Reddick was quick to credit Leahy's work. The 27-year-old survived triple overtime and led 41 of the 75 laps en route to his first victory with 23XI Racing. Most of those laps Reddick was on cruise control, opening up multi-second gaps over the field.
"We've got Keegan Leahy, who is a really, really good sim racer, iRacer," Reddick told SiriusXM NASCAR Radio. "He does a lot of work for us at 23XI, a lot of credit goes to him for all of the information he passed along to myself and Denny. Keegan really helped me shave off some more time in the simulator and it really paid off when we got here. It really correlated very well."
Officially, Leahy's title with the team is one of 'Performance Consultant.' The long-time sim racer helps wherever he can to improve what 23XI Racing's engineers and drivers are doing.
With sim racing getting closer and closer to real-life, Leahy's expertise is becoming more and more valuable. On top of the Canadian's knowledge of sim racing, he also has a background in physics.
"The title is 'Performance Consultant' and honestly it is what it sounds like," Leahy stated. "It's just a big mismatch of whatever I can do to help the racecar, or the drivers be faster for the race. I'm able to leverage my physics degree, my knowledge of sim racing which, as everyone knows, is getting closer and closer to real-life. iRacing skills do translate now.
"I can't say for 100% sure, but if you threw me on to a car right now on a track and gave me enough time to warm up and get the nerves gone, I feel like I could do well in a race or at least do fast laps. Even leveraging my knowledge of being a NASCAR fan for so long I can add a lot of value to a race team. It's a really interesting job, something I've only just begun to scratch the surface of and try to find my niche.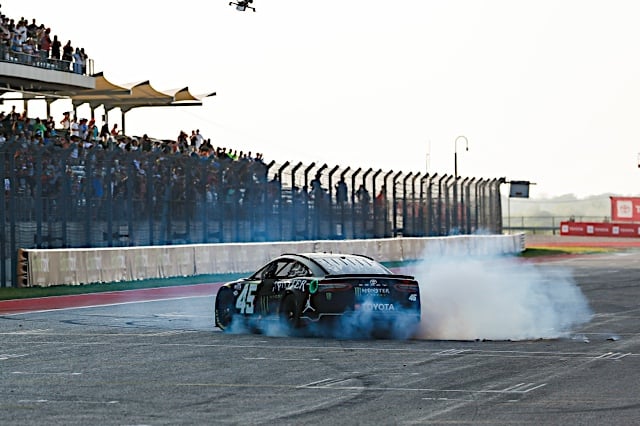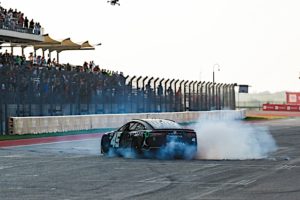 COTA wasn't the first time that Leahy has helped Cup Series drivers prepare for upcoming tracks. He worked with 23XI Racing co-owner and Joe Gibbs Racing driver Hamlin prepare for NASCAR's trips to the Daytona Int'l Speedway Road Course. Their collaboration paid off as the veteran Cup driver led laps on Daytona's 'roval.'
Though Leahy did pass information along to Hamlin for COTA, his boss didn't have the same success as Reddick. Hamlin started 21st and finished 16th after contact with Kyle Larson.
"I've worked with Keegan Leahy, our (eNASCAR Coca-Cola iRacing Series) driver for 23XI for a couple years now," Hamlin said on his podcast, Actions Detrimental. "We just recently hired him at our team to work with us. I know him and Tyler worked together quite a bit in preparation for COTA.
"I think that it's very important. Those guys have a great skill set. The world of simulation that we live in nowadays those guys have a skill set that can be an asset to race teams. I worked with him on road courses quite a bit, COTA being one of them. I'm probably not a great case study. I worked with him on the Daytona Road Course, and I led early on at that road course because of the preparation I put in with him. I think that it's a very valuable tool."
To help Hamlin, Reddick, and Wallace at COTA, Leahy drew on his own experience on iRacing at the track. In 2021 the eNASCAR Coca-Cola iRacing Series visited the track. 23XI Racing's Mitchell deJong dominated the day. The tips and tricks from deJong, and their alliance teammate Bobby Zalenski, along with his own experience, gave Leahy the knowledge to the able to aid his real-life teammates.
"I get to try a whole lot of different stuff this week and figure out what I'm good at or what I like and enjoy and what the team needs me to do," Leahy admitted. "What we did work on this week, especially my one-on-one with Tyler Reddick and Denny Hamlin was there in the meeting as well.
"(We) really got to go over what I thought they were doing in the simulator, how I thought they could go faster. Just watching what they were doing, drawing on my experience from racing Circuit of the Americas on iRacing.
"We had a race there in the eNASCAR Coca-Cola iRacing Series in 2021. I have a lot of laps at that track, especially drawing off of my teammate Mitchell deJong and good friend Bobby Zalenski for those tips and tricks as well. I able to pass along what I knew to my teammates now in real-life and I'm glad to hear from Tyler that it did translate, and it did help him and whether it was a big part or a small part."
'Sim to Reality' has grown in recent years. Some point to William Byron, Ty Majeski, or Rajah Caruth, who each had iRacing play a role in their career. eNASCAR Coca-Cola iRacing Series driver Kaden Honeycutt competes part-time in the NASCAR Craftsman Truck Series.
Vicente Salas, another eNASCAR driver, won in Late Model competition at Hickory Motor Speedway with just a handful of starts in the division. eNASCAR drivers Ryan Doucette, Garrett Lowe, and Donovan Strauss also compete at various levels of the motorsports world.
"I saw Salas win at Hickory (in Late Models) on a green, while checkered," Hamlin said. "William Byron came from iRacing, that's where he got his first start. Honeycutt is an eNASCAR Pro driver that is making some Truck starts. They're starting to get opportunities and it's cool to see."
While 'Sim to Reality' has primarily been focused on drivers, iRacing has produced others within the industry. Blake McCandless and James Pike are part of the eNASCAR Coca-Cola iRacing Series broadcast team, and now are also part of the CARS Tour broadcast team on Flo Racing.
Traxion.GG's Justin Melillo was able to hone his writing skills via iRacing, as were others. iRacing has also produced graphic designers in Noah 'Lefty' Sweet, Gavin Newton, and more. Now, 'Sim to Reality' has grown to 'performance consultants.'
"I'm a big believer that experienced sim racing can be a decent replacement for having real-life experience," Leahy said. "If you're going to in any way consult for a race team like, have a job with a race team somehow, it's really good to know exactly, or at least partially, what the driver is going through in the races.
"It's tough to be an engineer when you're watching the driver and they get loose in their corner and you can't tell why, right? Or you can tell they're doing something weird on track, but you can't put your finger on what that advantage might be.
"So, it's like you're speaking their language, right? If you can speak their language in racing that helps you do your job, whatever it is, to make the car or make the driver faster. Sim racing, and in my experience, iRacing especially is a huge asset and I wouldn't be part of 23XI without my experience on iRacing."
Ultimately, Leahy was happy not only for the success of his team, but to hear and see Kurt Busch's emotions as he called Reddick in his former No. 45 Toyota to the win.
"I was happy to be a small part of that victory and really glad for the team overall and you guys saw how much it meant to be the team with Kurt Busch choking up on the broadcast, Leahy reflected. "Everyone at 23XI being super active on Twitter, Instagram all the social media is it's a really big win for us and I'm just as happy about it."