By Seth Eggert, Associate Editor
Road course racer and NASCAR Xfinity Series crew member Brad Perez found the right opportunity to make hist NASCAR oval debut at Martinsville Speedway in Friday night's Long John Silver's 200.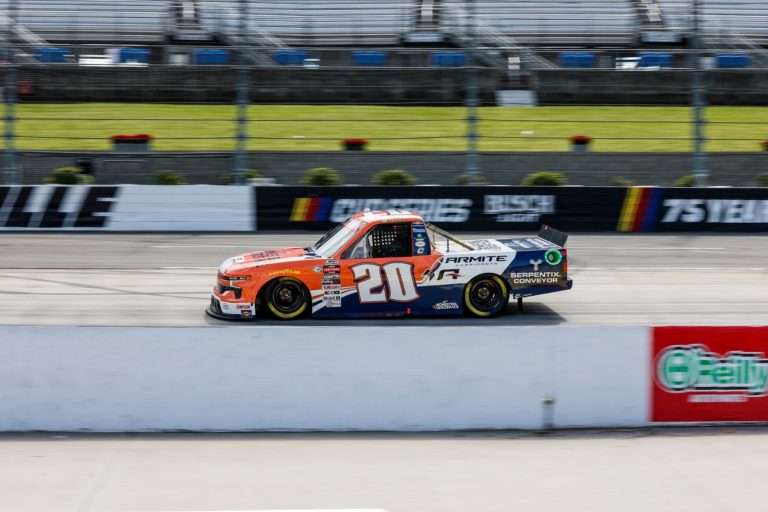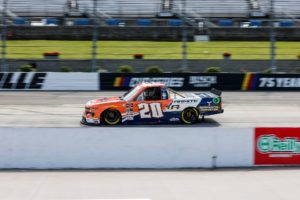 Perez competed in Mazda Spec Miatas in the SCCA Majors Championship long before he made his NASCAR debut. The Hollywood, FL native debuted in the NASCAR Craftsman Truck Series at Circuit of the Americas last year.
Since then, Perez has made six starts across the Xfinity Series and Truck Series, five of which were on road courses. At one point, the 26-year-old dismissed competing on ovals, not because he had no desire to, but rather he was unsure if he had the right opportunity or if it was the right time.
The Long John Silver's 200 at Martinsville and the Young's Motorsports No. 20 Bonesteel Aerospace Chevrolet Silverado proved to be the right time and the right opportunity.
"I've always wanted to do an Oval, I just never really had the right opportunity and it's tough in this series," Perez admitted. "It's very, very competitive and I never thought I'd get to the point where I could say, 'you know, I'm maybe I'm there a little bit.' They all kind of coincided and I got the opportunity to do this andthanks to Bonesteel Aerospace."
Entering his first NASCAR oval race, Perez had zero expectations. The fan favorite driver had a handful oval starts in Legends Cars at the Cook Out Summer Shootout at Charlotte Motor Speedway several years ago. However, this was the first time he was driving on an oval at this level.
Pre-race, Perez was optimistic, hoping for a top-15 or a top-20 finish. As the NASCAR Craftsman Truck Series made history, starting the race in wet weather conditions, the Team Chevy driver shined. Perez climbed from his 34th-place starting spot to inside the top-20.
getting that super valuable TV time is something I'll never take for granted.

thank you @NASCARONFOX for highlighting our @luecreates designed beautiful @BonesteelAero @armitelabs @Serpentix_Corp rocket 🚀🚀🚀

we were rollin good on rains early on pic.twitter.com/6c10FhbkcL

— bread perez (@bradxperez) April 17, 2023
Once the race switched from wet weather tires and conditions to slick tires on a dry track, it appeared that Perez was set to run inside the top-25. During a brief red flag for rain however, his Chevrolet Silverado was visibly overheating with steam exiting the overflow valve.
Further contact on the subsequent restart caused enough damage that Perez dropped down the running order. He ultimately finished 35th, six laps down. Though the final results don't show just how well Perez had ran, he certainly turned heads throughout the garage.
"I would say there's kind of no expectation, but I always try to set goals for myself," Perez explained. "I thinkthe truck that we have is pretty good. I think it's possible to have a top-15. It's going to be hard, but that's my goal. Personally, a top-20 should be at least the standard, but anything worse than that I'd be a little mad."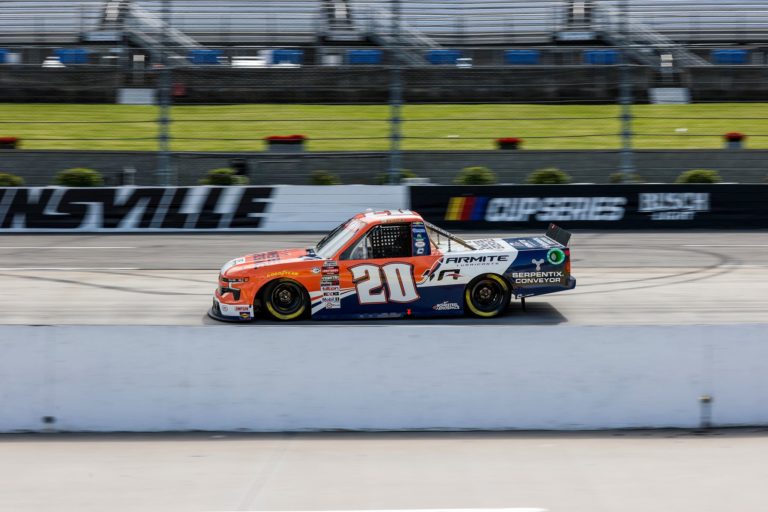 Perez is not the first driver to make his oval debut at Martinsville. In fact, 'The Paperclip' has served as the track many from short tracks and road course racers have made their oval debut at. Before Perez, fellow Mazda Miata racer Preston Pardus made his oval debut at the track.
The historic short track has long been a place that road course racers excelled at. A.J. Allmendinger, Juan Pablo Montoya, and Danica Patrick all found various degrees of success at the Virginia track. That history of road course racer success played a factor in Perez's decision on where to make his oval debut.
"That's part of why my decision was for (me to make my debut here)," Perez said. "There were a couple of tracks that I could do being approved for right now like tracks under a mile. It was either Richmond or Bristol or here or IRP. I was like, 'of all the tracks that I felt like were closer to a road course (Martinsville was it).' I'mbig on history too, so like I've watched, JPM, even Danica do well at Martinsville."
With his NASCAR oval debut in the review, Perez returns to Emerling-Gase Motorsports as a crew member and part-time driver. He raced in the Xfinity Series at Circuit of the Americas for the team with at least three more opportunities possible later in the year.