By Seth Eggert, Staff Writer
A groundswell of support from both the motorsports and music world has Brad Perez back on track in the NASCAR Camping World Truck Series at Sonoma Raceway.
How ISMFOF Partnered with Perez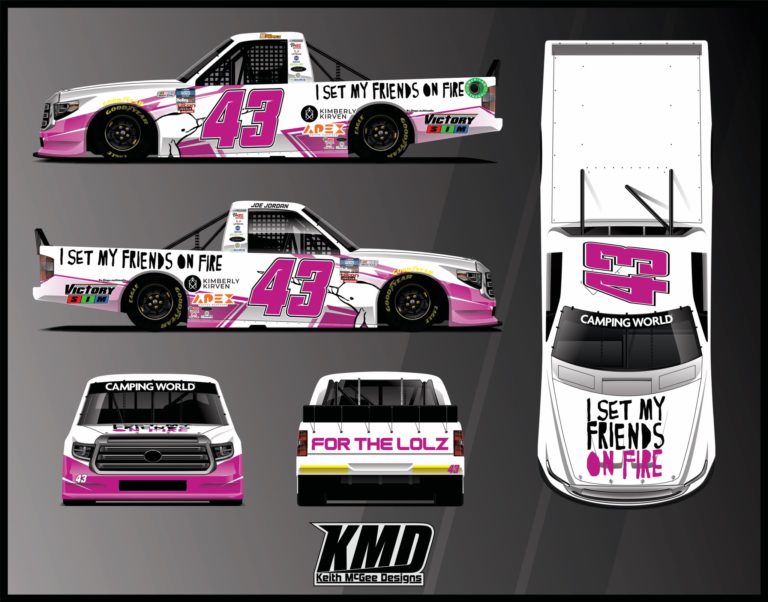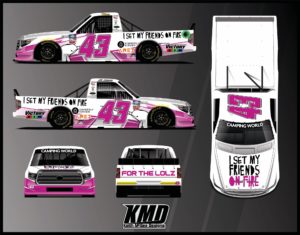 Perez returns to Reaume Brothers Racing for the DoorDash 250. The primary sponsor of his No. 43 Toyota Tundra is the experimental rock band I Set My Friends on Fire (ISMFOF). The partnership stemmed from a fictional paint scheme posted on Twitter that was created by Jared Bokanoski. What started as a joke eventually led Perez and the group teaming up for Sonoma.
"Jared Bokanoski posted a tweet about a 'ISMFOF' truck," explained Perez. "It's funny, I didn't see it initially. Nate Blasdell (backing vocals, lead guitar, keyboard) from the band, he Retweeted it and he was like 'can you imagine.' I was like 'hell yeah,' but I didn't think it was serious. I thought he was joking. I think he really was joking, and fans started saying 'I would so totally buy shirts if it happened.' Then it snowballed into this."
Friends with The Band
Though the partnership between Perez and ISMFOF for the Truck race is the first on-track partnership, the Hollywood, FL native is friends with the band. ISMFOF has a 'cult following,' from their first album, 'You Can't Spell Slaughter Without Laughter.' Though they have a dedicated fan base, several members of ISMFOF have other jobs in addition to performing. Guitarist Blasdell manages several NASCAR drivers, drummer Chris Thompson does work with FGR Accel, Jimmy Bennett tours with other bands.
"I'm really good friends with those guys, Matt Mehana (lead vocals), who basically is the band," said Perez. "It's Matt's brainchild They're not a band that makes a ton of money. They make money off of touring but it's kind of just enough to be able to live not having a (traditional) job. Everybody else has their own little side hustles, their own little thing, so I didn't imagine they were going to do this, but just the way we went about the strategy to make this happen made it cost effective for everybody.
"The narwhals, that's a staple of their first major album. They had signed up to Epitaph Records. 'You Can't Spell Slaughter Without Laughter' and that album cover is so iconic. Having the narwhals on there is kind of funny that we got to bring it back."
Perez's Many Jobs
Not only is Perez friends with ISMFOF, but he's also worked with the band. The 25-year-old has worked as a guitar tech for the band. Perez also sold merchandise for ISMFOF at several shows.
Though, when Perez is not behind the wheel of a racecar, and not working for Rackley W.A.R. or for a Xfinity Series team, he also DJs. The 'jack of all trades' has been part of the South Florida music scene for some time. He was a fan of ISMFOF and struck up a friendship with Blasdell after a chance meeting at Watkins Glen International in 2019.
"I've been in the music industry doing my own thing living in Miami," stated Perez. "I've been really part of the South Florida music community. Bands like Bloodbather and L'exquisite Douleur and a lot of locals like Every Passing Dream, Afterlife and I've been really big part of that scene, that community for a while and ISMFOF were such a big influence, and I was a fan for a long time.
"I was at a race at Watkins Glen in 2019 working for JD Motorsports and I saw Nate. I was like, 'dude, your Nate from ISMFOF, and he's like no way you know who I am.' He was super shocked to see somebody who knew about them in the NASCAR garage. We exchanged information and we could've been friends ever since."
Crowdfunding
Once the decision was made to have ISMFOF grace Perez's No. 43 Toyota Tundra, the funding was the next hurdle. T-shirt sales were initially meant to pay for the wrap of the truck. Lo and behold, sales of the merchandise exploded. Crossover fans from the music world and the motorsports world snatched shirts once Perez and ISMFOF posted them online.
Also on board Perez's Reaume Brothers Racing Toyota Tundra is Victory Sim Chassis, Apex Coffee, and the Circle Jerks Podcast. The numerous partners aiding Perez's effort means that the team has the opportunity for a good run on the 1.99-mile road course.
"The whole thing was funded by people buying T-Shirts," admitted Perez. "Seriously, at first, we were like 'alright, Nate, he's going to pay for the wrap. Then we'll probably make the money back on shirts.' But we sold way more shirts than we expected. It ended up being able to pay for the almost the entire deal. ISMFOF made a huge return on their investment.
"On top of that, I had a couple people hop on to help it initially because I didn't think we were going to make the goal honestly with just T-Shirts. Victory Sim hopped on, Apex Coffee, Trading Paints, and the Circle Jerks Podcast hopped on as well. Thanks to them kind of assuring that this wasn't going to fail. We just completely surpassed the goal, so I don't think we're going to have full tires, but we're definitely going to have quite a few."
Fan Support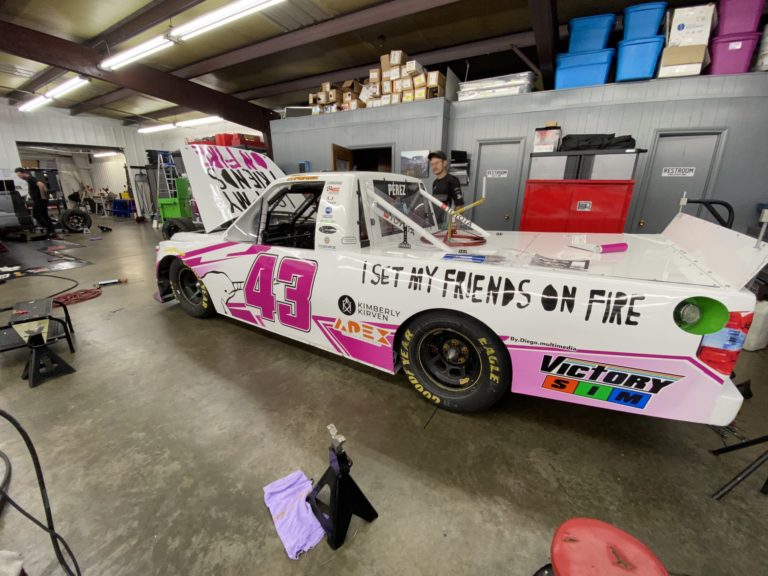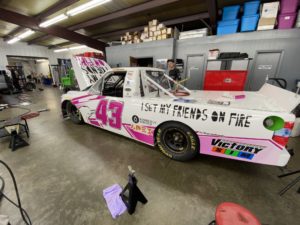 Ultimately, it was the fan support that provided this opportunity for Perez. The fan support isn't just from NASCAR fans. Fans of ISMFOF also bought the merchandise in droves, some of whom have not followed NASCAR before. The fictional render, and ones like it, may not spark sponsorships often, but when they do, social media often has a big role in moving the cause forward.
"Well, I'm not going to lie but I feel like the whole idea of people posting kind of fictional renders with cars gets oversaturated. It's very rare that some situations like this happen, only because of the fans. Whoever gets behind something, the power of fan support can do anything. That's the honest to God truth.
"It could be a render, a tweet, somebody saying something, but if the fans get behind it, it could take off. That goes with almost anything in this sport. I'm really grateful for the fans doing this because, you always hear 'thanks to fans, they'll be here.' Seriously, without the fans, this entire interview right now doesn't happen."
Goals
For Perez, there's two goals at Sonoma. First is to make the race with 37 trucks attempting to qualify for 36 spots. Second is to have a good points day for the Reaume Brothers Racing No. 43 Toyota Tundra. The No. 43 enters Sonoma 38th Truck Series owner's points, six points behind the next full-time truck. The 43 has also failed to qualify the last two weeks.
To date Perez has just one Truck Series start at Circuit of the Americas (COTA) earlier this year. There, he finished 20th, on the lead lap. Ultimately, the end goal for Perez is repeat his success from COTA at Sonoma.
Featured Photo Credit: Photo Courtesy of Brad Perez.