By Seth Eggert, Associate Editor
When the NASCAR Xfinity Series hits the track at Texas Motor Speedway in September, graphic designer Landon Milz will see a dream become reality.
The iRacing driver and paint scheme designer for The TEAM entered a contest that DriveSmart organized as part of their sponsorship of Kyle Weatherman and the DGM Racing team. The winning design would be the No. 91 DriveSmartWarranty.com Chevrolet Camaro SS that Weatherman drove in the Andy's Frozen Custard 300 on September 23. Milz's black, blue, and white livery won the contest.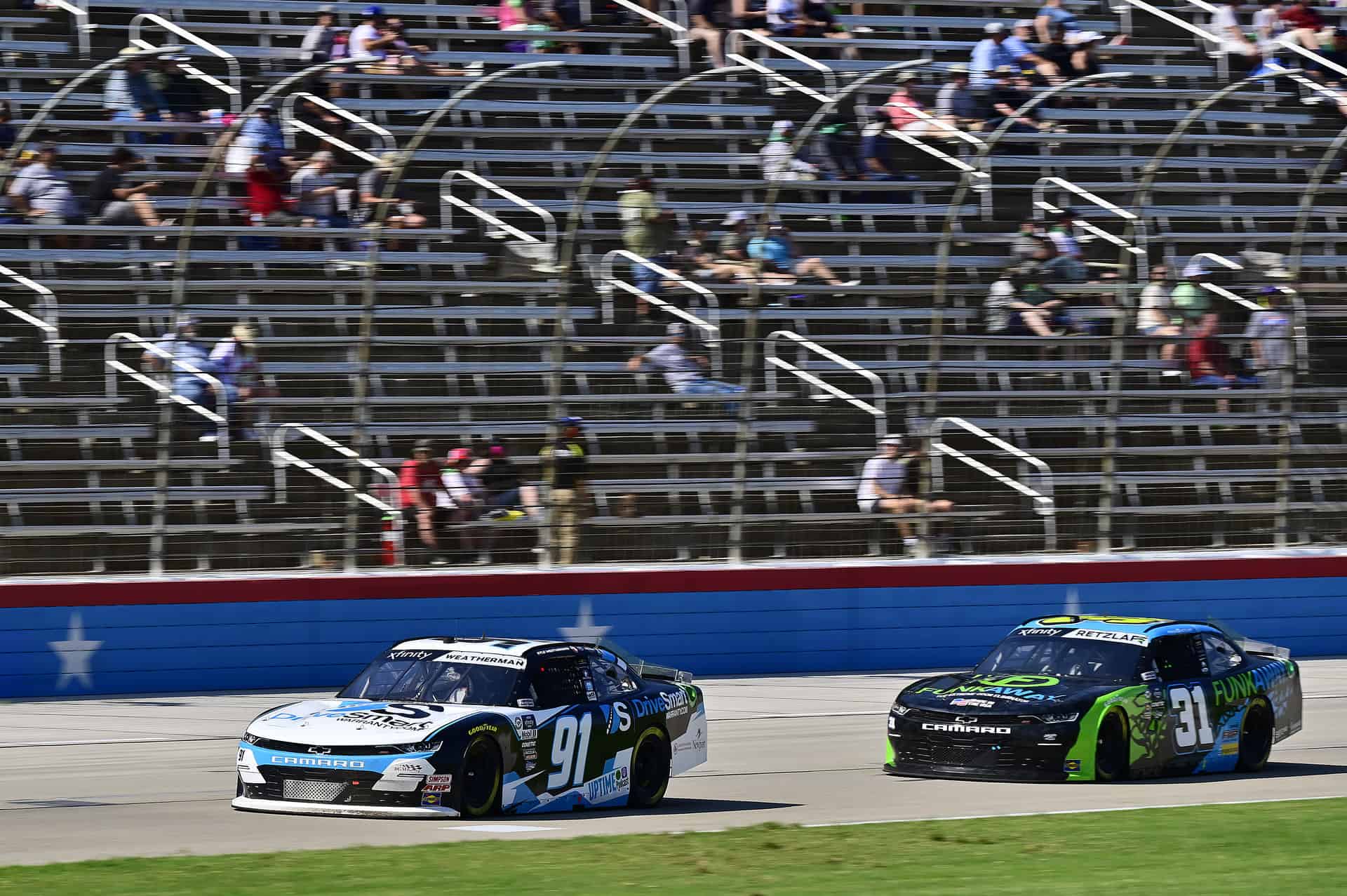 It marked the second foray into NASCAR for the auto warranty company. They sponsored J.J. Yeley in two Cup Series races at Rick Ware Racing in 2019. Together, their best finish was 12th in the Coke Zero Sugar 400 at Daytona Int'l Speedway. The second race, at Dover Motor Speedway, DriveSmart was an associate sponsor on Yeley's car, the primary being the Kay Yow Cancer Fund, a breast cancer awareness organization.
However, the partnership with Weatherman in the car that Milz designed will be the first time the company will compete with DGM Racing in the Xfinity Series. Weatherman himself was one of five judges in the contest who picked the finalists before open voting started. The contest itself took place from July 20th through August 14th.
Contests for fans to design paint schemes or win other prizes are nothing new. Last year, Phil Spain won a life-changing $10,000 when Bubba Wallace won at Kansas Speedway. Other fans have won contests in designing paint schemes before and Milz hopes that this can be a launching point for his own sim to reality journey.
"This has been something I've dreamed about since I was a little kid," Milz explained. "I got a call from the company and their people honestly sounded happier than I was about the event, which is crazy (because) I was stoked. You could tell how excited DriveSmart is to be getting back into NASCAR. I almost cried myself so that's saying something.
"All the parties involved knocked this out of the park, this is a huge opportunity for me to get that chance I need. All I needed was someone to take a chance on me and give me an opportunity. I hope this can spark a future in the NASCAR industry for myself. I'm in great hands with Kyle, DGM and DriveSmart. I'm truly grateful for this. What has happened in the last couple days has truly changed my life."
Prior to this contest, Milz wasn't sure if he could turn graphic design into a career in NASCAR. Having designed a car that will be on track will grab attention from fans, as well as possibly attention from sponsors and teams alike. That could potentially open doors that Milz hasn't been able to approach before.
"(This has) given me an opportunity to peruse something I didn't know was possible," Milz said. "This is something I love and being able to do this full-time as a career would be a dream come true. Being able to do something you love as a job or career would most definitely be life changing for me. Not everyone gets to do what they love, and this most certainly is what I love."
Weatherman finished 15th at the No Limits, TX track despite being swept up in an accident at the start of the final Stage of the race when Josh Berry and Trevor Bayne crashed in Turn 3. It marked his best career finish at the 1.5-mile track. The Wentzville, MO native received the final free pass of the race during the final caution. That enabled him to score a lead lap finish. Prior to the accident, Weatherman's DriveSmart machine had quietly been running just outside the top-10.
Next for the NASCAR Xfinity Series is the Drive for the Cure 250 at the Charlotte Motor Speedway ROVAL on Saturday, October 7 at 3:30 p.m. ET on the USA Network. The race will also be broadcast on the Performance Racing Network and SiriusXM NASCAR Radio, channel 90.