By Seth Eggert, Staff Writer
A contest from 23XI Racing sponsor MoneyLion saw two fans randomly selected to have their MoneyLion usernames on the cars at Kansas Speedway. For one of those two lucky fans, Bubba Wallace's win marked a life changing day.
The Contest
The contest was started by MoneyLion back in July.
Phil Spain's username was on Wallace's No. 45 Root Insurance Toyota Camry for the Hollywood Casino 400. Meanwhile '$Mcdoug1234' was on Ty Gibbs' No. 23 McDonald's Toyota. Both won $500 when they were chosen to be on the respective 23XI Racing entries.
If either driver won, the respective MoneyLion user would win a month's worth of gas and $10,000.
"It's been a long time of just entering and hoping I'd be chosen over the last few months," admitted Spain. "Just like every contest I never thought I really had a chance. The odds always seemed too good. (Did I imagine that we would be) winning? Never in a million years. I was just happy for the experience."
#GetPumpedTuesday WINNERS ⛽ @philenespanol & $Mcdoug1234! You've each won $500 & a chance at $10K! Tune in this Sunday to cheer on No. 45 @BubbaWallace & No. 23 @TyGibbs_. If either of them wins, the $10K will go to one of these lucky fans. #HollywoodCasino400 #NASCARPlayoffs pic.twitter.com/Mp8H055W37

— MoneyLion (@MoneyLion) September 7, 2022
The Race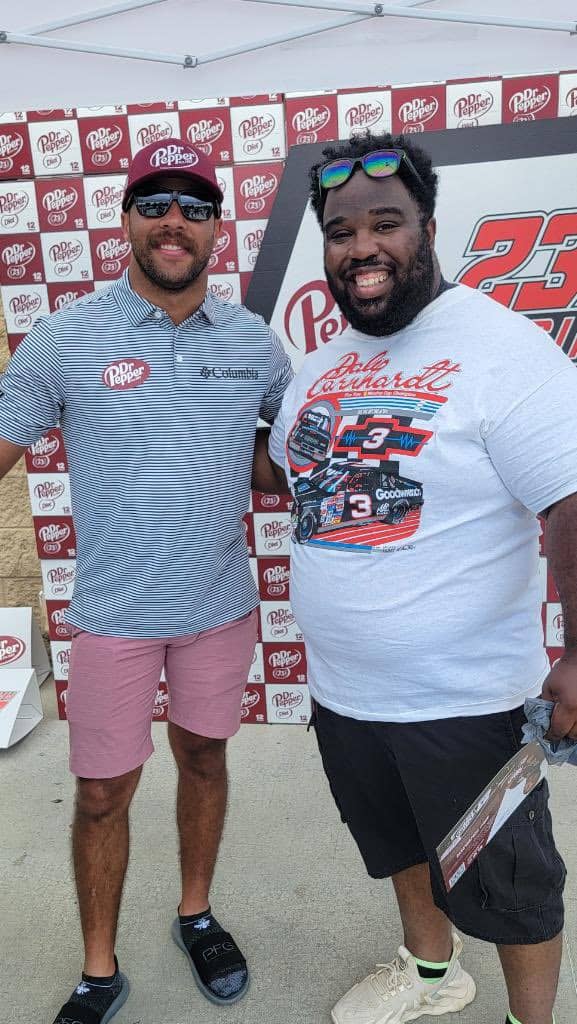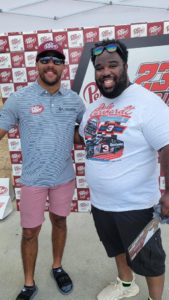 Contests like these are nothing new to the NASCAR Cup Series community. They usually range from giving away free memorabilia, to race tickets, or even meet and greets. Contests from sponsors or teams to win money rarely see the fan walk away with the full prize, simply because of the condition that the driver had to win the race.
However, Wallace fulfilled that condition, making the second race of the 2022 NASCAR Playoffs one that Spain will never forget.
"I was able to focus (on the race) until about the time [Wallace] took the lead," explained Spain. "I looked at onboards and had the TV muted, mostly just to cut down on the noise. When he did the double pass on Kyle Larson, William Byron, and Alex Bowman started growing bigger and bigger in the windshield, I started getting excited.
"I normally transcribe radio updates, but I just went silent. My girlfriend Sarah was texting me and I wasn't responding… I just kind of started pacing the house. Got to after the pit stops and I was convinced Bell was going to catch him, but he held serve. I still had the 'what if' in the back of my head around 10 to go. I was sure a caution would come out, but I couldn't believe it when it didn't.
"Whole last lap I had my back to the TV until I heard him come over the radio and I got super excited."
That Winning Feeling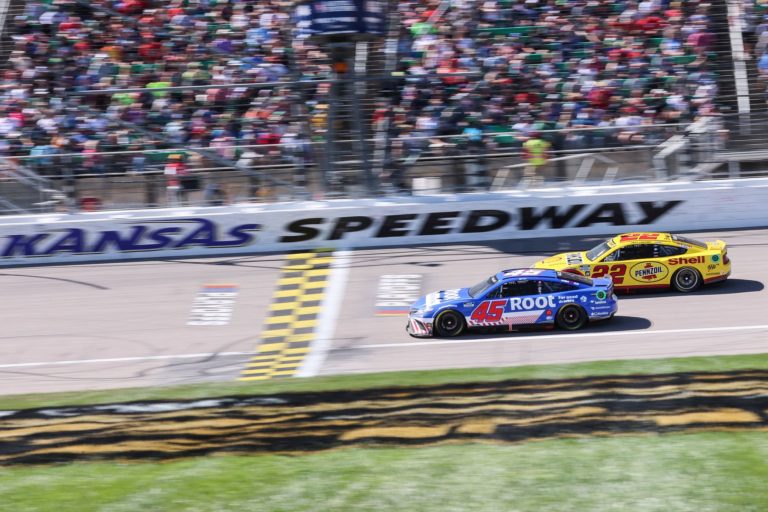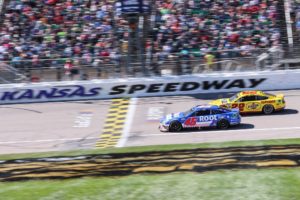 It was about 10 seconds after Wallace took the checkered flag that the weight of the race kicked in. First, he cheered for the win. Then it clicked for Spain that Wallace's win netted him $10,000.
As an added bonus to being among the first to win the MoneyLion contest during their time as a sponsor for 23XI Racing, Spain will be a guest at Bristol Motor Speedway, on the pit box of Wallace's No. 45 Toyota Camry. The memory-making contest will continue to give the Owings Mills, Md., native experiences that will last a lifetime.
"When I won the $500, they just asked me for my information and said I'd see the money soon," reflected Spain. "I figured after I won it would be the same thing, no big surprise. And to my surprise Monday around 8:30, I got an email from MoneyLion asking if I was able to get to Bristol for to receive the money and some other goodies.
"I was already going this weekend, but it just made it even sweeter."
Enjoy that bag my man!🤘🏾💰 pic.twitter.com/SzxM0JDnuc

— Bubba Wallace (@BubbaWallace) September 13, 2022
History Continues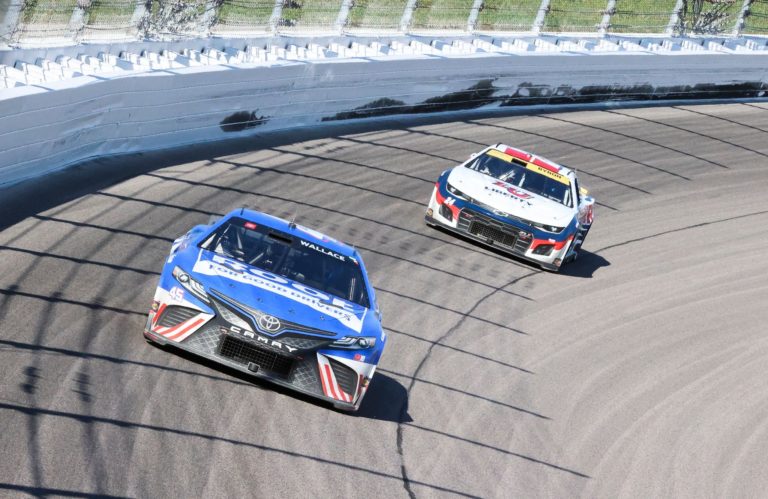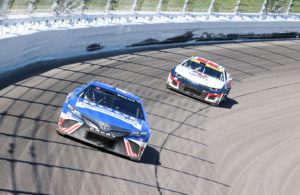 Wallace's win was the second in his NASCAR Cup Series career. He is the first, and only, African American driver to have more than one victory in the Cup Series. NASCAR Hall of Fame inductee Wendell Scott was the first African American to win in Cup in 1961.
Wallace's win also locked the 23XI Racing No. 45 into the Round of 12 for the Owner Playoffs.
Though the $10,500 that Spain won is not the nearly $1 Million that someone won on FanDuel during the Coke Zero Sugar 400 at Daytona International Speedway, it is still a life-changing amount of money. It also shows that the contests drivers, manufacturers, sponsors, and teams hold are still meaningful to the NASCAR fans.
"I've always believed the best way to show sponsors that you want them to stay around and do things is to interact with them when they do giveaways or use their products in everyday life," noted Spain. "I've been a fan of 23XI since the jump. I've been using brands and places that believe in their vision. They prove that all of these moments are possible when you believe in them, and they believe in you to be a brand ambassador of sorts."
Congrats to @BubbaWallace for winning at the Kansas Speedway and @philenespanol for scoring a month of gas PLUS $10K! What a weekend to remember. 🍾 Let's do this again next week! @23XIRacing #MoneyLion #GasPrices #NASCAR #HollywoodCasino400 #NASCARPlayoffs pic.twitter.com/miEm0az5cl

— MoneyLion (@MoneyLion) September 11, 2022
Planning for the Future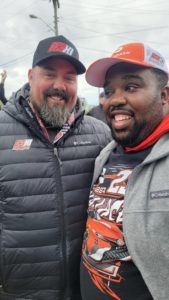 As for Spain's plans for the money, and how it changed his life, he's already looking towards the future. The $10,500 clears a small overdraft that he had and makes the decision for a trip to the 2023 Daytona 500 a little easier.
The rest, he'll put away for his family's future.
"It's a little embarrassing to say, but I had a small overdraft," admitted Spain. "I wasn't too worried because payday was coming up soon. But this changed my life in a big way. We were just talking about how we wanted to go to Daytona this February, and how we were going to have to budget and get a hotel quickly. And now that makes that experience easier.
"My daughter just started kindergarten, so the plan is to put a little away for her for the future. I also have plans to move within the next year or so, so it's a big boon to my future."
The Bass Pro Shops Night Race, where Spain will be on the pit box of Wallace's No 45 Toyota Camry, is scheduled for Saturday, Sept. 17 at 7:30 p.m. on USA Network.
Be the next @philenespanol. Follow @MoneyLion for a chance to win💰$10K.

Will @BubbaWallace be calling you next?#GetPumpedTuesday | @23XIRacing pic.twitter.com/DwiKORExU0

— MoneyLion (@MoneyLion) September 17, 2022
The race will also be broadcast on the Performance Racing Network and SiriusXM NASCAR Radio, channel 90.
Featured Photo Credit: Photo by Rachel Schuoler / Kickin' the Tires.