By Seth Eggert, Staff Writer
BRISTOL, Tenn – Late in the Food City 300 at Bristol Motor Speedway, Stefan Parsons slowly moved into the picture.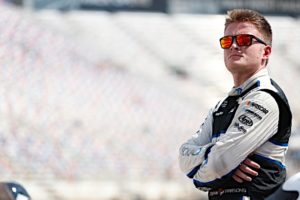 The journeyman NASCAR Xfinity Series driver positioned his No. 45 Sokal Chevrolet Camaro SS inside the top-10. Parsons picked off driver after driver, taking spots from Bayley Currey and Ryan Sieg during the long green flag run. When the caution waved with 30 laps to go the second-generation driver was eighth with just 12 cars on the lead lap.
Parsons' Frank Kerr-led pit crew maintained position through the final round of stops. Shortly after the stop, the Cornelius, N.C. native climbed up to sixth when A.J. Allmendinger lost momentum. However, in the closing laps both Allmendinger and Josh Berry slipped by the Tommy Joe Martins and Caesar Bacarella owned car. When the checkered flag waved, Parsons was eighth.
"I didn't do much," Parsons modestly admitted. "It was all these guys on Alpha Prime Racing, they worked hard. They built a good car. We ran this car a couple times, last ran it at Darlington and it was good there and we just kept making it better and better. On that second to last stop before the long green flag run it just came to life whenever that group moved up.
"It was just all Frank Kerr (crew chief) and everybody at Alpha Prime, they did a really good job. They bring really good cars and it's good to be able to get them a run like that. They deserve it at a track like this, where it's tough to run good here. I've got to thank Tommy Joe, Caesar, Mark Sokal, everybody at Sokal and everybody that makes this happen."
The top-10 finish comes just over four years after Parsons made his NASCAR debut at Bristol in the Camping World Truck Series. In August 2018 the son of NASCAR on FOX analyst and former driver Phil Parsons started 30th and finished 17th. Since then, Stefan Parsons has made sporadic starts in both the Xfinity and Truck Series. The 2022 season marks the most starts the 24-year-old has made in a single season with 17 Xfinity and two Truck starts.
"This is where I started my NASCAR career and to be able to get a top ten here is pretty cool," Parsons reflected. "If you'd have told me if you had told me before that first truck start (in 2018) that we'd be here and we'd be in the top-10 I wouldn't have believed you. It's pretty surreal and it's just an awesome feeling."
The eighth-place finish is the first career top-10 finish for Parsons. Before Bristol, his best career finish in Xfinity was 12th, in both his Xfinity debut at Daytona International Speedway in 2019 and Watkins Glen International earlier this season.
It also marks the third top-10 for Martins as a team owner and the second under the Alpha Prime Racing banner. Martins earned a top-10 in 2020 as a driver-owner. Sage Karam earned the organization's first top-five finish at Daytona several weeks ago. Parsons' top-10 finish moves the Alpha Prime Racing No. 45 up from 31st in the Owner Point standings to 27th, 16 above 30th.
Parsons is splitting time this season between Alpha Prime Racing and B.J. McLeod Motorsports.
Next for the Xfinity Series is the Andy's Frozen Custard 300 at Texas Motor Speedway on Saturday, September 24 at 3:30 p.m. ET on USA Network. The race will also be broadcast on the Performance Racing Network and SiriusXM NASCAR Radio Channel 90.