BRISTOL, Tenn. – Noah Gragson made it clear Friday night at Bristol Motor Speedway that he and JR Motorsports are peaking at the right time.
Gragson parlayed a gutsy, late-race strategy call into his third NASCAR Xfinity Series victory in a row, holding off Brandon Jones – his future successor in the No. 9 Chevrolet Camaro – in the final laps to do so.
A caution flag with 29 laps left, after contact between leader Justin Allgaier and the lapped car of J.J. Yeley sent Yeley spinning into the backstretch wall, generated a surprise round of pit stops that shuffled the deck at the front of the field.
Gragson and crew chief Luke Lambert elected to stay out when all of the other leaders came to pit road on lap 276, assuming the lead with tires that were nearly 100 laps old and looking like he would be a sitting duck on the final restart.
However, after his teammate Justin Allgaier – who won stage two and led a race-high 148 laps – was nabbed for speeding on pit road and relegated to the tail of the field, Gragson ended up being the fastest car left at the front despite his apparent tire disadvantage.
After darting away on the green flag and then slowly fading back into Jones' reach, Gragson fended off the repeated charges of the Joe Gibbs Racing driver in the final five laps, eventually taking the checkered flag in front by .145 seconds.
It marked Gragson's 11th career Xfinity Series win and his series-leading sixth of the season, seeding him as the No. 1 driver for the start of the playoffs at Texas Motor Speedway on Sept. 24.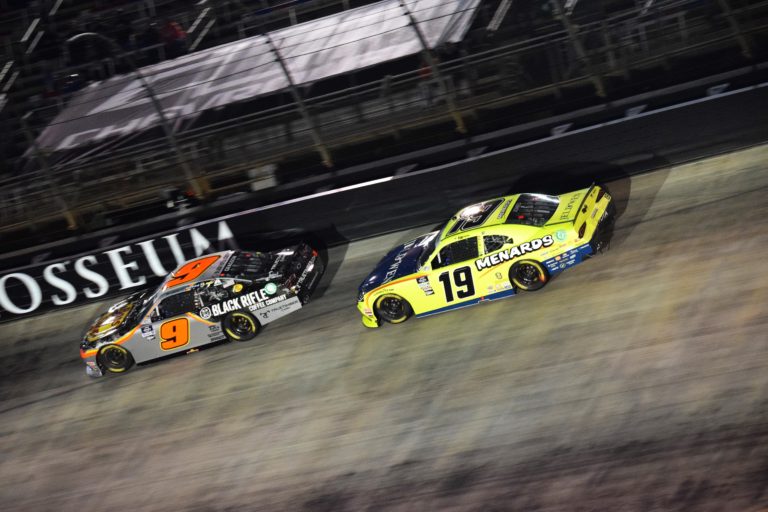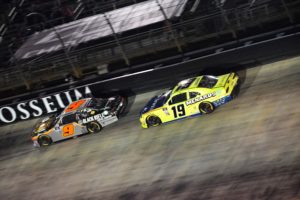 "That last caution came out, and I knew if I could ring the top, it was going to be hard for them to get there," said Gragson, who will move into the NASCAR Cup Series full time next season with Petty GMS Racing. "I appreciate Brandon Jones racing us clean. He gave us the bumper with two (laps) to go, and I was hanging on, scrubbing the fence.
"We won here in Bristol in 2020 and there were no fans here (because of the coronavirus pandemic) … so what a great opportunity to race here in front of fans and have the opportunity to win the race. Our car was fast all day. We got to the top and we were rolling. I had a blast."
Jones looked like he'd have a chance to get to Gragson's bumper on the final lap, but ran out of time and had to settle for second.
Despite knowing the car he was chasing is the same car he'll be driving next season, Jones tipped afterward that it didn't enter his thought process as he raced for a victory in the waning moments at The Last Great Colosseum.
"It didn't even cross my mind at the time. This one hurts the most just because it was our race to win, I felt like," Jones explained. "We battled so many things tonight adversity wise, and just kept coming back. It was really cool to look at our race as a whole to see where it started to see where it ended for us. I really thought when the 7 (Justin Allgaier) sped – I thought easy, piece of cake, we've got him easy, but the bottom didn't take off great. Those newer, fresher tires certainly paid a dividend at the end. I just caught him at the wrong time, every single time.
"I could get in deeper into the corner, and I could kind of get him in the middle, but I could never get him at the exit. I had maybe two times where I had a shot maybe to try to get in his left rear and try to get him loose," Jones added. "I put maximum pressure on him. I gave it everything I had today, so that's always a great thing to say that you've done. … We are ready to light the wick for the playoffs."
Two-time season winner Austin Hill crossed the line third, followed by Sam Mayer, who rallied from a lap-167 spin in traffic to finish fourth.
Riley Herbst filled out the top five, followed by A.J. Allmendinger, Josh Berry, Stefan Parsons. Allgaier ended up ninth after his late penalty.
Ty Gibbs appeared to be the driver to beat early on in the night, capturing the win in the first stage over a fast-closing Allgaier, but he got a bump from behind by Gragson on lap 129 that sent him up into Sheldon Creed in turn two.
The resulting crash ended both Gibbs' and Creed's nights, as well as scuttled any hopes that Creed had of sneaking into the playoff field.
That incident, combined with a right-front hub failure for the No. 10 Chevrolet of Landon Cassill later on, allowed Ryan Sieg to claim the 12th and final berth in the postseason field by a scant five points. Sieg finished 10th in Friday night's race.
Sieg will join Gragson, Allgaier, Allmendinger, Berry, Hill, Jones, Jeremy Clements, Mayer, Daniel Hemric and Herbst in the title fight.