By Cole Cusumano, Staff Writer
PHOENIX — Odds are by now you've likely watched the replay of Ryan Preece's wreck from the regular-series finale at Daytona Int'l Speedway over a dozen times.
On Lap 157 of the Coke Zero Sugar 400, the rear bumper of Preece's Ford Mustang took an errant push from Erik Jones, which sent the No. 41 down the track and into his teammate Chase Briscoe.
As the Stewart-Haas Racing drivers began to glide below the apron on the backstretch of the 2.5-mile superspeeedway at nearly 190 mph, Preece's car clipped the infield grass and quite literally took flight.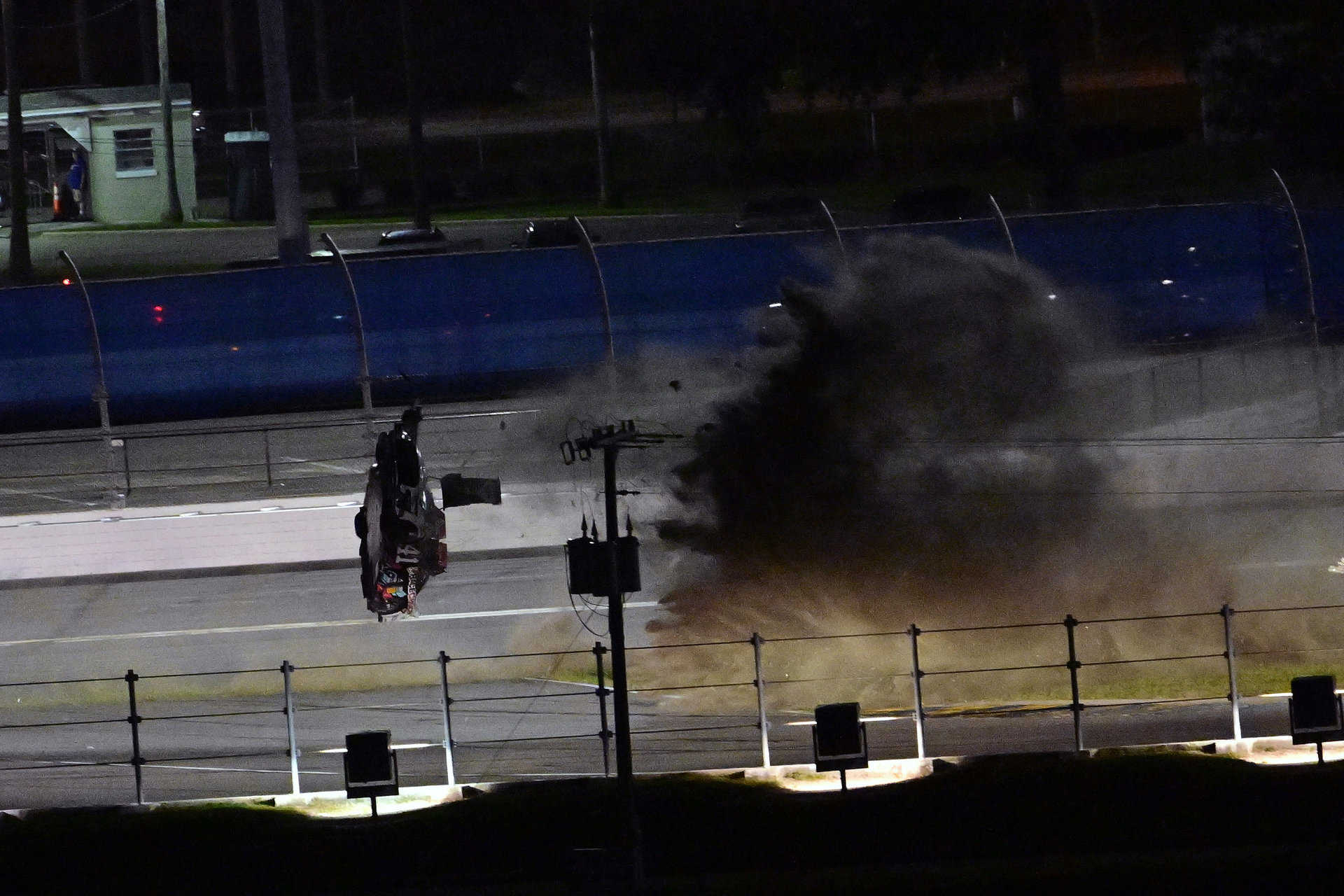 At this moment, time seemingly stood still as the No. 41 soared through the air and barrel-rolled violently over 10 times before coming to a rest with all four wheels on the ground.
Those watching let out a collective sigh of relief once Preece miraculously exited the vehicle under his own power and was loaded onto a stretcher for further evaluation at the Halifax Medical Center.
From there, focus immediately shifted to dissecting the cinematic incident with a keen eye on safety advancements as they relate to the Next Gen car Among those captivated by the surreal scene was President of NASCAR Steve Phelps, who many turned to in regards to the aftermath of the carnage.
"It was scary and vicious," Phelps said. "I was up there in race control holding my breath waiting until [Preece] got out of that car. It's scary, because we're family. We want to ensure the drivers are being taken care of and we're doing our part for the sake of their safety.
"We've worked very hard to make sure this car would do its job with respect to catastrophic injuries. The car did its job for Ryan Blaney, and I think it did its job for Ryan Preece. But it's not done."
The two main areas of concern following the wreck were the emergency roof hatch being ripped off and the window net coming undone sometime in the process of the seventh-generation car's wild ride – both of which are imperative points of emphasis as it relates to keeping the driver stationary during the unlikely scenarios.
As IMSA and NASCAR mechanic Bozi Tatarevic pointed out on social media, multiple impacts to the name rail area of the car could have torn the latch extensions from the emergency exit, thus expelling the door midcrash. These same hits also likely bent the bar above the window net, allowing it to slide undone.
The roof hatch coming off the No. 41 car at Daytona as the car flipped seems to be a big discussion point from the race so let's get into how the roof hatch works and why it's not surprising that it ended up coming off the car. pic.twitter.com/C01benfJzu

— Bozi Tatarevic (@BoziTatarevic) August 29, 2023
While this was the first case over the last two seasons with the Next Gen car these safety measures withstood such abuse, it's not the first time one of these seventh-generation vehicles went airborne – which is more than likely why these parts didn't stay intact.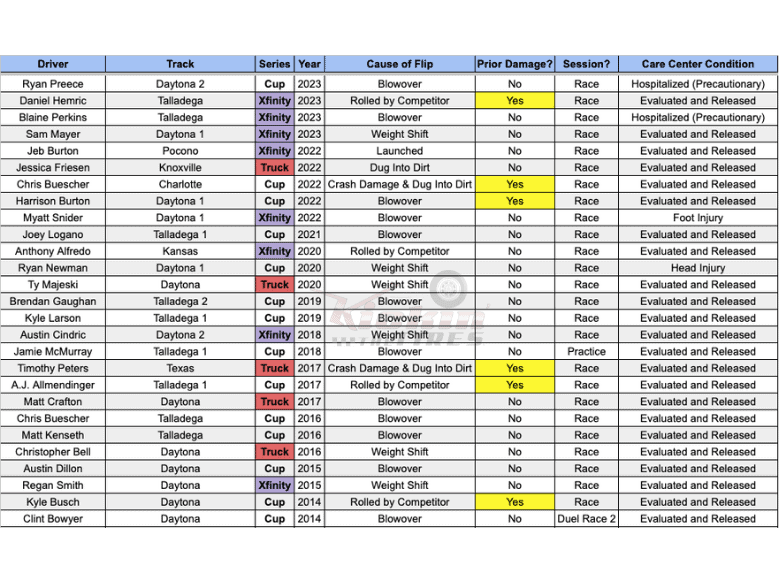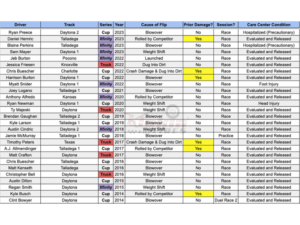 According to Seth Eggert at Kickin' The Tires, Preece's wreck marked the 19th consecutive season a car flipped. However, this was only the third time in the Next Gen era. While these instances aren't common, it's also worth noting all three airborne wrecks with the current car have come under the Ford banner.
"We do not want cars to get airborne, and we're doing our best to figure out how not to do that. Our team is going over that car to figure out what changes we potentially could make to make that car even safer."
Kyle Larson referred to Preece's wreck as one of the worst he's ever seen at the Cup level throughout his career. The 2021 Champion has often been outspoken in his disdain for superspeedway racing, and offered up a potential solution to prevent NASCAR cars from flipping, simply removing the grass.
"I think an easy fix for Daytona and all race tracks is getting rid of the grass, because I think without the grass he probably would've turned over and just slid," Larson said. "With the grass, the car got caught and took off.
"You never want to see wrecks like that happen, but our cars have come a long way in the last couple of decades to get us to a point where we can walk away from that. That's something to be proud of for NASCAR."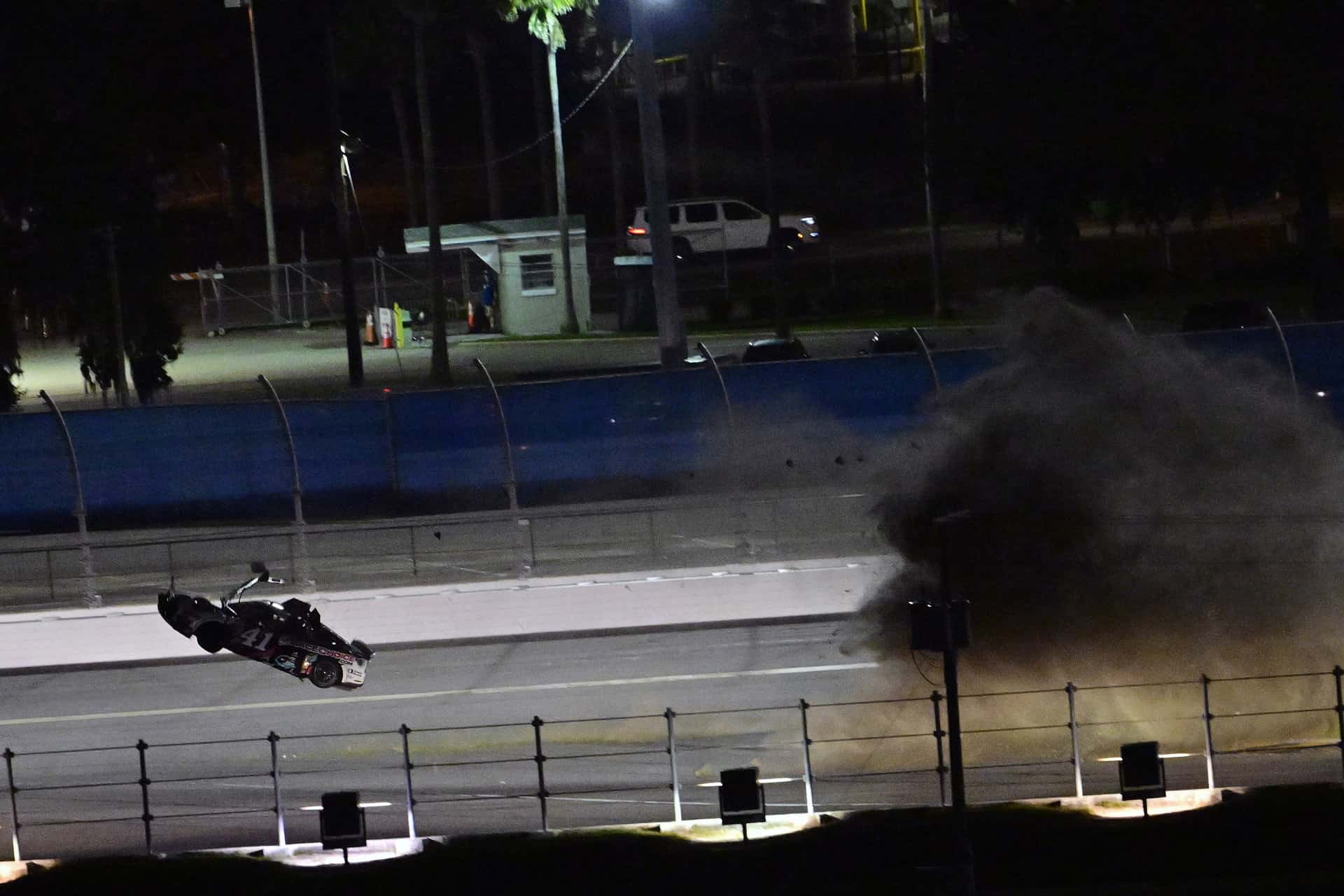 Though it is important to note that Daytona and other tracks are used by multiple series whose track limits are often defined by grass. The calls to remove grass as similar to the ones to remove a tire wall that Brad Keselowski hit at Indianapolis Motor Speedway oval several years ago, a tire wall that protects the road course.
NBC analyst and Hall of Famer Dale Jarrett also doubled down on his praise towards NASCAR and their safety innovations over the years, while also acknowledging how these infrequent situations often subconsciously allow spectators and competitors to go into each race with rose-colored glasses in relation to the dangerous nature of the sport.
"It was just an incredible event to watch unfold," Jarrett said. "We know it's always a possibility, and sometimes we get locked into a false sense of security, because we talk about how safe these things are to drive. Then you see a vehicle get in the air and do the things that it did for 18 seconds, you wonder what the outcome may be.
"But I think this shows NASCAR, the manufacturers, and everyone involved have done a really good job with the safety side of this sport."
Following an overnight stay at Halifax Medical Center in Daytona for further evaluation, Preece was discharged the next morning and returned to his home in North Carolina to his wife and three-week-old child. He is expected to return to action for the Southern 500 at Darlington Raceway on September 3.