By Jerry Jordan, Editor
DAYTONA BEACH, Fla. – Going into the regular-season finale at Daytona International Speedway, Daniel Suarez knew he was a longshot to make the playoffs but even if he did, he didn't necessarily think he would deserve it.
Suarez said his team had not been performing to its capability for most of the season and he didn't want to be in the playoffs only to get knocked out in the first round because they weren't fast. He wanted to make the playoffs and be a contender.
"Honestly, I think that, you know, I think that we have work to do," Suarez told Kickin' the Tires, at the conclusion of the Coke Zero Sugar 400. "I don't think we were a playoff team so far this year."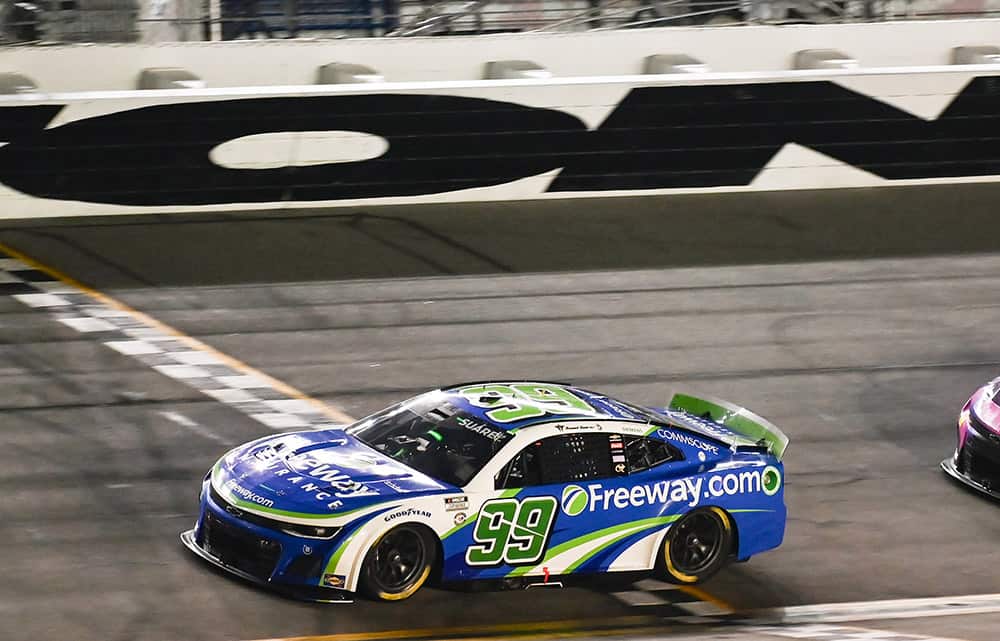 Statistically, he was correct. Suarez has only three Top 5 finishes in 2023. In fact, his DNFs are greater than his Top 5s – at four. His best finish was at Atlanta Motor Speedway and his best starting position was the pole at the Indianapolis Road Course.
"If we were a playoff team and we were out, I would say, 'man, I am very, very mad,'" Suarez said. "But I just don't feel we have performed the way that we should have. We have made a lot of mistakes and execution and we have to be better.
"It's not my goal to go into the playoffs and be out the first round."
Saurez said he and the team need to take a difficult look at themselves and figure out how they can be faster, how they can perform better and how they can not make mistakes that cost them on the track.
His teammate, Ross Chastain, has a win and a pole – both of which came at Nashville Superspeedway. Chastain also had six Top 5s in 26 races and nine Top 10s. He also only has two DNFs.
"We have to be better," Suarez added. "We have to overlook everything we have done and see the areas where we have to be better and be stronger. I believe that we can still win races in the next 10 races. I think the mile-and-a-half has been pretty good for us. We will see. I think I can win anywhere, all the road course races have been good for us, as well. We will see."