By Seth Eggert, Associate Editor
Simply making the NASCAR Cup Series Playoffs for the first time in his career is a victory all its' own for 23XI Racing's Bubba Wallace in Saturday night's Coke Zero Sugar 400.
The Toyota Racing driver entered Daytona Int'l Speedway as the only driver in the top-16 not locked in. With a 28-point cushion at the start of the 400-mile race, Wallace comfortably extended the gap in Stage 1. That made Ty Gibbs his only competition for the final playoff grid spot on points. That was until Gibbs was wiped out in the 'big one' at the end of Stage 2.
The wreck off Turn 4 forced the No. 23 Columbia Sportswear Company Toyota Camry to come to a complete stop. Having avoided the largest wreck of the night, Wallace was later ahead of the biggest wreck of the night when Ryan Preece took flight and barrel rolled over 10 times on the backstretch with five laps to go. To Wallace, making it to the end of the race was more to do about luck than strategy.
"I don't know if there's much strategy, as much as there is just luck," Wallace admitted. "We executed, we had no personal mistakes, dodged a wreck or two and just survived. I didn't like my car from the start of the race trying to lead the second line. I know Riley was new and trying to make some stuff happen, but something was off, and we didn't have the 23 speed that we usually do when we come here. So, I think we tried some different things, but hey, we survived. That's what we wanted to do.
"We've seen the 54 and then a lot of cars get taken out so we kind of knew where we were at, we just didn't need a new winner. And with about 10 to go, I was like, well, there's a new winner. And then about eight to go, I'm like, alright, let's go, no new winner. Just kind of an emotional roller coaster those last five laps."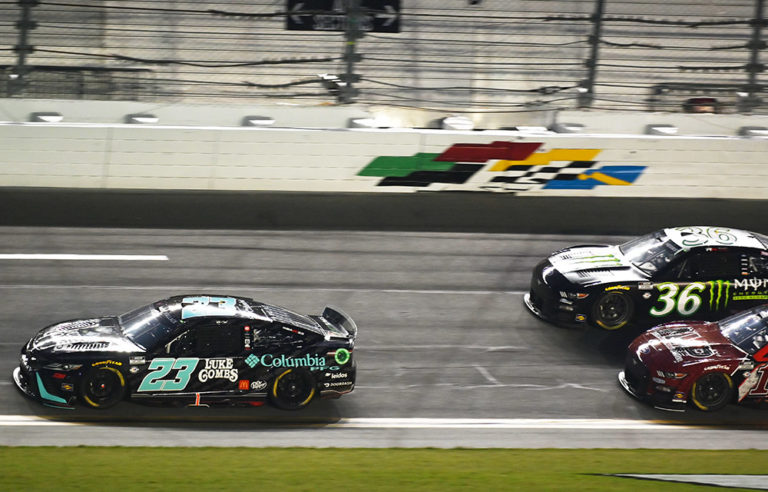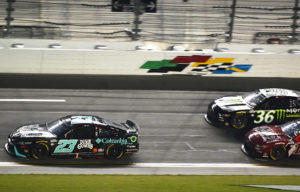 One week ago, Wallace called six-time NTT IndyCar Series champion Scott Dixon for a pre-race pep talk. The Mobile, AL native has never shied away from talking about the toll that competing in NASCAR takes mentally on himself and others. The accomplishment of making the NASCAR Playoffs equals that of a victory for Wallace.
"(This is) on my Mount Rushmore," Wallace explained. "I don't have a lot of things on my Mount Rushmore. I got two faces with my two wins, I'll put the this as the third face up there. It's pretty special. Just relieved. I don't have much emotion, just relieved, drained mentally. Glad we've got the day off tomorrow because I'll be hurting on Monday."
"I'm not showing much emotion," Wallace continued. "I am mentally drained. This week was probably thehardest week I've had in a long time. Just trying to stay hyper focused and stressed out to the max andwaking up at 2:30 in the morning and. My wife, (Amanda)'s like, 'what's going on?' I'm just stressed, you know? And then she starts to worry that it's her and it's not. It's just I've put a lot, we put a lot to get here. So proud of Bootie Barker (crew chief), JR Houston (engineer). everybody back in the shop. We bust our ass so much and it's finally starting to pay off. Takes a long time."
Wallace is one of three drivers that made the 2023 NASCAR Cup Series Playoff Grid without a victory, joining former series champions Kevin Harvick and Brad Keselowski. However, finishing the regular season in 14th before the points reset and with no Stage wins, Wallace was seeded 16th, eight points below the cutline for elimination at the end of the Round of 16.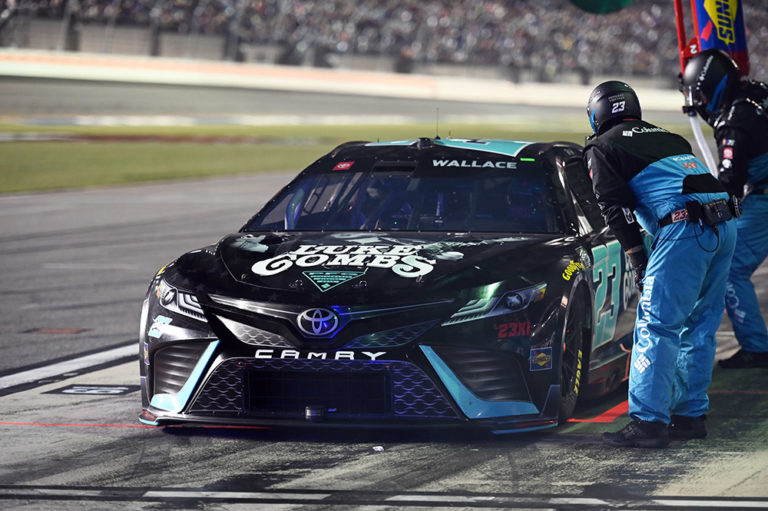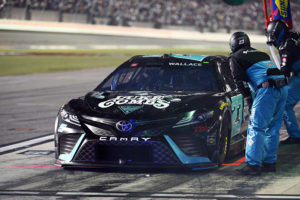 Although Wallace made the driver's playoffs, his No. 23 Toyota Camry did not make the Owner Playoffs. The Hendrick Motorsports No. 9 Chevrolet Camaro took the final spot on the Owner Playoff grid.
Next for Wallace and his 23XI team is the Cook Out Southern 500 at Darlington Raceway. In 10 starts at 'The Track Too Tough to Tame,' the 29-year-old has one top-five and two top-10 finishes. Both have come in his last two starts at the track with the top-five earlier this season.
The Cook Out Southern 500 at Darlington Raceway is scheduled for 6:00 p.m. ET on Sunday, September 3 on USA Network. The race will also be broadcast on the Motor Racing Network and SiriusXM NASCAR Radio, channel 90.