By Jerry Jordan, Editor
Calling 2020 an "extraordinary, unprecedented year for our sport," NASCAR President Steve Phelps told a group of media this week he is "proud of how our industry has come together as one." He proclaimed that past criticisms of the sport regarding its inability to get along and play well within its inner-circle are no longer the case, "NASCAR is not bickering and NASCAR has come together as one entity – teams, tracks, sanctioning body and all of the folks around us, as well, our broadcast partners – all speaking as one voice, all trying to solve a very difficult situation in terms of trying to get back to racing."
Phelps said the 2020 NASCAR season got underway with great "pageantry" and having President Donald J. Trump give the command for the Daytona 500 was huge for the sport. The ratings were up and everything was gaining momentum after that. The action at Phoenix Raceway was phenomenal and "then we go to Atlanta and things came to a screeching halt," Phelps said.
As NASCAR descended on Atlanta Motor Speedway, its originally scheduled fifth race of the season, the nation faced uncertainty in the outbreak of the Coronavirus aka COVID-19. The sanctioning body was forced to call off racing until they could get a handle on how to return to the track under new safety guidelines and buzzwords like "social distancing" and "flattening the curve." Temperature checks are now mandatory for drivers, crews, media and officials. Even fans are shot with laser temperature guns before they are allowed inside the gates. Live racing went dark on March 13 and for much of the time between NASCAR's restart on May 17 at Darlington Raceway and this weekend's return to 'The Lady in Black' for the playoffs kickoff, racing was sans fans. But NASCAR was a leader – racing returned – first virtually with the highest e-sports ratings of all time, then real racing was back, followed by a limited number of fans in the stands and now, the playoffs are here.
"We were getting our protocols built and distributed, talking with infectious disease doctors and healthcare professionals around the country and then ultimately to the states and local governments to make sure we did have the opportunity to go back racing," Phelps said. "In some cases, our protocols have been adopted by other sports.
"With respect to other sports, I would say during the pandemic, you know, conversations with the commissioner of the PGA Tour, other stick and ball sports commissioners, which are a little bit different than we are, primarily not around the protocols themselves but really around governors and our ability to work, or potentially give each other information on what we are hearing and what might be able to happen from that front. Since then, I personally have had conversations with a bunch of folks with college football about protocols that we have done. And that is really, as much, a curtesy of are there things they can glean from us. We were the first back. Our protocols are working, so are there things they could do to, either in terms of protecting their athletes or what it might look like from a fan perspective. So, yeah, we did some sharing with that information."
Along the way, there was uncertainty – Jimmie Johnson and Austin Dillon tested positive for COVID-19 weeks into the resumption of racing but quickly recovered. A few others in the sport also contracted the virus but with the mandates put in place, there was somewhat of a bubble around the track. The race shops worked in shifts and employees were monitored and mandated to self-isolate if they had been exposed. Those protocols are still in place and as the world becomes more comfortable with mask mandates, a lack of handshakes and not congregating in groups, racing continues to be a respite from daily life and a leader in safety initiatives.
"You know, frankly, getting back to the balance of the season, we ran doubleheaders, we ran mid-week races, we ran one-day show – no P&Q (practice and qualifying), and I think we have shown that, really, we were able to test our way into some things that frankly this industry did not want to do but they are forced to do," Phelps said. "I think some of the protocols and some of the things we have in place here in 2020, we'll bring some of those into the 2021 season."
With 10 races to decide the 2020 Champion, there won't be any concession for drivers should they be taken out of the car because of illness. No COVID-19 waivers, Phelps said.
"No changes to our rules, so if a driver tests positive that driver needs to have two negative tests in the 24-hour period (at least 24-hours apart) or a 10-day period, which are obviously new guidelines from the CDC (U.S. Centers for Disease Control)," he said. "We are not going to change those rules."
Additionally, just because NASCAR made it to where it is on a regular weekly schedule again, doesn't mean there will be any less of a focus on safety for fans or participants. COVID-19 protocols will remain and there are still some Cup Series races where fan attendance won't happen. Texas, for example, has chosen to have fans in the stands for its Xfinity Series/Gander Outdoors and RV Trucks Series doubleheader instead of the Cup Series event.
And with 2021 around the corner, NASCAR still has to put a schedule together. That process was supposed to happen months ago and, according to Phelps, is still in flux. There is some discussion of having partial schedules due to the unexpected scenarios that could pop-up with COVID-19 and there is also the likelihood of new tracks being sprinkled into the mix, more one-day shows, foregoing practice and qualifying, etc.
"It is not an easy answer," Phelps said. "There are a lot of different variables and factors that need to go into our 2021 schedule is going to look like. If we didn't have the COVID situation I think we would be in a situation where we would have already announced our 2021 schedule, probably, long ago. That said, these variables are things we are taking into consideration. Do we want to continue to look at potential new venues? The answer is, 'yes.' Do we want to look at potential format changes? Yes. Do we want to consider looking at one-day shows in some form, or fashion? Probably. That is something that we have to weigh, obviously, with all the stakeholders in the industry.
" … these are difficult times. Whether we are going to announce a full schedule, as we have traditionally done, or we will continue to do different pieces of it, those are things we are contemplating, right now. As soon as we have something to share, we will. I am, I would say, cautiously optimistic, that many of the objections we would have had in a pre-COVID world we will have in our 2021 season. But again, there are just a lot of moving parts and we need to wrestle those to the ground before we are able to have a discussion on what they would look like."
NASCAR was recently criticized by Bob Levine, owner of Levine Family Racing, for its business model, which he said he could no longer afford. Changes by the sanctioning body made it impossible for his team to be able to afford competing in the Cup Series and he is selling his operation. Phelps defended NASCAR's position and said the sanctioning body has been doing its best to work with teams, sponsors and OEMs to cut costs.
"On the expense side, I think what we have done working with our teams and OEMs to pull costs out of the systems, from that perspective, I think it is improving," Phelps said. "Are there revenue challenges, particularly because of COVID, in some situations with some sponsors and some teams, I think that is a fair point. But I would suggest that one-day shows probably will have helped the teams from an expense standpoint. Again, all of it is to bridge what this NextGen car will bring, which is you need fewer of them, they most likely are going to cost less. In my opinion, I think it is going to be a big win for the teams. It will be a big win for the sport, frankly. As I said, the goal is to have healthy race teams, right. Healthy race teams put on better racing because they are competing."
Two days after Phelps' comments, Geico announced it was ending its relationship with the No. 13 Germain Racing team. And with no primary sponsor, Germain is looking at getting out of the sport and selling its operations, as well, according to reports.
However, NASCAR won't be affected as it secured Geico to be one of it's primary or premiere sponsors of the Cup Series. The relationship was announced during Championship Week last year in Nashville. Geico is listed in NASCAR's Cup Series logos alongside Coca-Cola, Xfinity and Busch Beer.
One of the questions raised was whether the Daytona Road Course would be used in the regular schedule rather than just as the feature of the season-opening Clash Race. Phelps said, obviously there is nothing to keep NASCAR from using it but does that mean racing at Daytona International Speedway three times a year? The success of the race would justify the addition of a points-paying event but like a good poker player, Phelps isn't showing his hand.
"You know, I think the event itself, from the drivers' standpoint, from the fans' standpoint, from a ratings standpoint, those were all successful," he said. "I heard talk from the standpoint of it was so great that it should take the place of the second oval, that we had last weekend. I don't see that happening. So, the question is do you add the Daytona Road Course as a third Daytona event or a fourth Daytona event if you are going to include The Clash. Nothing to announce at this point but it is nice to have options, though."
Phelps said the goal of NASCAR is to ensure that wherever the sport competes, that fans see the best possible race they can present. Additionally, NASCAR will keep a contingency plan in place, should there be issues that prevent NASCAR from competing in a particular market – the Daytona Road Course was a contingency plan for Watkins Glen International. Phelps said there were other situations that were "modified" regarding racing and fans, like at New Hampshire Motor Speedway and Kansas Speedway – one had limited fans and the other had none. There may also be modifications to protocols at Las Vegas Motor Speedway. Additionally, any contingency plans will not be made public unless they are needed.
It was also discussed that in addition to Nashville Superspeedway coming to the Cup Series schedule will not likely be a singular event. In other words, fans can expect other new tracks to be added when the 2021 schedule is finalized. Phelps wouldn't say which tracks; however.
"Do I think we will have new venues in addition to Nashville, the answer is, yes," Phelps said. "But I have no idea what that's going to look like at this particular point. There are still lots of discussions that are happening and we are trying to accelerate them as quickly as we can. But there are other variables that we have to take into consideration as part of what a 2021 schedule would look like."
NASCAR also wants to ensure that it is ready for the Gen7 car that is preparing its debut in 2021. The COVID-19 postponement allowed Action Express Racing, founded by NASCAR CEO Jim France, to build its own version of the car. Until then, Richard Childress Racing was the only organization to build a Gen 7. That car is the one NASCAR has used as its official prototype and was first tested by 11 months ago by Austin Dillon. The Action Express car debuted at Daytona last month and was captured in exclusive videos by Kickin' the Tires. One noticeable difference was that it lacked the standard fuel-filler opening. There have been reports the new car will adopt a fueling system similar to that used in open-wheel racing.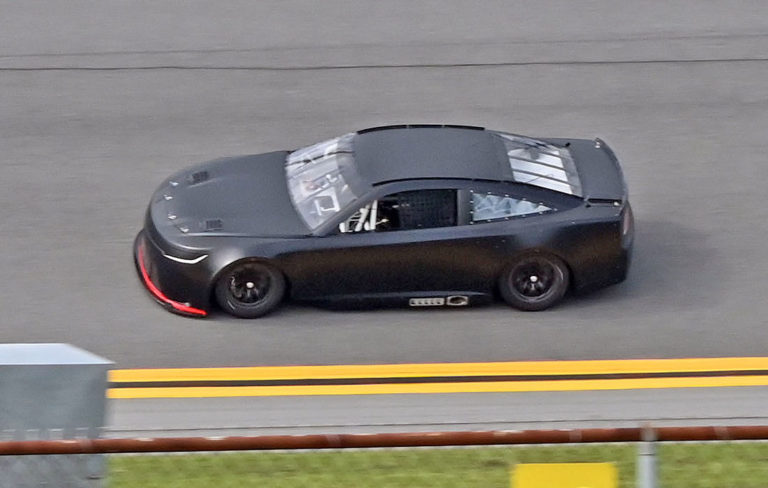 "Action Express was here after the race on the road course here (Daytona) and they had a successful test. They did build a car. We didn't have a lot of fanfare around it but I would suggest that test went very well," Phelps said, stopping short of answering how an IMSA team was able to get the plans for NASCAR "NextGen" car and build their own version. "The Dover test that Cole Custer was in accomplished what we wanted with that car. They ran over 500 laps. They wanted to see the load on the tires, you know, durability. And every driver that has been in the car has really enjoyed driving that car. So, the car is meant to do three things. It is meant to lower costs. It is meant to have better racing and from a styling standpoint it is meant to look more like a showroom car – a souped-up showroom car, nonetheless. So, we are tracking well. You know, John Probst and the team have done a phenomenal job of keeping things moving."
Phelps said the entire industry is pushing for the new car and everyone is excited to see it moving ahead to be brought online.
There has been some criticism that bigger teams have an advantage under NASCAR condensed pandemic schedule that eliminates testing because the smaller teams don't have the same access to simulator time or engineers that can help work through issues. Those teams go to the track, especially in the lower-tier series, relatively blind in what to expect, whereas Stewart-Haas Racing and Joe Gibbs Racing have a decided advantage in the resource department. Phelps conceded the situation was not perfect but it was the same for everyone in the sense that no one is getting practice. He also said there is a delicate balance of ensuring racing actually happens, avoiding pandemic issues and cutting costs.
"Look it's not perfect, for sure, but if you look at the Xfinity shows, I think the Xfinity shows have been very entertaining," Phelps said. "Again, I think having as level a playing field, as you can, while also being cognizant of the fact that teams including Xfinity and including trucks, the financial model is not always the best it can be, frankly, during this COVID time. Working with our Xfinity teams to do what we believe is fair is something our folks, you know Wayne and his team, have been doing.
Perhaps the most telling information to come from Phelps was that he does not expect infield access to return – at least – not until there is a vaccine. That means fans, sponsors, team owners and media continue to have limited access to what has traditionally been one of the most easily accessible sports in America. Talking with crews and drivers on a walk through the garage has been how media members put stories together for fans and built relationships that helped build the sport through legitimate news articles and features. That has been all but eliminated since March 13, when NASCAR locked down the infield.
"Do I see access into the infield or into the footprint changing before we have a vaccine, I don't," Phelps said, pointedly. "We don't need owners, you don't need myself, or Jim (France) or anyone else in that footprint. We don't put on the races. So, do we have opportunities for media members and owners and others to come to the races? The answer is, yes. We can't take a chance of having people who are literally not putting on the race to be in that footprint. Although the protocols are working, it's just an added element of folks that are frankly not putting on the race. I don't see that changing in the near term."
Phelps said, that was "hard" for him and that he would love to be in the infield or go on pit road at the track. "I miss it," he added. But he said NASCAR can't take a chance on exposing the virus to the people directly involved with the action on the track. He conceded NASCAR has had some of its own sponsors ask for refunds because they do not have access to the track to engage with fans and promote their products – the same holds true for some teams, as well. But restrictions won't change anytime soon.
"I just don't see normal until such time as we have a widely-distributed vaccine," Phelps said.
When pressed on why it had to be a vaccine rather than a quick test or way to detect the presence of COVID-19 in individuals accessing the track, Phelps shifted his position somewhat. He said the goal was to make sure the sport is safe from the virus and is open to ways to ensure that.
"If there is a solution that is out there that would keep our competitors safe, that is what we are talking about here," Phelps said. "So, is it a five-minute test that people would then take to come in that is 100 percent safe, that might be something to look at but that isn't in the, certainly for the next nine weeks, that is not something that is likely going to happen. So, again, if there is another way for us to keep the competitors safe and our officials safe, that is something we would take a look at."