By Cole Cusumano, Staff Writer
It's been nearly two years since Kyle Busch eclipsed 100 victories and vowed to step away from NASCAR Xfinity Series competition. But much like his football counterpart Tom Brady, retirement doesn't last forever for the greatest athletes in sports.
In 2021, Busch went undefeated in all five starts he made in the Xfinity Series, putting a perfect capper to his career in the developmental division with 102 trips to victory lane and a 28% winning percentage.
This season, Rowdy is back to bolster his tyrannical numbers with another five-race schedule driving the No. 10 Chevrolet Camaro SS for Kaulig Racing.
"The biggest thing for me was getting the opportunity of working with Matt Kaulig and his group and being a part of what he does both on and off the race track," Busch told Kickin' the Tires. "He's a really smart business guy, has a lot of great companies and does a lot of things away from the track that he loves and supports NASCAR with."
Busch didn't initially have intentions of returning to Xfinity. The opportunity presented itself when he settled on competing for RCR over Kaulig in the NASCAR Cup Series, but expressed interest in helping his second-choice team in any way possible.
"It was a little disappointing for them that I wasn't going to drive their Sunday car, but I told them I'd be happy to drive their Saturday car if they'd have me," Busch said. "They said, 'Sure, why not, let's go,' and we have a great opportunity of doing that now."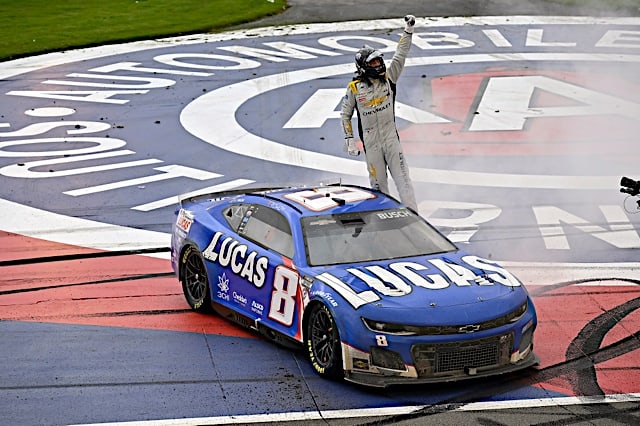 Scorching hot after his first win with RCR at Auto Club Speedway, Busch will make his triumphant return to Xfinity Series action beginning with his home track of Las Vegas Motor Speedway, where he'll be pulling triple duty, but also cheering on his son Brexton.
"It's going to be a busy weekend," Busch said. "It's my home town, my home track and my son's coming out there. He's going to race on Saturday night in a Bandolero right outside the big track, where I grew up and cut my teeth on the Bullring at Las Vegas Motor Speedway.
"We're excited for him to be a third-generation racer out there … That's going to be fun."
In addition to Vegas, the two-time Cup Champion will compete at Charlotte Motor Speedway (May 27), Watkins Glen International (August 19) and Darlington Raceway (September 2).
Most notably, Busch will attempt to score an astounding 12th victory at Phoenix Raceway on March 11. However, the Las Vegas-born driver has bigger ambitions in why he'll be racing at the one-mile track.
"I could really help hone in on what issues the Kaulig cars have been fighting (at Phoenix) the last couple of years when it comes down to the end of the races," Busch said. "If I can help them improve on their package and make them better, and if they're drivers can do a good job through the season and get them in contention, then they'll have a better shot at winning the championship."
Busch will make his Kaulig Racing debut this Saturday in the Alsco Uniforms 300 at Las Vegas Motor Speedway, where he's seeking six consecutive wins in the Xfinity Series.
The Alsco Uniforms 300 is scheduled for Saturday, March 4 at 4:30 p.m. ET on Fox Sports 1. The race will also be broadcast on the Performance Racing Network and SiriusXM NASCAR Radio, channel 90.