By Seth Eggert, Staff Writer
If one were to search for NASCAR on YouTube, they would find a wide range of videos from fan made crash compilations and driver tributes to professional documentaries and old races that once aired on CBS, FOX, NBC, and TNT. Fans would also find a wide range of YouTube documentaries that preserve and teach the 75-year history of NASCAR.
The Growing Number of Historians
Among those that work to preserve NASCAR history through YouTube are Brock Beard of LASTCAR.info, 'nascarman History,' 'S1apSh0es,' Daniel Baldwin (DannyBTalks), Darian Gilliam (Black Flags Matter), and more. Each has their own unique style ranging from exploring the backstory and nuances of a specific person or event to focusing on the stats behind the event, person, or team.
The duo of Beard and 'Nascarman' have both preserved history individually and collaborated on videos that explore both the mainstream events and as well as the darkest times in the sport's 75 years.
Developing a Love for History
This love and desire to preserve NASCAR and motorsports history began early. For Beard, it started nearly two decades before the creation of LASTCAR.info and 'LASTCAR' stats.
"It began very early with how I first encountered NASCAR in 1991," Beard explained. "Particularly on ESPN, the broadcasts encouraged the view that there were storylines throughout the field, and not just the leaders.
"Bob Jenkins would go through the leaderboard and say 'see where your favorite driver is running,' which could even mean someone laps down. I did always want to know more about the drivers and teams even ESPN didn't show often, and that curiosity has stayed with me. I still feel like I learn more about those subjects as I research them today."
Meanwhile for 'Nascarman,' the preservation of NASCAR history started with a desire to catch up on what he may have missed growing up. The more he learned, the more passionate he became. That only increased his desire to learn more about the American motorsports phenomenon.
"What got me interested in NASCAR history was I felt like I had to catch up on what I missed before I was exposed to the sport," Nascarman reflected. "I got so passionate about racing, I needed to go back into the past to get more of it."
The Topics
'Nascarman' documented the tire wars between Goodyear and Hoosier of the late 1980s and early 1990s as well as the 1993 NASCAR test at Indianapolis Motor Speedway. The footage that he has preserved not only shows the history of the sport on track, but the history of NASCAR broadcasting.
Beard detailed the loss of Adam Petty, Kenny Irwin Jr., and Tony Roper in 'Three Before February,' as well as all of the forgotten and lost storylines from the build-up and in the shadow of the 2001 Daytona 500 and Dale Earnhardt's death in '500 Days.' Each storyline offers a glimpse into the mindset of those inside the industry, the media, and the fan base from a seemingly bygone era.
These topics that the duo have focused on individually and through collaborations come from a variety of directions. Through his work researching for LASTCAR, Beard pulls from the various statistics he finds on a particular driver. Other times, it comes from a piece of NASCAR history that left a mark on him. Nascarman often picks topics to highlight various anniversaries within motorsports or whatever topic is interesting to him, or Beard, at a given time.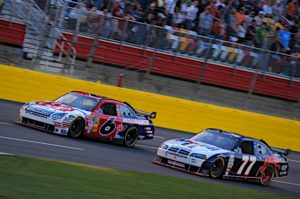 Together, Beard and 'Nascarman' have collaborated on numerous videos diving into both NASCAR and motorsports history. The two historians have highlighted NASCAR's short-lived Speedway Division, Sam Hornish Jr's innovative No. 77 Mobil 1 Dodge Charger Car of Tomorrow that was quickly banned from competition, as well as exploring the North Wilkesboro Speedway controversy from 1990, and more.
Those stories highlight forgotten history and explore the real story. The short-lived Speedway Division reveals NASCAR's attempt to have their own IndyCar-style open wheel series. Hornish's car explains the 'crab-walking' Car of Tomorrow phenomenon. While their video on North Wilkesboro's 1990 race puts to bed the controversy of whether or not Brett Bodine was the actual winner of the NASCAR Cup Series race from that fateful day.
The Editing Process
Depending on the topic that the two NASCAR historians are exploring, the videos range from about 10 or 15 minutes in length to well over 25 or 30 minutes. The detail of the stories being told and the exploration of history is a valuable education for both current and new NASCAR fans alike, especially as the sport continues to expand its footprint and fan base.
These videos take, at minimum, a month from the start of production to publication on YouTube. That time includes many hours of research, transferring and digitizing video from VHS recordings, and sometimes even quotes or hidden nuggets of history not previously preserved by a website.
Longer form videos take as many as five months to create with the writing, re-writing, research, and collection of materials. The hardest part of the process is the video editing and production process.
"It's the hardest and most time-consuming part of the process," Beard admitted. "I've always enjoyed creative writing, and particularly when I work with Bryan Hallman at the BRH Racing Archives, I can just pour over the photos he's able to contribute.
"The research is also fun, as there's so much satisfaction in fitting the pieces together and turning it into a story to share with others. I also like recording them because of the performative aspect. But the editing takes an eternity – even with the rather simple effects that I use. It takes a long time because it's so important. One audio clip out of sync, or the sound is off-balance, or the text has something misspelled just irritates me."
Nascarman also acknowledged that there can be many edits made to each video he and Beard have created.
"There's a lot of edits and re-edits to be made, such as if I don't like the sound of a clip or maybe a video comes in too soon," Nascarman explained. "You can edit video, then you edit visuals of photos and newspaper headlines to present the story where videos have gaps. You have to be critical of your work to re-do it until it's just right."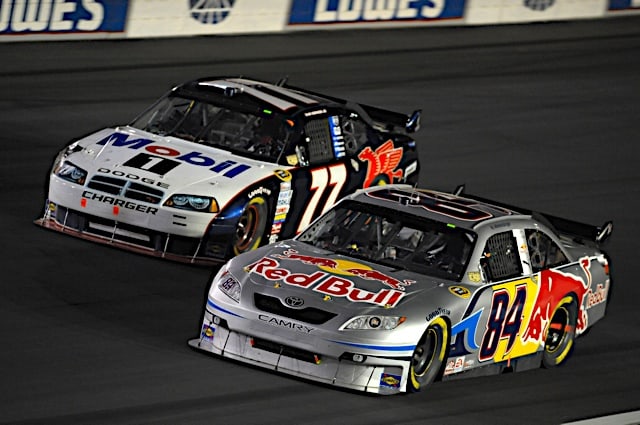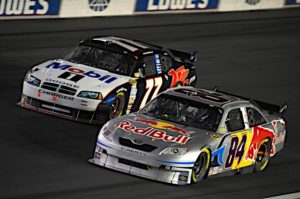 Through their collaboration, Nascarman's found a method of creating videos. He breaks each of his historical YouTube documentaries into different chapters before splicing them together. That allows for the videos to be recorded in relatively few takes.
Beard on the other hand will push through and record shorter videos in one take. Any stumbles, missteps, misspoken words he pauses, corrects the mistake and continues. However, he does recognize that he can't be perfect in catching each and every possible mistake.
"Of course, if I stumble over my words, I stop during that take, then do it over and keep going," Beard said. "This results in a pretty lengthy editing phase to cut out the outtakes. If it's a longer project, it usually takes at least two or three sessions to get it done.
"Then there are re-recordings if something just sounds silly or distracting, like a bad voice inflection, mumbling, or simply an error in the script. YouTube is an unforgiving platform, and a single misstep becomes a meme instantly. You'll never catch all of them, but if you cut out the worst ones, you'll be okay."
Research, Research, Research
Just as the editing and production take hours, so too does the research. While in the long run that push is rewarding, it does require a balancing act. Each time Beard puts the puzzle pieces of NASCAR history together he's also keeping an eye on his family and his day job.
"I lose track of the hours," Beard said. "If it's a subject on which I want to do a video, I can throw myself into the research for as long as it takes. It's tricky since I'm balancing other obligations with family and my day job, but I'm not special when it comes to that.
"But as I said before, there's so much satisfaction in putting the research together into a story, and finding those consistencies within the narrative that can make it compelling. It's funny because I don't like putting together literal puzzles."
That research is not limited to just Racing-Reference, The Third Turn, and other motorsport databases. Nascarman, like 'Basso488' on Twitter, is keen to search newspaper archives to find an article that might just add to the history and the narrative that he is attempting to preserve in an upcoming video.
"For a long, in-depth video, the research might take dozens of hours," Nascarman acknowledged. "I always search newspaper archives because you might find an article from 1988 that presents a good recap of something for background knowledge or leads to more interesting details. There might also be books to consult. I've scanned a lot of things from old programs.
"For an upcoming video, I even got materials from a college archive. I've spent countless hours of spare time just sitting on the couch, watching TV, and casually reading some random article from the 1950s to develop a story for a video."
The Importance of Preserving History
The importance of preserving this NASCAR history, whether it's via a YouTube documentary, a newspaper clipping, or even a news article, is to aid teaching the next generation of fans. Each is a window into a time, an image, video, or story from a bygone era.
Without the knowledge of where the sport has been, it's hard to see the vision of where the sport is going. Without the preservation of NASCAR history, the hardships of J.D. McDuffie, the storylines heading into the 2001 Daytona 500, or the unique history of the chassis 'Freak' may have been lost forever.
"I believe a well-crafted documentary is the closest we'll ever come to building a time machine," Beard explained. "History of any kind – NASCAR included – should be an engaging subject for the viewer, who is pulled into these moments and allowed to imagine themselves as a part of it.
"I'm in my 40s now, and I was raised in a time when the only thing cooler than knowing something was learning something. Educational entertainment for kids was at its peak with The Magic School Bus, Bill Nye The Science Guy, and Where In The World Is Carmen Sandiego. I don't think the younger generation today has that. The belief now seems to be that no one truly "knows" anything anymore – knowledge is discredited because we can all Google things. It's resulted in an era of great skepticism and cynicism where history is often ridiculed, shunned, or ignored.
"The fact is the people who lived in those times were no different than you or I, living through both the best and worst times. Sometimes in going back, we can learn great lessons, or in the case of NASCAR, fascinating facts. It's no more perfect than we are – neither are the historical programs we watch – but it's work well worth doing.
"That's what makes the research so important. You can really tell when a subject hasn't been explored very much. And when an incomplete narrative becomes the official record, all those interesting little uncovered details risk being lost forever."
This history also offers a bit of nostalgia. Using broadcast footage, Nascarman offers a glimpse of what not only NASCAR, but motorsports broadcasting looked like before it achieved a boom in popularity in the 1990s and early 2000s. The rich stories and personalities from that era allow some to find passion for a sport built on courage and speed.
"I always felt that if you can find entertainment in the history of something, it makes you more passionate about the present moment," Nascarman said. "There's so many rich stories of people and engineering in the history of auto racing that, for me at least, makes me appreciate current racing even more and how it developed into today's version."
Their Most Important Documentaries
Of all of the videos that Beard has created during his tenure on YouTube, his most recent series, "500 Days" could be one of the most important to NASCAR fans new and old. By chronicling the 2000-2001 "silly season," 2001 Speedweeks, and the tragic loss of Dale Earnhardt through a historian's eyes, a different set of emotions boil to the surface.
Clicking on the video, most already know the tragic chain of events that are to come at the end of the 500 days. However, Beard's narration includes a level of respect for the situation that shines a light on the humanity the sport has, whether it's race fans, drivers, or those within the industry.
"I believe the first four parts of "500 Days" is my best work to date, and I've been overwhelmed by the response," Beard humbly said. "This was truly a project that took on a mind of its own, beginning with a stand-alone video on the 2000-2001 "silly season," then ultimately chronicling the Dale Earnhardt tragedy and its immediate aftermath.
" I knew this was going to be a deep subject to explore, but I underestimated the momentum that made me keep expanding it into a longer series. In so doing, I feel it's the best statement of what my own research has been about – bringing people into historic times to help understand them better. An entire generation has now grown up in a world without Dale Earnhardt. Both they and the generations after must learn what it was like for those of us who watched that day in 2001."
As for Nascarman, he points to one of the videos that he and Beard had collaborated on. On the anniversary of the tragic death of Dan Wheldon, the duo created a documentary that details the build up to one of the most horrific days in the history of motorsports while paying tribute to 'The Lionheart.'
"Brock and I collaborated on a video about the 2011 IndyCar race at Las Vegas that I think was one of the best we've done," Nascarman reflected. "A lot of that is because it was recent so there was so much about it that was readily available to really make it a rich documentary.
"That moment was a culmination of so many things coming together in one race that if you didn't follow it at the time, you wouldn't realize the significance of everything that happened in retrospect. We got a message from someone involved in that event thanking us for how we presented the facts in a fair and truthful manner that was a great compliment for our effort."
Ultimately, the videos that both Beard and Nascarman have created, are creating, and will create offer motorsports fans new and old a glimpse into the past, teaching them while preserving history one video at a time.