By Seth Eggert, Staff Writer
Long-time eNASCAR Coca-Cola iRacing Series driver Michael Conti might be in his final season, but that doesn't mean he's done winning.
Taking the Lead
Conti took the lead in the D-Box 100 at The Milwaukee Mile with a bold move on the outside on a restart with 20 laps to go. Aiding his efforts was a rare move by race control to switch from double-file to single-file restarts. A rash of cautions forced iRacing official's hands.
A compromised corner entry combined with a possible missed shift hindered Jim Beaver eSports' Malik Ray. Conti swept by in the virtual No. 8 WR1 Sim Chassis Chevrolet Camaro ZL1. 2020 eNASCAR champion Nick Ottinger soon followed suit.
A late-race caution erased the JR Motorsports driver's 1.2 second lead. It was the biggest lead of the night.
Battling with a Friend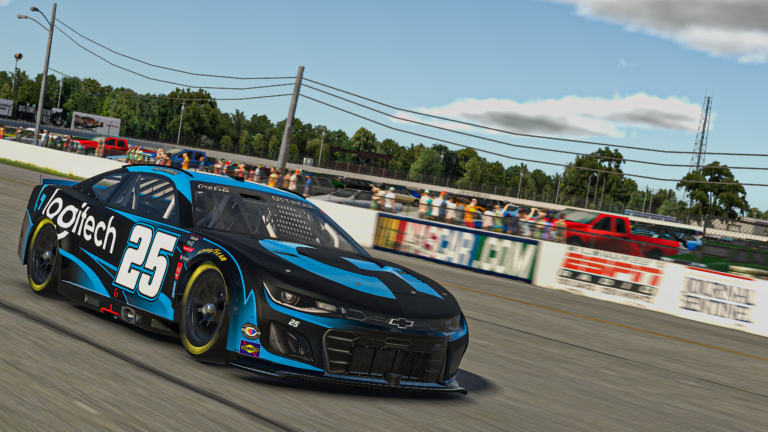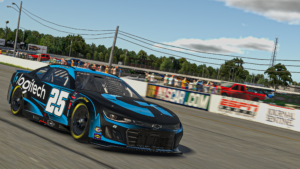 On the final restart of the night, Ottinger chased his good friend, and back-end alliance teammate Conti for the lead. The William Byron eSports driver embraced the role of Jeff Gordon as he tried to wrestle away the lead from the 2014 eNASCAR champion, who filled the role of Jimmie Johnson.
"God, we've done this so much the past couple of years," Conti reflected. "Vegas last year, I was first he was second. Richmond he was second for a long time and ended up finishing third or fourth. And it's been roles reversed.
"Nick is more than a teammate and I think that anybody that follows the series knows this by now. He's a friend, a really, really good friend. If there was anybody on the track that I would want beside me, behind me, it's Nick. He is so fast, frustratingly fast. He pushes me to be better and I think I push him to be better."
Much like the two real-life NASCAR Cup Series drivers and friends battling at Martinsville Speedway once upon a time, Conti and Ottinger played follow-the-leader in a battle for the win. Conti ultimately held off his friend to take the win with 0.282 seconds to spare. Garrett Manes, Ray, and Graham Bowlin completed the top-five.
"I didn't expect to win the second race of the year last year because we typically don't fire off well at all, we won Vegas and was like, 'that's really cool,' then we won Richmond and then we fell off," Conti explained. "Coming into this year, I knew we put the prep in, that we had the right people here in the right places.
"You just never really know what's going on around you, especially without having A Open (races) to see where you stack up. It is super special because for all I know this could be (my final win). Obviously, I hope it's not because I want to keep winning, make the final four, and finish it off like we should have last year.
"It's awesome to be 12 seasons into this with the best of the best on the service and still have the pace to go up there and get it done."
Notables
Defending champion Casey Kirwan, Bobby Zalenski, 2019 champion Zack Novak, Dylan Ault, and Dylan Duval rounded out the top-10. Daytona International Speedway winner, and eNASCAR rookie, Tucker Minter finished 16th.
The race was ultimately slowed eight times for incidents. The single-lane track bred multiple cautions after the initial incident for Collin Bowden's spin about 40 laps into the race.
Tempers, Tempers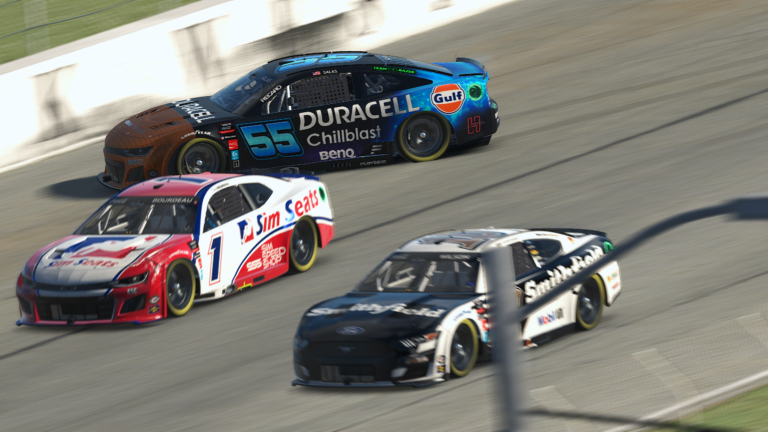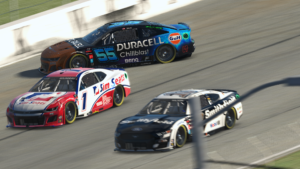 Tempers flared halfway into the race when Darik Bourdeau spun after contact with Manes. Under the ensuing caution, Bourdeau attempted to send the FGR Accel eRacing driver a message.
Driving through the field while looking for Manes, the Elliott Sadler eSports driver hit Vicente Salas. The contact sent Salas head-on into the outside wall. Both drivers continued in the race, Bourdeau, who was not penalized, finished 29th. Salas finished 37th after lengthy repairs.
Next for the eNASCAR Coca-Cola iRacing Series is their inaugural trip to the superspeedway version of Atlanta Motor Speedway on Tuesday, March 14 at 9:00 p.m. ET. All races are broadcast live on enascar.com/live.
The results:
1. 8-Michael Conti [10], 2. 25-Nick Ottinger [1], 3. 12-Garrett Manes [21], 4. 7-Malik Ray [9], 5. 48-Graham Bowlin [8], 6. 95-Casey Kirwan [6], 7. 18-Bobby Zalenski [13], 8. 75-Zack Novak [31], 9. 40-Dylan Ault [27], 10. 41-Dylan Duval [7], 11. 3-Jordy Lopez Jr. [5], 12. 88-Kevin King [24], 13. 20-Wyatt Tinsley [19], 14. 34-Allen Boes [15], 15. 4-Ryan Luza [23], 16. 33-Tucker Minter [36], 17. 66-Tyler Garey [26], 18. 17-Kaden Honeycutt [18], 19. 46-Jimmy Mullis [25], 20. 11-Parker White [20], 21. 38-Michael Cosey Jr. [17], 22. 31-Derek Justis [34], 23. 42-Kollin Keister [32], 24. 45-Michael Guest [30], 25. 97-Matt Bussa [2], 26. 2-Corey Vincent [16], 27. 23-Keegan Leahy [35], 28. 15-Garrett Lowe [37], 29. 1-Darik Bourdeau [4], 30. 77-Ryan Doucette [33], 31. 36-Brandon McKissic [22], 32. 69-Collin Bowden [15], 33. 51-Donovan Strauss [38], 34. 27-Cody Byus [3], 35. 14-Joey Brown [28], 36. 10-Steven Wilson [11], 37. 55-Vicente Salas [12], 38. 54-Daniel Faulkingham [39], 39. 6-Timmy Holmes [29].
Lead Changes: Four among four drivers.
Lap Leader(s): Nick Ottinger 1-44, Kaden Honeycutt 45, Nick Ottinger 46-62, Malik Ray 63-80, Michael Conti 81-100.
Laps Led: Nick Ottinger 61, Michael Conti 20, Malik Ray 18, Kaden Honeycutt 1.
Hard Charger(s): 75-Zack Novak, Rise eSports, +23.
Rookie of the Race: 3-Jordy Lopez Jr., Team Dillon Management, 11th.
Caution Flags: Eight for 30 Laps.
Margin of Victory: 0.282 seconds.
Time of Race: One hour, six minutes, 43.598 seconds.
Average Speed: 91.2679 MPH.
Pole Winner: 25-Nick Ottinger, William Byron eSports, 29.300 seconds, 124.710 MPH.
Fastest Lap: 8-Michael Conti, JR Motorsports, Lap 82, 29.517 seconds, 123.793 MPH.