By Seth Eggert, Staff Writer
DAYTONA BEACH, Fla. – Channeling his inner Austin Cindric, eNASCAR Coca-Cola iRacing Series rookie Tucker Minter captured the win in his series debut, Tuesday night's season-opening Daytona 200 at the virtual Daytona Int'l Speedway.
Debut Time
While the 2022 Daytona 500 was not Cindric's debut, it was the debut for NASCAR's Next Gen car. The 2023 eNASCAR season-opener likewise was the debut of several new teams, including Minter's. While the driver of the unsponsored virtual No. 33 Chevrolet Camaro competed for the established Team Dillon eSports, it was his backend alliance team that debuted.
The Daytona 200 marked the first race for the Altus eSports group. Minter worked with several of his alliance teammates, Team Dillon's Jordy Lopez Jr as well as Front Row Motorsports' Michael Cosey Jr. Together, the trio led about one third of the race.
Battle for the Lead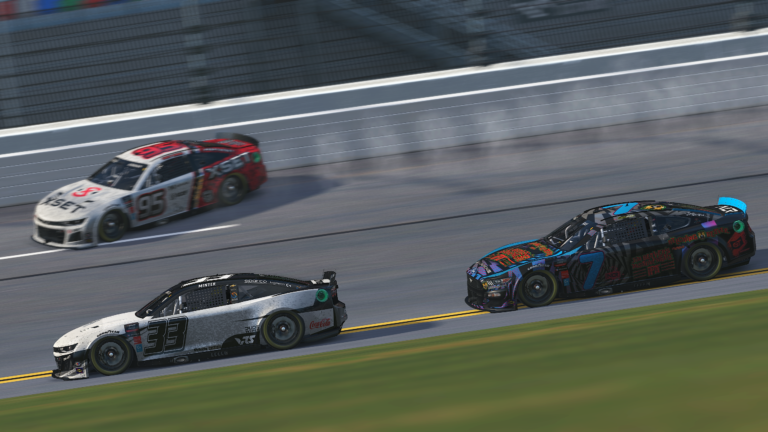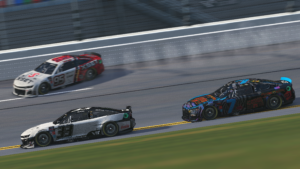 Multiple late-race cautions in the 80-lap scheduled event pushed the race into overtime. Defending eNASCAR champion Casey Kirwan attempted to use lessons learned from his win in the Podium 500 community event to fend off Minter and Malik Ray. However, in the Podium 500, Kirwan wasn't defending from the lead, he attacked from second.
Minter was glued to Kirwan's bumper once the race restarted in its second overtime attempt. This time, the field took the white flag before a caution could wave. Kirwan blocked, but Minter never lifted. The contact sent Kirwan out of control, handing Minter the checkered flag. Ray finished second with Darik Bourdeau third, Kirwan fourth, and Cosey fifth.
"It just proves that we're [Altus eSports] a legitimate team in the series," Minter said. "There are a lot of teams that get to the eNASCAR Coca-Cola iRacing Series and then they kind of fall apart. I think this is really going to help us carry that momentum through the season. I think we had the expectation that we were going to be strong in Daytona.
"We had really an incredible setup and we could push whenever we wanted to. We didn't have the handling problems that a lot of a lot of other people I think did. I think that just proves to us that we can do it and now we just got to back it up at you know other track types."
esports History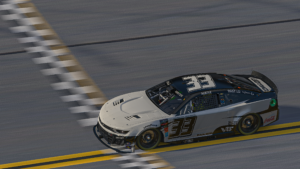 Minter's victory was historic. In recent years eNASCAR rookies have rarely avoided relegation, let alone won. In addition to that, only two other drivers have ever won in their eNASCAR debut, NASCAR Hall of Famer Dale Earnhardt Jr and Bourdeau.
Earnhardt's victory came in the inaugural event for the series. While his activity on iRacing has been on the rise in recent years, that win in 2010 inspired Minter. Like others on the motorsports simulation service, the eNASCAR rookie does not come from a racing background, nor can he afford to compete in real-life. iRacing provides him the platform to follow in Earnhardt's footsteps.
"It really hasn't completely hit me yet, (being on a list with Dale Earnhardt Jr)," Minter explained. "For me it's just it's incredible because I remember I used to when I was like, 10, 11 years old I watched iRacing videos on YouTube before I could get account because I was too young.
"I remember watching Dale Jr win the Daytona eNASCAR Series race. I always wanted to be on iRacing, for years before I even could join the service because I was like, 'that's where Dale Jr races and I can race with Dale Jr.' It's coming full circle to join him as someone that won in their eNASCAR debut at Daytona."
2020 eNASCAR champion Nick Ottinger, Tyler Garey, Graham Bowlin, Allen Boes, and Corey Vincent rounded out the top-10. Polesitter Dylan Duval finished 15th after he was swept up in several accidents.
While the Daytona 200 was history making, so too will eNASCAR's next event. The series will visit the virtual Milwaukee Mile for the first time in its' history on Tuesday, February 28.
The results:
1. 33-Tucker Minter [8], 2. 7-Malik Ray [38], 3. 1-Darik Bourdeau [20], 4. 95-Casey Kirwan [11], 5. 38-Michael Cosey Jr [6], 6. 25-Nick Ottinger [10], 7. 66-Tyler Garey [31], 8. 48-Graham Bowlin [12], 9. 34-Allen Boes [19], 10. 2-Corey Vincent [28], 11. 23-Keegan Leahy [7], 12. 8-Michael Conti [13], 13. 75-Zack Novak [40], 14. 43-Femi Olatunbosun [29], 15. 41-Dylan Duval [1], 16. 45-Michael Guest [32], 17. 31-Derek Justis [27], 18. 77-Ryan Doucette [17], 19. 42-Kollin Keister [3], 20. 3-Jordy Lopez Jr [16], 21. 11-Parker White [30], 22. 97-Matt Bussa [34], 23. 18-Bobby Zalenski [2], 24. 46-Jimmy Mullis [14], 25. 14-Joey Brown [5], 26. 40-Dylan Ault [22], 27. 4-Ryan Luza [23], 28. 10-Steven Wilson [15], 29. 36-Brandon McKissic [39], 30. 27-Cody Byus [26], 31. 20-Wyatt Tinsley [9], 32. 55-Vicente Salas [36], 33. 17-Kaden Honeycutt [33], 34. 54-Daniel Faulkingham [37], 35. 69-Collin Bowden [4], 36. 51-Donovan Strauss [21], 37. 6-Timmy Holmes [35], 38. 88-Kevin King [18], 39. 12-Garrett Manes [24], 40. 15-Garrett Lowe [25].
Lead Changes: 11 among nine drivers.
Lap Leader(s): Dylan Duval POLE-0, Bobby Zalenski 1-4, Dylan Duval 5, Kollin Keister 6-11, Bobby Zalenski 12-29, Michael Cosey Jr 30-40, Allen Boes 41-42, Tyler Garey 43, Darik Bourdeau 44, Tucker Minter 45-57, Allen Boes 58-81, Casey Kirwan 82-86, Tucker Minter 87.
Laps Led: Allen Boes 26, Bobby Zalenski 22, Tucker Minter 14, Michael Cosey Jr 11, Kollin Keister 6, Casey Kirwan 5, Darik Bourdeau 1, Dylan Duval 1, Tyler Garey 1.
Hard Charger(s): 7-Malik Ray, Jim Beaver eSports, Second (+36).
Rookie of the Race: 33-Tucker Minter, Team Dillon eSports, First.
Caution Flags: Four for 12 Laps.
Margin of Victory: 0.085 seconds.
Time of Race: One hour, 18 minutes, 2.776 seconds.
Average Speed: 167.2085
Pole Winner: 41-Dylan Duval, 49.422 seconds, 182.105 MPH.
Fastest Lap: 48-Graham Bowlin, Lap 65, 43.986 seconds, 204.611 MPH.