By Seth Eggert, Staff Writer
eNASCAR Coca-Cola iRacing Series officials have handed Darik Bourdeau a substantial penalty, suspending him for one race after retaliation during the D-Box 100 at The Milwaukee Mile.
The Penalties
Bourdeau, as well as his team, Elliott Sadler eSports, were penalized with the forfeiture of points in the NASCAR-sanctioned series iRacing confirmed to Kickin' the Tires.
The veteran eNASCAR driver was also suspended one race, the inaugural race at the mini-Superspeedway version of Atlanta Motor Speedway, and in his first race back, Richmond Raceway, he will serve a penalty in qualifying.
"There were penalties for both driver and team in this particular case," iRacing said in a statement to Kickin' the Tires. "These consist of forfeiture of race points for driver and team, one-race suspension for driver and a qualifying penalty for the first race back."
With no drop weeks, the lost of one race and track position at a short track leaves Bourdeau in a deep hole early in the 2023 eNASCAR season.
The Retaliation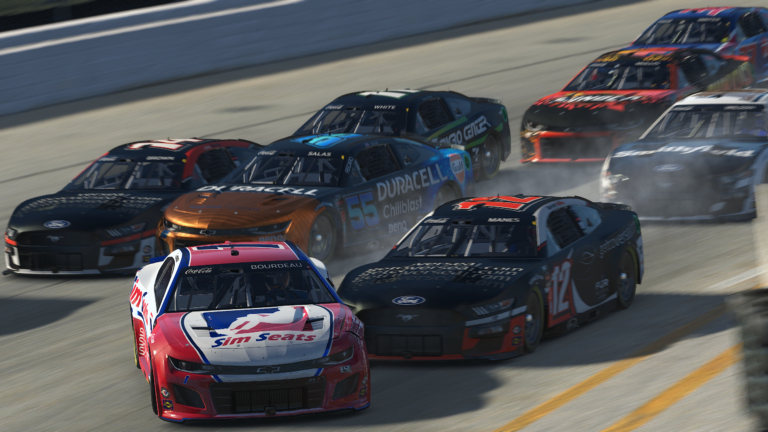 Halfway into the 100-lap race at the laser-scanned version of the oldest continuously operating track Bourdeau hit the inside wall and drifted through Turn 1 after contact with Garrett Manes. Under the ensuing caution, the Elliott Sadler eSports driver barged through the field as he looked for Manes.
An unsuspecting Vicente Salas was slowing for the caution as Bourdeau came flying past. The driver of the virtual No. 1 Sim Seats Chevrolet Camaro ZL1 swerved right to get around Steven Wilson. As Bourdeau did, he slammed into the left front of Salas' No. 55 Duracell Chevrolet. That contact sent the Williams eSports driver head-on into the outside wall.
Manes' teammate, Joey Brown, who was in an identical car to Manes was just ahead of Salas at time of the incident under caution. It is unclear if Bourdeau initial mistook Brown's car for Manes.
Bourdeau was apologetic in a mid-race interview as he explained what happened.
"Just some dumb moves being made," Bourdeau said. "I feel so bad for wrecking Vicente after that. It's not what I wanted to do at all. Just stupid from everyone's part, mainly me. I apologize again to Vicente."
Bourdeau also took to Twitter to apologize post-race.
P29. Want to apologize to @vicente_salas14 for involving him in my stupidity cannot say sorry enough. What I did was wrong on so many levels I should know better. Thanks to @DeadzoneRacing for the setup work.

— Darik Bourdeau (@Dard2121) March 1, 2023
The End Result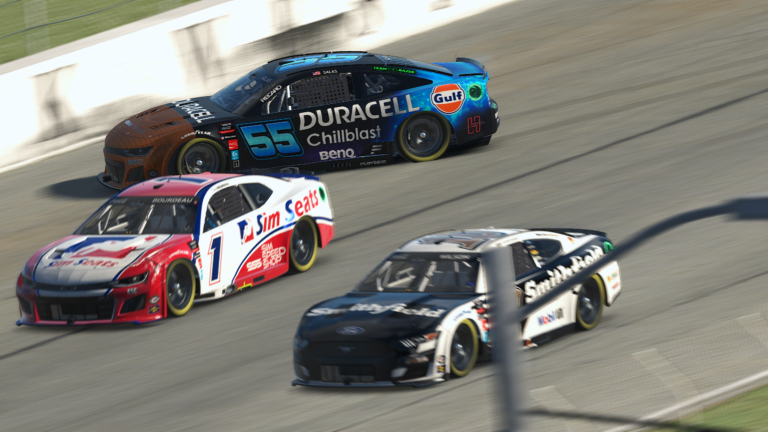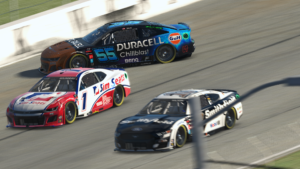 Bourdeau did find Manes a few seconds later. He gave the FGR Accel eRacing driver a shot in the rear bumper before finally slowing. Quick to react, the driver of the No. 12 Ford Mustang hit the gas to avoid a harder hit.
For Manes, the damage was very minimal, and he went on to finish third. Bourdeau, meanwhile, went on to finish the race in 27th.
Salas, who was an innocent bystander throughout the entirety of the event had to head to pit road for extensive repairs. He ultimately finished 37th, multiple laps down.
Official Series Equivalent
While Bourdeau's suspension is only one race, it is effectively in line with similar suspensions on iRacing's platform. In other official series, intentional wrecking, whether under green or caution, often results in a one-month suspension when protests are filed.
With the eNASCAR Coca-Cola iRacing Series competing on mostly a bi-weekly basis, the one-race suspension keeps Bourdeau out of the virtual car until March 28 at the virtual Richmond Raceway.
With no drop weeks both Bourdeau and the driver he wrecked, Salas, will have to scratch and claw their way back up the eNASCAR points standings.
The eNASCAR Coca-Cola iRacing Series is back in action at the superspeedway version of Atlanta Motor Speedway on Tuesday, March 14 at 9:00 p.m. ET. All eNASCAR races are streamed on enascar.com/live.
This story will be updated as more information becomes available.