By Sarah Handy, Staff Writer
November 6 of 2016, marks the last time that Ryan Ellis was behind the wheel in NASCAR's top tier Cup Series. However, that all changes in October as Ellis will make his series return at Kansas Speedway.
Ellis will run the 267-lap Hollywood Casino 400 for Rick Ware Racing with 400.5-mile race also being his first time at the track in a Cup car.
"I'm so thankful to Rick, Cody, and Lisa for giving me this opportunity. I've known the Ware family since I got into NASCAR nearly 10 years ago. They're a great family that has worked [so hard] in this sport to get where they are," Ellis told Kickin' the Tires.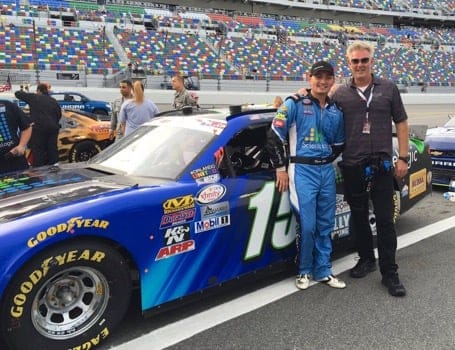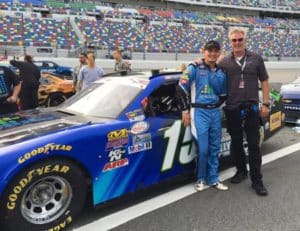 (Photo Provided By: Ryan Ellis)
"Cody [Ware] is like a little brother to me; it means so much to me that they'd do this for me," said Ellis. "What happened at Mid-Ohio was a racing incident. Cody is one of my best friends, so I knew he would never get into me on purpose. I knew he felt bad but by no means did I expect them to reach out with a cool and unique opportunity like this."
The incident that Ellis is referencing happened in the NASCAR Xfinity Series back on June 5. Ellis was competing in only his third event of the season for B.J. McLeod Motorsports. That last lap incident took the Virginia native from a solid top-15, top-20 finish to a result of 28th. But as Ellis said, it was a racing incident.
Prior to that, Ellis' No. 99 Good Sam / CorvetteParts.Net Ford Mustang ran competitively all day, even finishing in the 10th position at the end of Stage 2.
2021 marks the first time that Ellis has gotten behind the wheel for more than two NASCAR events since 2016. In his three NASCAR Xfinity Series on the season thus far he has finishes of 16th, 24th and 28th, respectively.
And when the green flag waves at Kansas in October, it will be Ellis' sixth career start in the NCS. As expected, he's excited for the opportunity.
"I'm so excited to be racing in the top series of NASCAR again very soon," expressed Ellis. They [The Ware's] stressed that they knew how hard I worked for these opportunities and its so great for them to recognize and provide me with an opportunity at the Cup Series level."
Sponsorship for Ellis at Kansas will be announced at a later date.
Feature Photo Credit: Nigel Kinrade Photography / NKP Photo