By Justin Schuoler, Staff Writer
As announced earlier this week, Cooper Webb is among four individuals nominated for this year's ESPY for the Best Male Action Sports Athlete Award. It is Webb's first nomination, but something familiar among the Supercross and Motocross family with Webb being the 15th rider to receive a nomination since its categorical inception in 2004. Of those 15, only three have won the award with Ryan Dungey leading the way with two (2015, 2016). Most others were beat out by current all-time award winner Shaun White who took home six total awards, including five consecutive after Travis Pastrana won the first for Motocross riders back in 2007.
For Webb, the nomination alone is worth a celebration among other action athletes with Olympic gold medals, world records and resumes that set the bar high.
"It's a huge honor to be nominated," Webb told Kickin' the Tires. "In Supercross and Motocross racing in general, we oftentimes kind of get overlooked a lot. Super honored to be put into that category and, and nominated for such a big award. I just think in general as far as sports goes, it's a dang big accomplishment to at least be in the same category as some of the other athletes on there. As far as all the categories, being the best at action sports is incredible so I'm super honored."
An ESPY Nomination isn't handed out lightly. Similar to a Grammy or Emmy, the prestigious accolade recognizes an individual or team's athletic achievement and sports-related performance during the preceding calendar year against others with similar levels of high performance and dedication. Even with outstanding competitive seasons, one may not receive a nomination, so the surprise simply adds to the suspense.
"I was definitely a little surprised and shocked that I was in the running, so I'm super pumped. Hopefully I can get some votes and try to win it."
And votes are what he will need. He's up against two of this generations' best snowboarders and a surfer: Marcus Kleveland from Norway, Yūto Totsuka from Japan – both for snowboarding – and Gabriel Medina from Brazil for surfing.
Kleveland took home his first career gold medal at X Games Aspen 2021 World Championship.

Totsuka won gold in both Halfpipe and Superpipe competition X Games Aspen 2021 World Championship, both first career gold medals at just 19 years old.

Medina was selected to represent Brazil in this year's Olympics alongside 2019 WCT Champion Italo Ferreira. Medina won both the Rip Curl Rottnest Search and Rip Curl Narrabeen Classic World Championships in Australia earlier this year, bringing his total to 16 World Surfing Championships. He was also runner-up to the Rip Curl Newcastle Cup and Billabong Pipeline Masters.
While the other nominees had a remarkable performance in their own sport, Webb's was on another level competing across multiple events, usually on a weekly or biweekly basis over the course of months, all while staying on top of the class. Webb holds a strong 2021 Monster Energy AMA Supercross Championship season to compete against as well: he
Won 8 of 17 races,

Podiumed 13 of 17 races,

Finished in the top five in all but two races,

Swept all races at Orlando and Arlington,

Moved up to 11th on the all-time Supercross wins list,

Earned 266 of a possible 286 max points in the last 11 races of the season, and

Went from -14 points behind Ken Roczen in the championship points to +35 by season end.
It was overall one of the most impressive seasons witnessed by Supercross fans in some time, but as always is true with action sports, it doesn't come easily.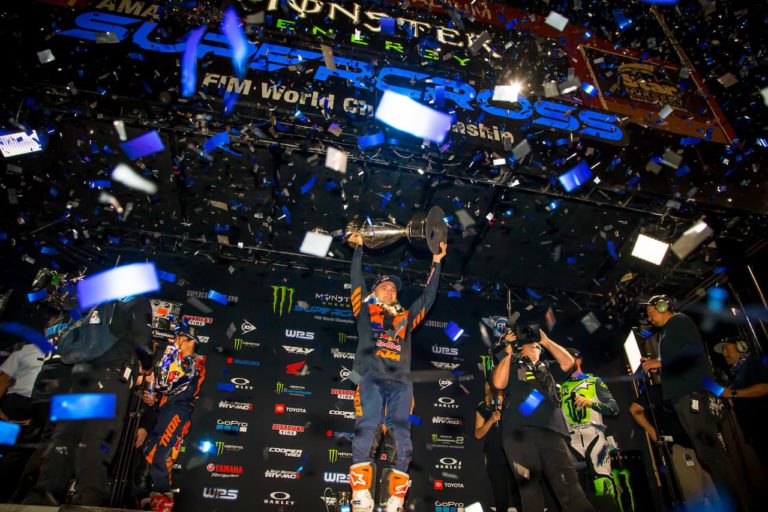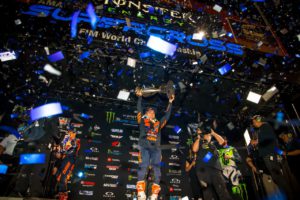 "I think it was overall such a great season," Webb said as he reflected on the year. "It didn't start off that great to be fair. The first two races I was off the podium and it took a little bit for me to get back going. And after the sixth round, I had already gotten one win so that's where I'd say it kinda started to turn around – maybe more towards the halfway point where we're sort of winning some races and getting some traction.
"Eventually I believe it was Round 12 or 13, I got the points lead and was able to start winning and put a small gap on the second place. So, yeah, overall, it ended up finishing super strong and I was able to win my second championship in three years which is an incredible feeling. I'd say the midway point – I'd say Dallas (Arlington) – we raced there Saturday, Tuesday, Saturday and I was able to win all three of those and that was kinda like a defining moment in the championship where I took the points lead and then continued to extend it.
"I would say that was probably the biggest moment of the season."
It's been five years since a Supercross/Motocross rider has been nominated, since Dungey in 2016. It's also much deeper than just a single rider's performance on track but what takes place off the track and in the pits to set themselves up for success.
Team Support Matters Even in Single Player Sports
It would be foolish to say Webb has accomplished this all on his own. Even the other nominees – Kleveland, Totsuka and Medina – have sponsors, coaches and other support team members that help them on competition days, discovering more inches and angles to increase performance, and accomplish their goals of wins, gold medals and world championships. Webb's performance on the track is undeniably worthy of recognition, but he has arguably the best team right now helping him: Red Bull KTM.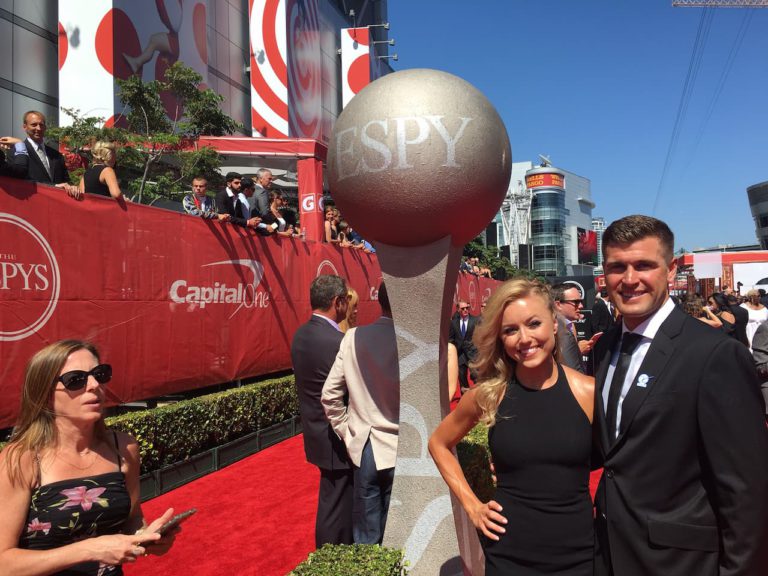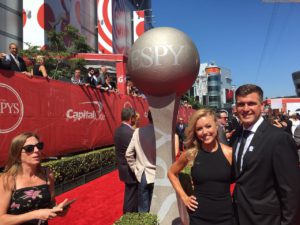 The Austrian motorcycle and sports car manufacturer owned by Pierer Mobility AG and Indian manufacturer Bajaj Auto are going for their third ESPY award. They already hold two with Dungey's back-to-back wins in the category. Suzuki earned one back in 2007 with Pastrana, but no other manufacturer or rider has won an ESPY in the category. Since this is the only category they qualify for at this time, it's a perfect opportunity for KTM to extend that lead and take more than just a red plate to the 2022 season opener.
"Oh wow," said Webb, unbeknownst to the fact that KTM is going for their third ESPY award until the interview with Kickin' the Tires. "I think for myself, it would be a dang cool statistic, but I think as far as the team, they're definitely determined more on racing and race results but from the outside in the big picture looking at, I think it's a very unique and big award. You know, as a group, I think they're very worried about winning races and championships which is huge. But an award like this is very outside of the box and kind of puts you in that category of maybe a legend in the sport if you will. So yeah, I think for myself and the team it would be a huge accomplishment, and I would be over the moon excited."
Over-the-moon excited is one thing, and a legend in the sport is a new level, but looking back at past nominations from supercross and motocross, Webb joins an elite level of legendary and hall of fame riders:
Chad Reed (2 nominations),

Ricky Carmichael (3 nominations),

Pastrana (2 nominations, won in 2007),

James Stewart Jr. (1 nomination),

Dungey (3 nominations, won in 2015 and 2016), and

Ryan Villopoto (2 nominations).
"It's a huge honor and I think for me," said the 25-year old two-time champion, "Just kind of a really cool eye-opening experience to establish myself as one of the greats in our sport. All these guys have done great things in the sport, and had been the top dogs for a long time. It's really cool to be not only in that handful of names to be in that category, but getting motocross and supercross more out there as far as going up against some of the bigger extreme sports athletes and more household names.
"So I think it's huge for myself to establish myself as maybe one of the new known guys in our sport, as well as just establish myself in the bigger world of action sports."
But Webb will need your help to make his name more of a household name across the world. Now through July 9, Supercross fans are eligible to vote for Webb as well as 29 other categories for this year's ESPY awards. Voting will officially close on Friday, July 9 at 8:00 p.m. ET. Click on the banner below to cast your vote.

If Webb's name is called that Saturday night, he knows exactly where it's going.
"I'd probably put it right in the living room. The wife might not approve, but it's a pretty dang cool award so probably right up for everyone to see."