By Jerry Jordan, Editor
The stars of the POWRi Racing Lonestar 600 Series recently celebrated their accomplishments with an awards banquet and reminiscing about a season that began with promise then came into doubt as COVID-19 took hold of the world. But for the young racers in attendance, the series banquet was all about the hardware.
After what most-anyone would consider an amazing rookie season in the POWRi Racing Lonestar 600 Micro Sprint Restrictor Series, 13-year-old Ryder Wells kicked off 2021 with a Top 20 finish in the biggest race of his career at the Tulsa Shootout – now he is ready to shift into high gear for more on-track action.
Just making it to the B-Main in the Tulsa Shootout would have been an accomplishment but Wells advanced positions through his heat race, qualifying, the B-Main, the LCQ and the A-Main finale. The 19th place finish was the icing on the cake after closing out the season with three straight wins in the POWRi series. This past weekend, Wells was rewarded for his season-long efforts on a ceremony that saw him also named as the track champion at Gulf Coast Speedway. In all, Wells kicks off 2021 with the 2020 Rookie of the Year title, a runner-up in the POWRi standings and a track championship at Gulf Coast Speedway.
"It was a really amazing season," Wells said. "It's a big accomplishment for me."
A year ago, Wells and his dad, Zach, were buying his micro sprint. It was a step up from running in go-karts, where he was the Louisiana State Champion, had amassed multiple wins and was a favorite nearly any time he showed up at the track.
In micros, it was a different story. He was inexperienced, a rookie, who had never had that much power underneath him. He was also racing with a different group of racers. The similarities between micro sprints and go-karts end with having four tires and a steering wheel. The engine is different, the chassis is different, the tires are different – and Wells took to his new ride as a natural. Still, that didn't mean he was flawless, in fact, it was a pretty rough start.
Problems plagued Wells in the early micro sprint races. In his first outing, he was taken out by another driver going into the first turn. The wreck caused significant damage to the car and raised the cost of racing even more. Looking back, Wells' rookie year in micro sprints may have had a lackluster start but he rallied to close out the season. From that first main event at Speedway 90 where he was taken out on Lap 1 to winning the track championship and Gulf Coast Speedway and closing out the season with three straight trips to Victory Lane, Wells is now a force to be reckoned with.
"Yeah, I went out my first race, first lap, got wrecked and couldn't finish the race," Wells said. "I never even saw it coming. We did have a good heat race that night."
He wasn't discouraged. In fact, he wanted, even more, to show that he had what it took to drive micros. Still, he admitted, he was nervous in the beginning.
"I was really nervous going out there the few first times," Wells said. "It was just the big crowds and I had never done that. But going on and trying to focus on having a good season and we did that."
The following race, he had engine trouble with the fuel injection system and couldn't get going. That caused him to have even more trouble on the track when he was involved in another accident that put him on the sidelines. The learning curve continued in his third outing when the engine blew.
"I think I got second in that heat race but the feature was definitely a learning curve for us on how to set-up the motors," he said. "It was definitely a turning point for us in the learning curve and it definitely boosted my confidence a lot."
Despite having nowhere to practice and the steep curve making the transition from karting to micros, Wells kept his focus. It took six races before Wells made a podium finish. The strong run came at 105 Speedway, one of the toughest and bumpiest tracks on the micro sprint circuit. The third-place finish was a breath of fresh air and just what Wells needed to reassure him he could bring his karting success to the next level.
After that, things clicked for the Ryder Wells Racing team and the No. 24 Sawyer Chassis machine. A week later, he pulled in a heat race victory and then finished runner-up at Gulf Coast Speedway. He would go on to finish the season with 13 Top 5 and 12 Top 3 finishes. The performance helped Wells pick up sponsors, as well, something that is vital to the support of any race team, no matter what level they race. With Kickin' the Tires already on the side of the car, Preferred Contractors came on board after seeing Well's dedication and sportsmanship, which he shows after every race – win or lose – my going around the pit area and shaking hands with his opponents and congratulating the winner. Later in the season, a leading rare coin and bullion company – Universal Coin & Bullion – also signed on to help fund the 13-year-old racer – again, impressed by the way Wells handled himself on and off the track.
Wells said that even though all of the racers in his class are friends, just like in the NASCAR world, he wants to win. And he has his own rivals that he feels he wants to beat because of their experience and talent on the track.
"Probably my biggest rivals would be Kamirin Cook and Kaden Trotter," Wells said. "They are both good racers and it means a lot when I get the win over them. But my biggest comrade is also Kaden Trotter. Me and him are pretty close. When we are off the track, we are pretty close and we talk a lot but then when we are on the track, it is race day and we go racing. And, we race hard."
When the first win came on October 3, Wells said it was really special for him. He and his dad, Zach, who also serve as crew chief, engine builder, hauler driver, tire specialist, aerodynamic engineer, spotter and cook has been waiting all season for that moment.
"I was excited, I was hysterical," Wells said. "I wasn't thinking straight, I was just out there. I guess I knew from about halfway through the race that I could win it and with about five laps to go I saw my dad telling me to keep going and that I had a big lead."
Watching the signals from his dad was new to Wells in micros. The karts went slower so he had time to watch and react to the information his dad was trying to give him. In micros, Wells was so hyper-focused on the track and learning how his racecar reacted that he didn't look to Turn 4, where his dad would stand. As evidenced by the results from his season, things came together well. A week after his first win, he picked up his second.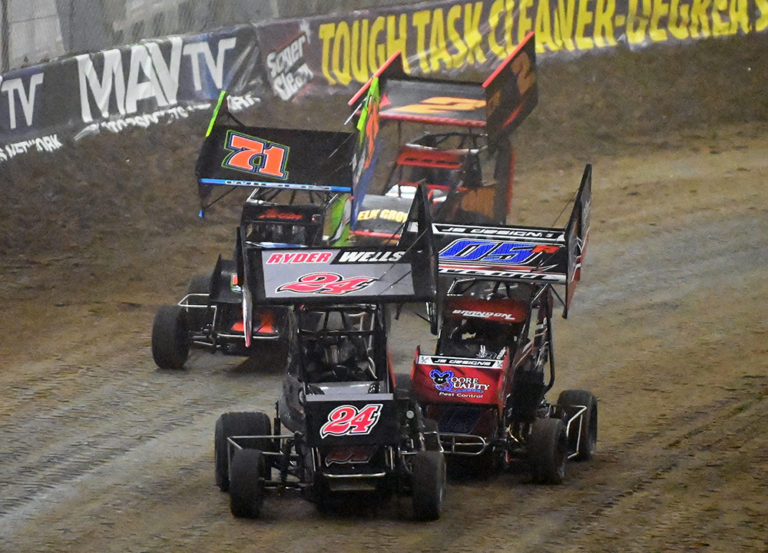 That's when he and his dad decided to take things to an entirely different level. The decision was made to compete in the Tulsa Shootout … and the rest was history. Wells' performance was worthy of recognition and lots of people aptly took notice. Why? Because a rookie driver making the Tulsa Shootout and finishing 19th doesn't happen regularly. There were 132 entries for his class and 92 of those racers showed up. Wells was racing against drivers with more money, more experience and better equipment and he held his own.
Extreme weather conditions forced the cancellation of Well's opening race for 2021 this weekend, so he and his dad are headed to the National Open Wheel 600 Series season opener in Little Rock, Ark. for a two-day event on Feb. 26-27.
"I'm ready," Wells said. "We have completely rebuilt my racecar and made some improvements that should help me go faster. I can't wait to get to the track."