By Jerry Jordan, Editor
LOS ANGELES – If wrestling were stockcar racing then NASCAR's Busch Light Clash at the Los Angeles Memorial Coliseum would be the Royal Rumble with drivers taking bumps left and … left as Martin Truex Jr. survived to the end to take the checkered flag in the season-opening exhibition race.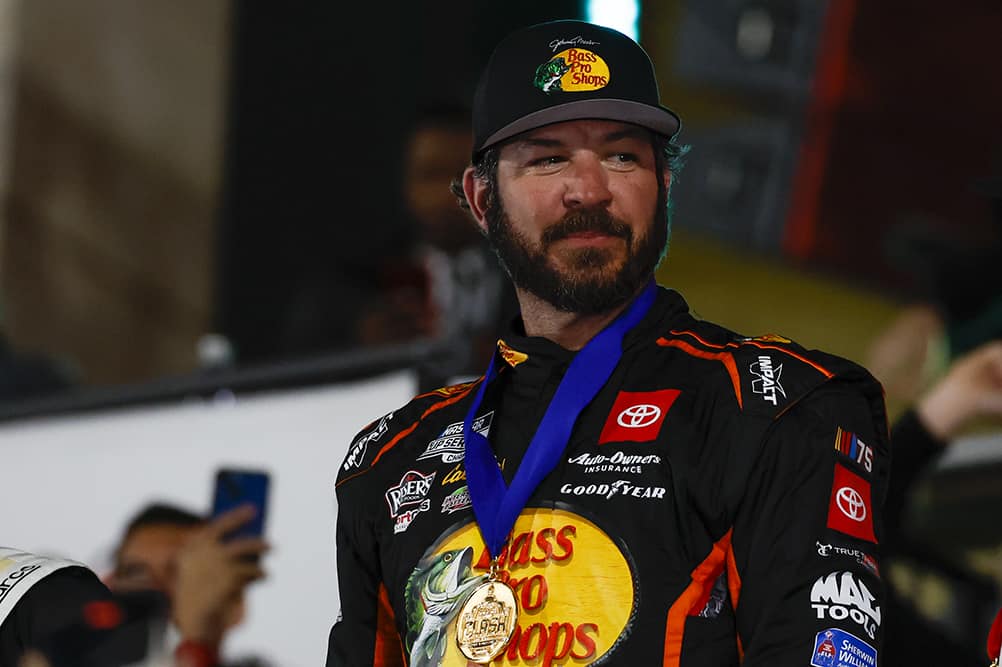 "It was definitely satisfying," Truex said after the race. "Anytime you win it's obviously satisfying. I had some good guys around me. Austin (Dillon) and Kyle (Busch) raced clean, and for the most part, I've never had really any big issues with those guys. You come to a track like this, it's pretty easy to just blow the corner and knock the guy out of the way in front of you. It's just easy to do.
"Thankfully they didn't do that. They gave me a lap to get going, and obviously, we were fast enough to drive away from them."
As for whether he worried about getting roughed up by his former Joe Gibbs Racing teammate, Truex wasn't concerned. He explained that he has a level of respect for Busch and they didn't have many if any, issues in the past. Well, maybe when they were racing for a championship in the Xfinity Series back in 2004.
The two raced each other really hard in the heat races but neither of them got physical with the other on the track. Even as they battled for the lead, they avoided major contact between their two cars.
"We had a really good race in our heat race today, and we talked about it after, and it was like, hey, that was pretty fun," Truex said. "We put on a little bit of a show for a heat race, running side by side for the lead and swapping back and forth two or three times.
"We've raced together for a long time. We understand the sport. I've got a ton of respect for Kyle, obviously, and I feel like he's one of the guys that gives it back to me. It goes all the way back to '04 when we ran for a championship against each other, and we probably didn't get along very well then or we didn't cut each other many breaks then."
After going winless in 2022 and not making the NASCAR Playoffs, Truex said it felt really good to get a win, even if it didn't count for points. Winning is still winning, he explained.
"Hopefully we can do a lot more of that," he said. "We've got a lot going on good in our camp, at Toyota. I've got a great team, and I knew they were great last year, and we'll just see how far we can go, but I feel really good about things. Fired up and excited, and it's just a good feeling to be able to win a race, and even though it's not points or anything, it's just good momentum."
Busch also wasn't worried about Truex and focused most of his attention on his teammate, Dillon, who finished one spot ahead of him in second. He said their runs at The Clash give some confirmation that Richard Childress Racing is on the right track.
"We were damn close to starting it off right out of the gate, so next week," Busch said, when asked about how the new dynamic was working with him now at RCR. "Yeah, I mean, it could definitely be a story of that where we've been working well together this whole weekend off the track, on the track, and having the opportunity of being able to take care of one another on a couple of those restarts. You know, the 3 (Dillon) would be easy off the corner and give me a gap to be able to get down and some other stuff that we did, too.
"That's just a good omen for great teamwork and good sportsmanship from the two of us, so let's keep that rolling."
For his part, Dillon has said since the announcement was first made that he believed Busch would be a great teammate and someone that could make his own racing better. Following The Clash, he explained why he felt that way.
"I think the other good part is some of the things that we like in a race car – what I was excited about because I've watched Kyle's data over the years, and the way he approaches the setup of a car and things I think we're actually pretty close. Like our delta would be close. So, that's nice to be able to hopefully work off of that, and we're only going to be able to build off that as we go and find those places that when we have a good run, where do I need to be setup-wise compared to him to echo that."
Two weeks ago, team owner Richard Childress told Kickin' the Tires that he could already see his grandson (Dillon) and Busch working well together in the shop. He said then that he believed both drivers could benefit from the other's strengths.
A one-off exhibition race may not be the best litmus test for that theory but both drivers appear to be on the same page going into 2023 and that could be a recipe for success.
"Austin and I worked hard together today on, A, working together, but, B, all the information to put ourselves in the best possible spot," Busch said. "Good collaboration between the RCR bunch."