By Jerry Jordan, Editor
An article written by Hannah Elliott and promoted by Bloomberg on its Twitter timeline as "Chicago Nascar was a masterclass on how not to do a car race and F1 organizers are taking note," has angered numerous fans and NASCAR insiders. In fact, the piece on the sport's first-ever street course event has been viewed more as a direct attack by an F1 fan than a well-researched article by a "trusty automotive reporter."
Unlike many Bloomberg articles, this one was published outside the company's website paywall but linked to stories readers could only see if they paid for a Bloomberg subscription. A trial subscription is $1.99 a month for the first three months but renews at $34.99 a month (320.88 a year on a monthly renewal) or $149 for an annual subscription that renews at $299 after the first year. Coincidentally, a year of Bloomberg is more than two exciting days of historic NASCAR racing and multiple headliner concerts in Chicago – an amount bemoaned in a separate Bloomberg article – hidden behind a paywall – that Ms. Elliott linked in her piece.
On the website, the article is labeled as a "newsletter" and was carried the headline, "Nascar's Chicago Disappointment Is a Warning for F1 Las Vegas – Grand Prix organizers are looking to Singapore for inspiration, not the other US motorsport." If you're wondering what a Bloomberg newsletter is, you are not alone. It is likely that most readers had no clue but in Bloomberg terms, it means it's a compilation of other articles. The goal in this case appears to be a recap, of sorts, but this particular piece reads more like an opinion column to the everyday reader and every credible journalist I spoke with about it. And if you are wondering why NASCAR was written with a capital "N" with a lowercase "ascar" it is because that's Bloomberg's official style.
It's probably important to note that Ms. Elliott did not have a media credential for the Chicago Street Course race. In fact, a source confided to me during my research that it is possible she's never had an official media credential for a NASCAR Cup Series race – something Bloomberg officials did not address when I questioned them about it. However, two Bloomberg staffers were credentialed for the race – a writer and a photographer. The photographer provided inaccurate information to Bloomberg in two photo cutlines that weren't corrected until after I pointed out the errors to officials at Bloomberg in New York over the course of three days of correspondence via email and telephone.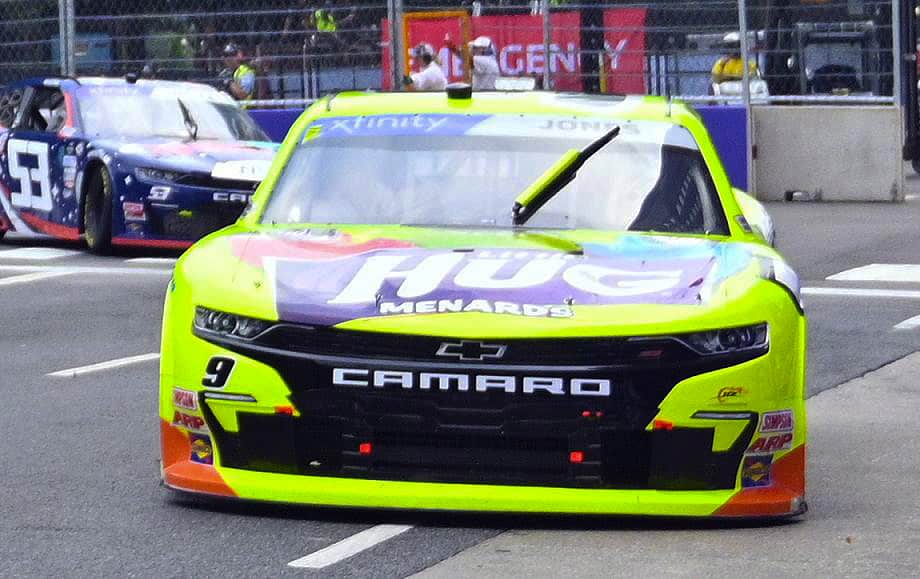 One of those errors was identifying the Xfinity Series race on Saturday as the Cup Series race on Sunday in a photo showing the No. 9 JR Motorsports car driven by Brandon Jones. The Xfinity name can be seen on the windshield and on a sticker on the side of the car.
The other inaccuracy Bloomberg corrected was a photo of Shane Van Gisbergen celebrating the victory mischaracterizing him as, "winning the 2023 Nascar Cup Series." He did win the Cup Series Chicago Street Course race but the cutlines made it appear as if he won the championship.
Now that I have laid the groundwork, let's get to the real issues of the "newsletter" and, at least, one of the official Bloomberg news articles cited in it. And as Trackhouse Racing team owner, Justin Marks, proclaimed after seeing a tweet of statements made by Ms. Elliott in her Bloomberg piece, "Lets (sp) live in a world of facts."
So, what are the facts? Ms. Elliott proclaimed the event "flopped."
According to NBC:
Most-watched NASCAR Cup Series race on NBC in six years, since Indianapolis in 2017 (5.647 million) and NBC Sports' eighth-most watched race under its current rights agreement
Most-watched NASCAR Cup Series race on any network since Daytona 500 (FOX; Feb. 19; 8.173 million);
Projected to be the most-watched sporting event of the weekend;
Up 144% vs. NBC Sports' second Cup Series race of the 2022 season (USA Network; 1.962 million; Road America)
Up 72% vs. NBC Sports' 2022 Cup Series average on NBC (2.784 million)
Most-streamed NASCAR Cup Series race in NBC Sports history with 163,500 viewers across Peacock and NBC Sports digital platforms
Viewership peaked at 5.383 million TV-only viewers from 9:15-9:30 pm ET when van Gisbergen took the checkered flag.
Chicago delivered a 9.29 rating and is expected to lead all markets once final local data is completed.
Ms. Elliott also stated, "Community members were ambivalent about the race from the very beginning. That fed into lackluster ticket sales and myriad complaints about noise and street closures."
In fairness, that argument could be deemed accurate. There were, and still are, some naysayers who don't want NASCAR in downtown Chicago.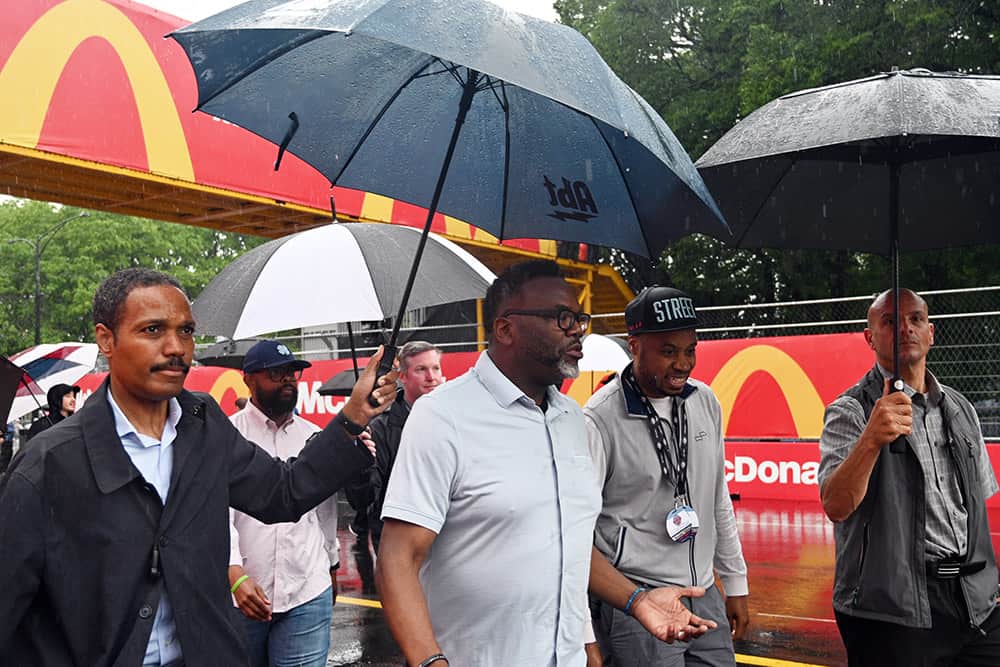 Although Mayor Brandon Johnson appeared to have a good time during his attendance at the Chicago Street Course event, he was somewhat reserved, however, optimistic about NASCAR making a return visit to the city in 2024. For those unaware, NASCAR has a three-year contract to run the race in Downtown Chicago.
"We're grateful despite the extreme weather that NASCAR was able to deliver with very minimal disruption," Johnson said. "And then there were some dynamics, of course, that we had to consider and I am grateful to the people of Chicago who made that adjustment and the people who came in to visit. Like everything that I inherited, I'll assess and grade it and it will be an open process."
Even though ticket numbers aren't publicly released by NASCAR, there were fans from all 50 states and, at least, 12 countries from three different continents who visited Chicago and bought tickets to the race," according to Chicago Street Course President, Julie Giese.
By the way, in total transparency, it's not just a few vocal people in Chicago who think NASCAR should race somewhere else. Some of our own in the sport, like race spotter Brett Griffin, have been very vocal about being anti-Chicago when it comes to putting stockcars on the city's streets. We disagree with each other but, at least, we both love Gibsons Bar and Steakhouse.
But when Ms. Elliott wrote, "Rather than make money, some businesses lost money. The Museum Campus, a part of Chicago's Grant Park that includes the Field Museum and the Shedd Aquarium, expected to lose $3.5 million as a result of road closures and other disruptions tied to summer events like Nascar" in her July 8 piece, she must not have been aware of what the Chicago Sun-Times wrote about the financial impact.
"Despite the NASCAR Chicago Street Race disrupting business as usual at local museums, which cut hours or closed entirely over the weekend, the cultural institutions reported attendance was on track with previous years," the Sun-Times article published on July 6 stated. "However, at the Shedd Aquarium, attendance "surpassed" estimates the day after the race, with more than twice the amount of anticipated visitors heading to the museum on Monday."
Are there things that NASCAR could have done better, of course? It was a topic that came up immediately after the race ended. One of those was more exits, exit signs and pedestrian crossovers. But overall, the vibe from people in Downtown Chicago as they spoke with reporters, who were actually at the race, as they left Grant Park, was electric and they wanted more.
Here's the post-race video as thousands of – many new – #NASCAR fans were leaving the first-ever @NASCARChicago street race! #NASCAR75 #NASCARChicago #NASCARFANS pic.twitter.com/u8aoU7Y6CV

— Jerry Jordan (@JerryJordan_KTT) July 3, 2023
"We're by no means saying that everything is going to be perfect from day one," said Ben Kennedy, NASCAR senior vice president of racing development and racing strategy. "But you don't know unless you try, and we gave it a really good effort today, and certainly proud of all the work that everyone has done. I think the city showed so well, certainly on the broadcast today, and then the energy around the field and around the park today was palpable.
"We're going to have a lot of takeaways from this weekend, which I think will be really good, but from what I've seen so far, certainly from the fans and from a lot of folks in the industry has been positive."
For Ms. Elliott, the factual errors in her piece seem to go on and on. For example, she wrote that all of the concerts were canceled. That was untrue.
Yes, the concerts on Sunday were canceled and The Chainsmokers were canceled on Saturday night – the only concert I requested a photo credential for because they put on an amazing performance on stage. However, The JC Brooks Band and The Black Crowes played full sets on Saturday.
The article, or newsletter, continues by stating, "Then, after a delayed start, a record downpour aborted the race after 75 out of 100 laps."
Her timeline is just wrong. The downpour, on Sunday, caused a delayed start by roughly 75 minutes but as the race went on, due to numerous caution flags, NASCAR made the decision to shorten the Cup Series race by 25 laps. This was done because it was getting too dark to safely race, not because of another downpour. A decision like this is not unprecedented as NASCAR has shortened races in the past for weather, darkness and even fog. It happened, again, on Sunday at Atlanta Motor Speedway.
What's even more disturbing is that the news article Ms. Elliott links to gives an accurate interpretation of the timelines of events for the Cup Series race. She either didn't care of was so sloppy in her work that she didn't notice – and neither did her editors – that it was wrong.
Coincidentally, the Xfinity Series race that was cut short on Saturday was ended early because of lightning. The rain on Saturday wasn't the problem, the lightning was and Chicago's policies are very strict when it comes to outdoor events and lightning – something NASCAR will need to take into consideration in the future. The rain on Sunday did prevent the Xfinity Series race from restarting and NASCAR made a tough call to end it two laps before the halfway point and declare Cole Custer the winner.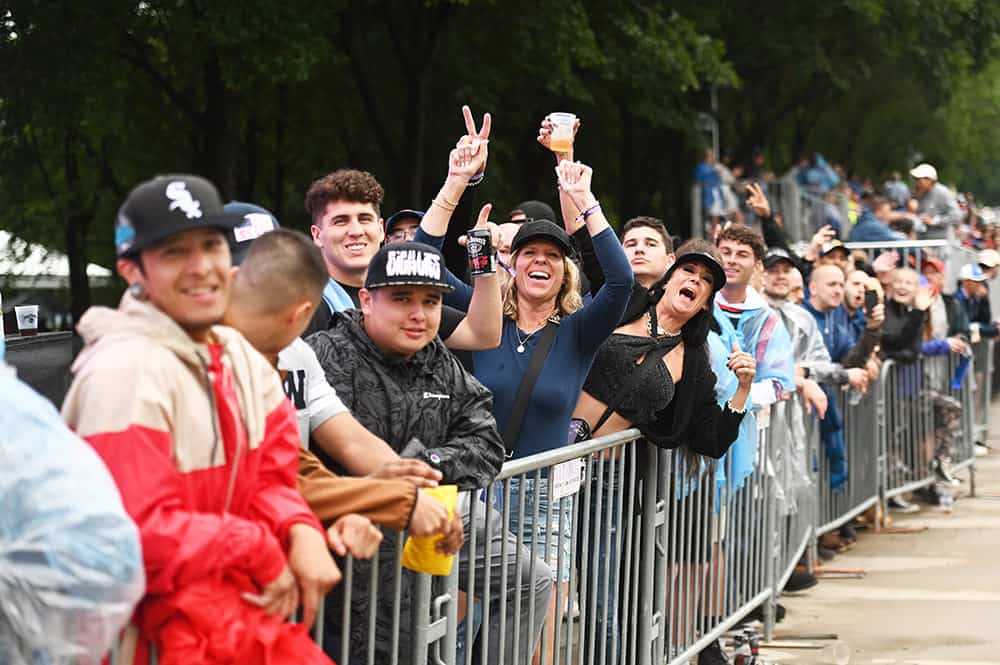 In reading all of the linked articles in Ms. Elliott's piece, there was another error. This one had involved ticket prices. In the news article entitled, "Chicago's Nascar Weekend Offers Headaches, Little Economic Gain," the reporters, Isis Almeida and Alyce Andres, wrote, "Nascar ticket prices in Chicago start at $269, about six times more expensive than the cost of a triple-header event in August at the Indianapolis Motor Speedway."
Again, this is not factual information. A general admission standing-room-only ticket for Saturday (two races, IndyCar and Xfinity Series) at the Indianapolis Motor Speedway road course is $35. The same type of ticket for Sunday's Cup Series race is also $35. Together that comes to $70. By no means am I am an ace mathematician but I can use a calculator and $269 is only 3.8 times more than $70 not six times more. The cheapest ticket available for the Las Vegas F1 race is $500.
Ms. Elliott also describes the race as "… a stunt promoted as a way to capture some of the relevance and excitement of F1, flopped."
At this point, I have to ask, did Ms. Elliott ever reach out to anyone at NASCAR for comment before publishing this statement in her article?
I know the answer. She did not. And we already know she was not covering the race.
Finally, Ms. Elliott took what I consider to be a very cheap shot at NASCAR and at the same time attempted to use a tragedy in doing so.
In the same keystrokes she used to misdescribe the timeline of the race and why it "flopped," Ms. Elliott wrote, "A contractor working at the race was fatally electrocuted," she wrote.
Let that sink in. Ms. Elliott used the death of Duane Tabinski, 53, on Friday, July 1 – two days earlier – and directly linked it to the Cup Series race, on Sunday, tacitly indicating NASCAR as being culpable in his death somehow. An autopsy report by the Cook County Medical Examiner indicated Tabinski touched live wires. The tragedy involving the audio expert, who lived in Nashville with his wife, should not have been used as a means to disparage the race or NASCAR, in my opinion.
Look, it's not my job to defend NASCAR from bad press but sometimes good people, or in this case, decent journalists, must stand up to the bad ones, even if it means taking on a global goliath like Bloomberg. Although Kickin' the Tires may be alone in calling out the inaccuracies and bias in the Bloomberg "Newsletter" as the company labels it, it needed to be done.
Bloomberg Response:
As I previously stated, I had numerous exchanges with representatives of Bloomberg. Their official stance is, they stand by their reporting. I did offer to provide Ms. Elliott a chance to rebut my questions but Bloomberg did not make her available. On Tuesday morning, after extending my publication deadline multiple times over 24 hours, a Bloomberg representative requested more time to respond to additional errors found in the news articles linked to Ms. Elliott's column. I explained that I intended to publish Tuesday evening and the response was, "Will get back to you – thanks."
I still had not received a follow-up reply by Wednesday at 11:30 a.m. EST.
———————————————————————–
UPDATE: On Wednesday afternoon, a spokesperson for Bloomberg confirmed the company had made a change to correct the price comparison of a ticket to the Chicago Street Course race and the tripleheader IndyCar, Xfinity Series and Cup Series races at the Indianapolis Motor Speedway road course.
The Bloomberg News spokesperson said, "We stand by the newsletter."
———————————————————————–
For Ms. Elliott and Bloomberg, it's never too late to do the right thing. Nobody is perfect and we all make mistakes but in this case, I believe an apology is owed to NASCAR and its fanbase for the less-than-professional account of the Chicago Street Course event.
NASCAR representatives, respectfully, declined to comment.